Last Updated on December 30, 2021
Alpha male lifestyle coach-turned-conservative influencer John Goldman, who markets himself using the name Jack Murphy, sparked controversy earlier this month when he snapped at a female podcast host who relayed a fan's question about an article promoting a sexual lifestyle many consider emasculating.
Now, photos and videos have surfaced from Murphy's adult film career, including some that appear to show the conservative "Gigachad" anally stimulate himself with a sex toy.
Murphy's row with the conservative Twitter world began earlier this month during an appearance on the "You Are Here" podcast hosted by Elijah Schaffer and Sydney Watson of The Blaze.
According to Watson, the issue began when she innocently relayed a question asked by one of the podcast's viewers via YouTube's tip system.
The question was about an article Murphy wrote in which he promoted married men allowing their wives to have sex outside of the marriage.
This is generally referred to as "cuckoldry" by those who engage in the act.
Murphy immediately grew irate and shouted at Watson, "f**k you." He refused to answer the viewer's question.
https://twitter.com/DrDavidDuck/status/1473694849702445075
He later apologized in a statement posted to Twitter, and both Schaffer and Watson seemed to accept the apology.
This changed, however, when Murphy appeared on Tim Pool's podcast and rehashed the episode, laying the blame on Watson for venturing toward a subject he claimed to have forbidden.
Watson disputes this, and says Murphy never instructed her not to mention cuckoldry during the interview.
Now, videos have been unearthed – originally by The Quartering – that show Jack Murphy engaged in acts of sex with his fiance, and alone, while live streaming to an audience and accepting tips.
These videos appear to have been live streamed to the public sometime around two years ago, and have since been reuploaded to other pornography websites. These videos remain publicly accessible at the time of publication.
Murphy admitted that the videos existed in a tweet published after he locked his Twitter account, making it impossible for those who did not already follow the influencer to view it.
However, Murphy took issue with the fact that the videos were live streamed publicly and left available online for years, and instead labelled the videos "revenge porn."
Murphy then called on The Blaze's founder Glenn Beck to take action against Schaffer and Watson, who he suggested were accessories in the effort.
Jack are you seriously calling me a sexual predator? You KNOW who my lawyer is right? pic.twitter.com/oAM3t2fCaM

— TheQuartering (@TheQuartering) December 29, 2021
Warning: Images in this article may be offensive to some readers.
While National File was able to independently verify the existence and contents of three of Murphy's erotic films that involve his fiance (a process that this journalist embarked on so his colleagues would not have to), at least some of the content appears to be homoerotic in nature.
Three videos featuring Murphy and his fiance were uploaded to a porn sharing website approximately two years ago.
The videos appear to be recordings of videos that Murphy and his fiance live streamed to an audience that was able to tip the couple for performing specific acts.
It is not clear when the acts were streamed and recorded.
However, Murphy resembles his current appearance in the videos.
Two images viewed by National File appear to depict Murphy inserting a sex toy into his rectum, while some Twitter users suggest that the existence of a torrent file indicates Murphy participated in on-screen male-on-male sexual activity.
Warning: These images have been redacted but may be disturbing to some readers: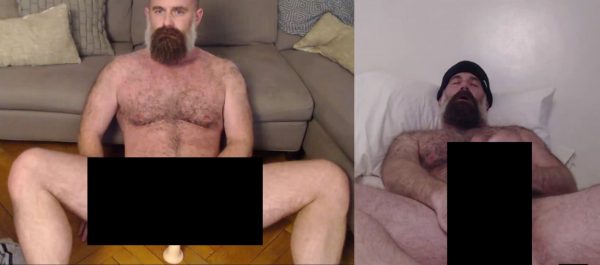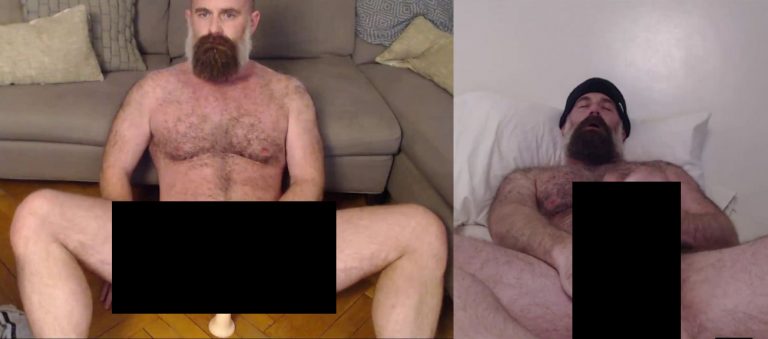 Torrent files allow individuals to share files directly via peer-to-peer connections using the Internet, meaning the file containing the video allegedly depicting Murphy involved in homosexual pornography would need to be available for download from another computer connected to the Internet.
Anecdotally, it seems as though this video is impossible to download.
"There's a torrent on a gay Russian torrenting website which is 70gb," wrote a Twitter user who described the predicament.
The torrent featured a screen name associated with Murphy's other adult films – "bigbadbeard1000" – which some believe serves as evidence of a homosexual adult film career.
"Torrent has no seeds, based on that — John Goldman Jack Murphy has done gay porn," wrote the user.
(Note: National File did not verify this. We had to draw the line somewhere, and for us it is the act of downloading homosexual pornography onto a work computer using a sketchy Russian torrent site that has not been seeded in years)
there's a torrent on a gay russian torrenting website which is 70gb, has a bunch of of people in it, but includes a clip w/ his username under a folder called "Bear"

torrent has no seeds, based on that — john goldman jack murphy has done gay porn pic.twitter.com/lg8YIoTCgy

— oak_tree_upheaval (@oaktreeupheaval) December 29, 2021
In one of the videos, Murphy declared that he has previously had sex with men.
"Yes, I have definitely f**ked other guys before," said Murphy.
— Dr. Strangelove (@drstrangel0v3) December 29, 2021
Murphy charges his customers as much as $100 per month to view his content, which he says helps men improve themselves. Those interested in Murphy's lessons on masculinity and self actualization can also pay $790 per year, or make a one time payment of $3,890.
Prior to his career in adult films and self help, Murphy worked in education in Washington, D.C.
According to WAMU, Murphy – who did business under his real name, John Goldman – was a Senior Manager of Finance for the D.C. Public Charter School Board, and left his position after media reports claimed he was racist and anti-Semitic.
It is unclear whether Murphy was engaged in creating pornographic material while employed by the D.C. Public Charter School Board.
Update: After this article was published, a statement attributed to Murphy surfaced in which he reportedly acknowledged to his paying customers that the adult films are not "revenge porn" and admitted that he starred in several alongside his fiance due to a financial hardship.
Murphy did not acknowledge the images depicting him engage in anal stimulation in his statement.
An earlier version of this article misstated that Murphy starred in pornography alongside his wife. He starred in pornography alongside his fiance.