Last Updated on December 29, 2021
A lawyer representing Jim Hoft's website The Gateway Pundit's sent a letter to Peters declaring, in no uncertain terms, that the publication's founder and editor-in-chief Jim Hoft is not affiliated with a "satanic pedophilia cabal," according to a press release from The Stew Peters Show.
It is not entirely clear why he did this.
PETERS RELEASE

In Hoft's version of events, per his lawyer, Peters accused Hoft of being a member of a "satanic pedophilia cabal" during this interview, and modified The Gateway Pundit's logo to include an FBI-identified image representing attraction toward young boys.
Among other inconsistencies, as Peters noted in a press release, the podcast host never said those words.
However, both Peters and rapper Tim Gionet, stage name Baked Alaska, acknowledged Hoft's marriage to a much younger man: Jezreel Morano.
"There have been a lot of rumors about the inside of that community that Jim Hoft is a part of," said Peters, ostensibly referring to the LGBTQ community. "These people are flying around the country, they're in private jets having sex parties, gay sex parties, things like that."
Peters added that "There are people like that will go to really, really distant lengths for sexual favors and orgies and things like that."
"I mean obviously he's interested in young boys," Peters said of Hoft. "He's married to a very young boy."
Hoft met Morano in 2016 while in the Philippines. Soon after, the youth left his home country to live with Hoft in the United States.
In 2019, the two were married.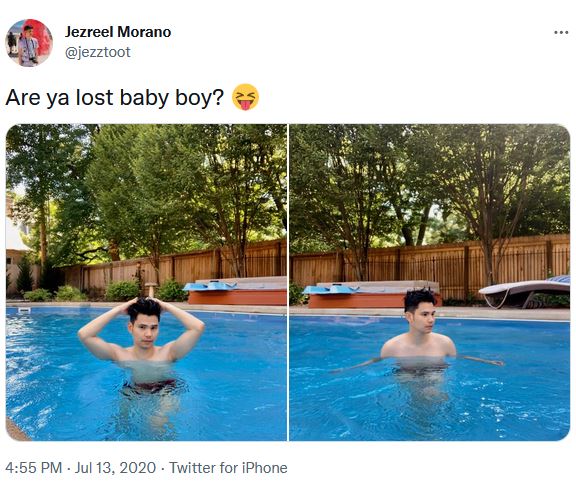 The age difference is not insignificant.
On Facebook, Morano has stated that he turned 29 in February of this year. This means he would have been 24 when they met in December of 2016.
Hoft, who is now 59, would have been approximately 54.
This means there is an approximate 30-year age difference between Hoft and his husband.
The information about Hoft and his marriage to Morano is all public, and Hoft's hometown newspaper Ladue News wrote a celebratory article about the media mogul's marriage to the much younger man.
"The couple met in 2016 while on a Christmas vacation," the publication reported. "In 2017, Jezreel chose to move from the Philippines, where Filipino law does not yet recognize same-sex marriage, to the United States so the two can be wed."
"Jim and Jezreel proved that long distance was no obstacle for them and found that constant, open communication was the key to success in their relationship."
"After years of dating, Jezreel moved to St. Louis in early 2019," Ladue News reported.
Still, Hoft's lawyer Jonathan C. Burns threatened legal action in Hoft's home state of Missouri against Peters and Red Voice Media, the website that distributes Peters' popular podcast, wildly suggesting that Peters claimed Hoft was part of a "satanic pedophilia cabal," something that Hoft denies.
In the first paragraph of his letter to the management of Red Voice Media, Burns claimed that Peters "repeatedly identified Jim Hoft as a pedophile and as part of a satanic pedophilia cabal hell bent on destroying the United States."
National File could find no evidence Peters said any of these words in that video.
Peters points out in his press release that he never said those words regarding Hoft, and National File watched Peters' interview with Gionet to confirm this is true.
"To be clear, we aren't denying the existence of a satanic pedophile cabal, and we never accused Jim Hoft of being a part of it, should it exist," wrote Peters.
He added that, "To date, Jim Hoft's attorney is the only person to utter the words 'satanic pedophile cabal' in connection with Jim Hoft or The Gateway Pundit."
Read Peters' full response to Hoft's lawyer:
Peters Response