Last Updated on December 30, 2021
Lyndon McLeod, also known as Roman McClay, allegedly shot and killed five people in Denver on Monday and was part of "heteroflexible" porn star-turned-conservative influencer Jack Murphy's Liminal Order alpha male forum and group chat.
On Monday, McLeod, 47, allegedly killed five people in Denver and nearby Lakewood, and was then shot by police himself.
McLeod died from the injuries he sustained from a female police officer after he opened fire at her.
Authorities reported that McLeod went on a rampage across 8 different locations, including tattoo shops and apartment complexes.
It was later discovered that McLeod was a member of the alpha male group forum Liminal Order, set up by Jack Murphy, a "heteroflexible" conservative influencer who was exposed earlier this week for engaging in sex cam shows online for money with his then fiancée.
Among the obscene images of Murphy that surfaced are two images that show him engaged in anal stimulation with a sex toy, as National File previously reported:
While National File was able to independently verify the existence and contents of three of Murphy's erotic films that involve his fiancée… at least some of the content appears to be homoerotic in nature.

It is not clear when the acts were streamed and recorded. However, Murphy resembles his current appearance in the videos. Two images viewed by National File appear to depict Murphy inserting a sex toy into his rectum, while some Twitter users suggest that the existence of a torrent file indicates Murphy participated in on-screen male-on-male sexual activity.
The Liminal Order is an "exclusive men's organization" set up by Murphy, "whose mission is to change our culture by changing ourselves." The group's mission statement says that they "ascribe to positive masculinity and believe in the power of individual accountability."
"The men of the Liminal Order know we must improve ourselves such that we may be of better service to our families, communities, and our Nation."
Joining the group, which was alleged to be little more than a chat forum, costs $99 a month, or $790 a year, or $3,890 for a lifetime membership.
"There are discussions on masculinity and sense-making, but those are every couple of months," one anonymous member reportedly told The Quartering.
"There are attempts at bigger things, but they are member-driven, and are mostly just hype. They get forgotten as fast as they come up."
In unearthed tweets from December 2019, McLeod, going by his alias of Roman McClay, says that he joined the Liminal Order because he wanted "to be a part of a more elevated men's organization… [and] didn't want mereely macho crap or bitching about chicks."
However, at the time of writing, the tweet from Murphy where he tag McLeod's @mcclay_roman Twitter acount has been removed from the thread as a whole. It is unclear when the tweet was deleted.


National File has also been able to confirm that Murphy also retweeted McLeod's @mcclay_roman account in January 2020, which was subsequently removed after the shootings.
National File also confirmed that Murphy still follows McLeod's second Twitter account, @roman_mcclay, which was identified as his by other media sources.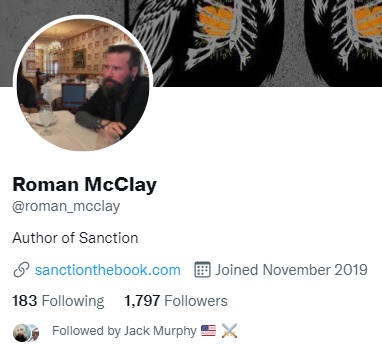 McLeod was most well known for his book series "Sanction."
In the book, written under the McClay pen-name, the supposed hero of the book is given his real name, Lyndon McLeod, and kills 46 people in revenge murders.
In fact, some of the fictional murders that took place within the books mirrored the deaths on Monday. As Newsweek reported:
In Sanction II, published in 2019, the character commits a mass shooting, which McLeod described vividly and with morbid enthusiasm. The character Lyndon heads across Denver's Sixth Avenue towards a "house that shared walls with VI Tattoo." McLeod wrote the character was dressed in tactical gear and "had a total of 225 rounds in waiting with forty-seven bullets loaded into his two weapons."

Lyndon then shoots and kills a woman and two dogs in the home portion of the building, before heading to the tattoo studio, where he kills a pair of tattoo artists, two seated clients, and an additional man.
Even the addresses of the tattoo shops and apartments match up with what was written in the book itself, being 6th Avenue in both the book and reality, and 1300 Williams Street and 1200 Williams Street in the book and reality respectively.
McLeod allegedly even dressed up in police gear, as the book described.
Names of real people in Denver were also targets in the book itself.