Last Updated on December 23, 2021
Despite news reports claiming otherwise, the CDC has officially confirmed that Comirnaty is not currently available in the United States, meaning no FDA-approved Covid vaccine is available to Americans.
The new Pfizer Covid vaccine, Comirnaty, was approved by the FDA in August of this year, making it the first COVID-19 vaccine to receive a full FDA authorization.
Previously, the Pfizer vaccine and all other COVID-19 vaccines were being used under an Emergency Use Authorization (EUA), and this is what was granted to the Pfizer vaccine as it was originally manufactured and labeled.
News reports, including "fact checks" from USA Today, claim that the Comirnaty vaccine is simply the rebranded name of the original Pfizer-BioNTech vaccine that initially received the EUA.
Therefore, the news reports argue, a full FDA-approved COVID-19 vaccine is available to Americans. "The authorization changed, but the vaccine didn't," USA Today claims.
However, this is not the case.
The FDA on their website notes that the original Pfizer-BioNTech vaccine with the EUA and the Comirnaty branded vaccine are two "legally distinct" products.
As a Pfizer spokesman previously told National File, "the statement that the products are 'legally distinct with certain differences' refers to the differences in manufacturing information included in the respective regulatory submissions," such as being manufactured at different sites or using different raw materials.
The FDA specifically gave the two different products different legal statuses of approval, despite acknowledging that they are fundamentally interchangeable for medical uses.
This already may have posed legal hurdles for vaccine mandates that are dependent on the FDA-approved status of Pfizer's vaccine.
However, journalists attempting to ascertain the true status of Comirnaty have apparently had their questions answered by the Centers for Disease Control and Prevention (CDC).
It has now been confirmed, through the CDC's own website, that "Comirnaty products are not orderable at this time."
The CDC notes that Pfizer "does not plan to produce any product [under the Comirnaty label] with EUA authorized product [the original vaccine] is still available and being made available for U.S. distribution."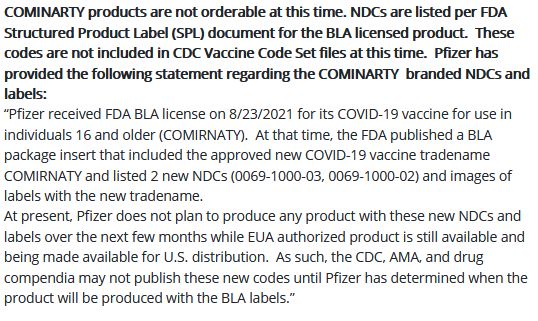 With the CDC confirming that no Comirnaty products are available until all of the previous Pfizer vaccine shots have been distributed, this means that there is no FDA authorized COVID-19 vaccine available for Americans.
This would seem to confirm previous reports from National File and Star News reporter Peter D'Abrosca, which included statements from Pfizer that refused to plainly state whether the Comirnaty vaccine was available to people living in the United States or its territories.
EXCLUSIVE: Pfizer Won't Confirm FDA-Approved Comirnaty Vaccine Is Available To Americanshttps://t.co/AMzEV3mtMh

— National File (@NationalFile) December 16, 2021
This could have severe legal ramifications regarding vaccine mandates in certain states.
As previously reported, Republican Ohio Gov. Mike DeWine signed legislation that prohibits "a public school or state institution of higher education shall not . . . Require an individual to receive a vaccine for which the United States food and drug administration has not granted full approval."
With Comirnaty not being available anywhere in the United States, it would seem impossible for any entity within the state to legally mandate a COVID-19 vaccine.