Last Updated on October 3, 2020
National File recently published text messages with sexual content exchanged between North Carolina Democratic Senate candidate Cal Cunningham and Arlene Guzman Todd, who works in media for a marijuana lobbying firm in California.
Cunningham, a married father of two, recently raised raised over $28 million in the last fundraising quarter, and National File has spoken to campaign finance experts who believe the Cunningham campaign has spent $66 million on advertising and related expenses.
Arlene Guzman Todd Works For Potnt, A North Carolina-Based Cannabis Lobbying Firm
Guzman Todd is currently employed by Potnt as their Media Director. Potnt's biography page explains that Guzman Todd "is a versatile, strategic public relations leader helping organizations enter new markets."
Potnt is one of the country's leading cannabis and hemp lobbying companies. According to its Crunchbase profile:
Potnt has quickly emerged as one of the most valued public relations and integrated marketing agencies in the cannabis, hemp and ancillary spaces. Our network of professionals in Charlotte, New York, San Francisco and Reno is quickly expanding. We're driven by our entrepreneurial spirit, deep start-up and tech experience and our authentic personalities.
She Is Married To Jeremy Todd, A Retired U.S. Army Sergeant First Class
A 2016 biography of Jeremy Todd written for the University of Southern California website reveals that, by 2016, he had spent 15 years in the military and saw a total of five combat deployments. He was attending USC to a Master of Business for Veterans degree and a Master of Science in Entrepreneurship and Innovation degree.
The USC article suggests Jeremy and Arlene committed to permanently living in California:
After three relocations in four years, Todd looked into the program as an option that would enable his family to experience some "normalcy." It would also give him the chance for a more traditional college experience. He earned his undergraduate degree in health and wellness with 180 credit hours from four different universities, taking online courses between deployments.

Once accepted to USC, Todd didn't waste time on going all in. With his wife Arlene's blessing, he joined the Pi Kappa Phi fraternity, practices six days a week with the crew team at the Port of Los Angeles and immerses himself in campus life.
Jeremy was seriously injured during proficiency parachute jump at Fort Bragg and doctors told him it would take him months to regain his ability to walk. Speaking to the media, he said "My wife carried me through," and that "She is really the superhero in all this."
"The wives are the unsung heroes of the military, the spouses that deal with everything. Without good wives and family, I don't think soldiers would be successful in their missions and everything they do," he added.
Arlene And Jeremy Live In Chino, California
National File can confirm that Jeremy Todd and Arlene Guzman Todd currently live in Chino, California.
Arlene And Jeremy Used To Live In Raleigh, North Carolina
Public records show Arlene and Jeremy Todd "owned a home on Leslieshire Drive in Raleigh from January 2014 to August 2015," per the News Observer.  The February, 2015 version of her About Me web page, archived on the Wayback Machine, also shows she lived in Raleigh at the time.
Jeremy Todd Was Denied His COAD Request
A change.org petition created by Arlene explains that Jeremy served in the Army for 19 years, and "recently submitted his Continuation of Active Duty Request (COAD), enabling him to complete his twenty years of Army Service and receive his full retirement, but unfortunately, he was denied."
Following his injury, the petition states he was deemed "unfit" due to a failed medical evaluation.
Jeremy And Arlene Have Two Children Together
Jeremy and Arlene have two children, a boy who turned 8 this year, and a girl of unknown age.
Cal Cunningham Met Arlene's Son At Least Once

In the text messages published by National File, Cunningham references meeting Arlene and Matthew when wishing him a happy birthday. "Happy belated birthday to Matthew! Cannot believe he's 8 years old," wrote Cunningham. "He was so little when we met!"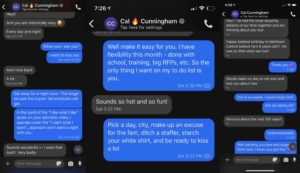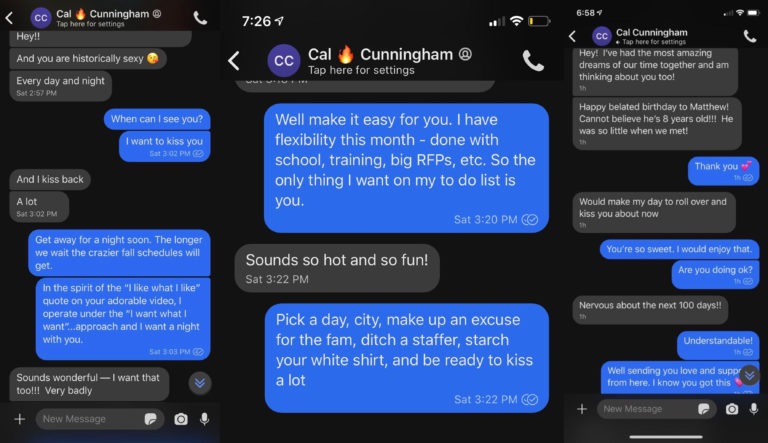 Jeremy Was Last Deployed After His Children Were Born
In an article for Parenting.com, written in 2018, Guzman Todd explains that she enjoys having her children at a daycare where cameras are deployed. She explains that it allows her military husband, Jeremy, to check in on the children when he is deployed overseas. From the article:
The use of cameras in educational and childcare settings can have benefits. Some parents who are nervous about leaving their children for the first time with strangers may find that this technology puts their minds at ease. Parent Arlene Guzman Todd explains, "I am a big fan of the cameras, they helped provide a feeling of security and allowed me to build trust by watching the caretaker's interactions with my children."

There are also situations where parents and carers may not be physically able to see their children, such as in the case of divorce, separation, or when a military parent is deployed. This is the case with Arlene's husband, an active duty service member. "The live feeds allow him to check in on the kids regardless of what part of the world he is in," she says.
Guzman Todd Was Previously An Adjunct Professor At California State University, Los Angeles
Arlene worked as a Lecturer and Adjunct Professor at CSU in the 2017 academic year, and had a reported pay of $11,634 for the year, according to OpenPayrolls.
Arlene Guzman Todd Graduated From President Obama's Alma Mater
Arlene Guzman Todd is a graduate of Occidental University, President Barack Obama's Alma mater, and George Washington University. She graduated in 2005 and was photographed at the campus in 2019.
https://www.facebook.com/occidental/photos/bristol-posatko-05-and-arlene-guzman-todd-05-pausing-for-a-for-good-photo-op/10157749977063072/
Arlene And Jeremy Had A Rocky Marriage Prior To National File's Reporting
National File's source claims Arlene "hates her husband" and the two "just don't get along" despite their marriage and children.