Last Updated on September 24, 2019
Avi Yemini, the Australian anti-Islam activist, was suspended from Twitter on Tuesday after labelling Greta Thunberg an "extremist".
Yemini, who has done extensive work with Tommy Robinson and currently produces videos for TR.News, was  suspended by Twitter immediately after he criticized the 16-year-old Swedish climate change activist, Greta Thunberg, for her speech at the UN.
Thunberg decried anybody who opposed her as "evil," and said that world leaders who refused to tackle climate change by imposing hugely authoritarian restrictions were "stealing her future."
READ MORE: Facebook BANS Trump-Supporting page 'Right Stuff' for No Reason
Yemini shot back on the social media site:
Dear Greta Thunberg, I hate the UN more than you could imagine, but they didn't steal your dreams or childhood — your parents did. They should be jailed for the sickening child abuse they put you through. They've scared you into an extremist.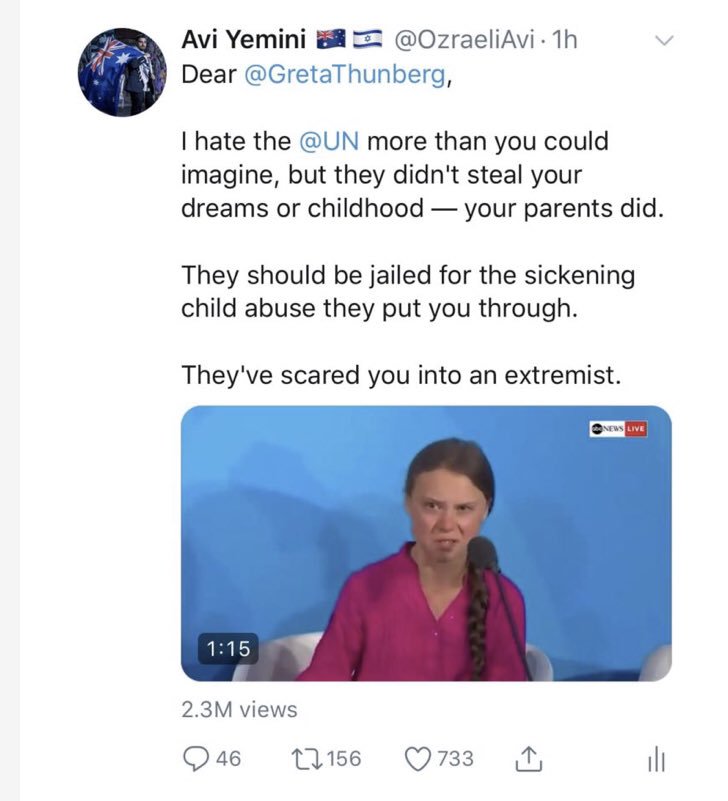 He was swiftly banned by Twitter, receiving a message claiming that he violated rules against "platform manipulation and spam," and has been "permanently" suspended as a result.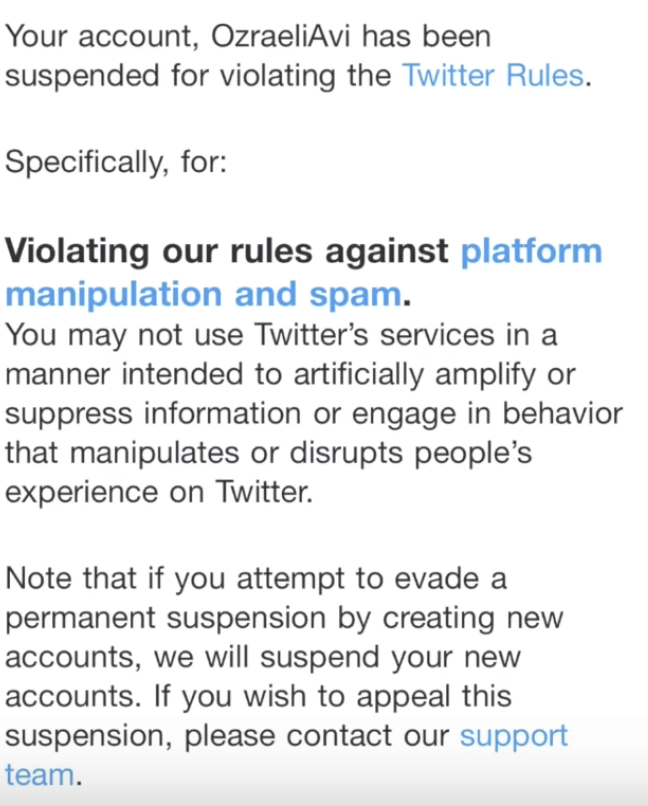 In a video posted to YouTube, Yemini said that he had simply responded "respectfully, truthfully, and honestly" and was just "criticising the insanity of climate change alarmists":
They couldn't pin hate speech on me – if they could, they would… It's not for the lack of trying, I get about 100 reports a day from leftists who are trying to get me pulled down, all for hate speech. Hate speech wasn't how they got me; it was by some weird rule that makes zero sense. It's an excuse to silence me.
https://www.youtube.com/watch?v=pgGkmntVgzM
Many users tweeted their support for Yemini in the face of Twitter's censorship.
the tweet that got Avi Yemini banned.
Twitters bias is an absolute joke.
They can have this kid (@GretaThunberg) near on crying on stage in front of the UN over climate change propaganda that is being spew all over the media.
And soon as that hysteria is called out,this happens. pic.twitter.com/ilfjjv0KgT

— Outspoken- with Ethan Tamaki (@EthanTamaki) September 24, 2019
Twitter permanently bans Avi Yemini for criticizing Greta Thunberg's parents and the United Nations. Seriously?

Twitter, is there really any point for anyone to keep using you when you engage in such censorious actions against free speech? #FreeAvihttps://t.co/t78jiZYAdM

— Vince Byfield (@vbyfield) September 24, 2019
Elijah Schaffer of The Blaze compared Yemini's tweet to that of the left-wing "journalist," Reza Azlan, who had previously stated that Nick Sandmann of Covington Catholic High School, had a "punchable face." Yemini simply criticised and was banned, yet Azlan was far more violent, and was totally unpunished.
Journalist, Avi Yemini, was suspended from Twitter today for criticizing left wing figure head & climate activist Greta Thunberg

Meanwhile left wing pundit @rezaaslan threatened the underage boy from Covington & his account remains verified & active

The game is rigged pic.twitter.com/nRLxnacoSH

— ELIJAH SCHAFFER (@ElijahSchaffer) September 24, 2019
National File asked Twitter for a comment on Yemini's ban and did not receive an immediate response.
This is not the first time that Big Tech has swung into action to "protect" children they agree with, but attacked anyone underage who dared to disagree with them.
Last year, Twitter blocked Kyle Kashuv, the 2nd Amendment activists and survivor of the 2018 Stoneman Douglas High shooting, from appearing in their Moments feature.
READ MORE: YouTube Said All Content Creators Are Welcome, Then Banned Infowars AGAIN
No conservative, libertarian, or populist, is safe from Twitter's line of fire.
National File reported on Monday that Alan Gottlieb, the founder of the Second Amendment Foundation, was banned on the platform just before their Gun Rights Policy Conference.
Earlier this month, the SJW parody account Titania McGrath was also suspended for 7 days. These bans and suspensions will not stop any time soon.