Last Updated on April 4, 2023
The politically-motivated prosecutors of Manhattan District Attorney Alvin Bragg's office parroted corporate media lies about the baseball bat title image created by National File for an article shared on Truth Social by President Donald J. Trump, exposing Bragg for only having the support of 10% of Mannhattanites. President Trump previously praised National File's reporting on the issue in a Fox News interview as "very exculpatory" and "very good." President Trump also defended the baseball bat photograph which, as he pointed out, has nothing to do with swinging a baseball bat at Alvin Bragg, as the Trump-hating media has claimed.
Reporting from the scene of President Trump's appearance before left-wing New York Judge Juan Merchan, NBC News producer Adam Reiss recounted the anti-Trump prosecution's statements to the judge in which Bragg's office accused Trump of making "threatening emails and speeches," and specifically mentioned National File's article on Bragg's low support among voters as an especially serious "threat."
"He said that these public statements to the District Attorney, which included a photo of [President Trump] swinging a baseball bat toward the District Attorney's head, was very concerning," Reiss recounted to the NBC News studio.
"They're concerned about this and what effect it will have on potential jurors and witnesses," he added. "But they said that this will not dissuade the office."
Listen to the audio below:
#AUDIO: Alvin Bragg's anti #Trump persecutors parroted corporate media LIES about @NationalFile's famous baseball bat photo in a gutter law attempt to slander President Trump. pic.twitter.com/DWQEUTbFqh

— Frankie Stockes – Reporter (@stockes76) April 4, 2023
The claim that, in the photo (attached below), President Trump was "swinging a baseball bat at Alvin Bragg's head," is not just patently false, but completely ridiculous. The photograph in question, which is actually a side-by-side of two separate images, features President Trump in one frame holding a baseball bat during a made-in-America expo at the White House. In the other frame (a totally separate photo) sits Alvin Bragg.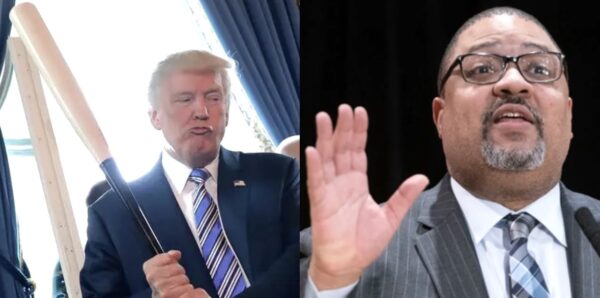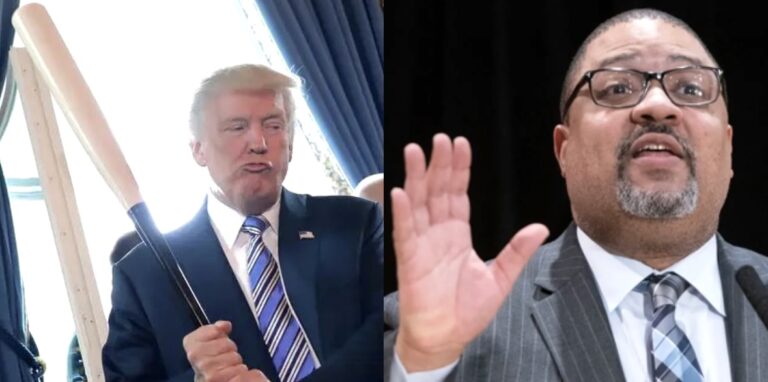 As this reporter, Frankie Stockes, clarified in an appearance on the Stew Peters Network's In The Trenches With Teddy Daniels news program, the image was meant to symbolize President Trump "knocking the phony case out of the park."