Last Updated on March 20, 2023
Alvin Bragg, the notoriously corrupt and anti-Trump Manhattan District Attorney who is expected to have President Trump arrested on Tuesday, won the votes of just 10.79% of Manhattanites when he was "elected" in 2021.
According to the 2020 Census, Manhattan is home to 1,694,251 people, serving as the heart of New York City's commerce engine. Of those more than 1.6 million Manhattanites, just 182,828 of them cast their votes in favor of Alvin Bragg, the anti-Trump District Attorney who's expected to have the 45th President arrested on Tuesday in a case of brazen political persecution that's historically unprecedented in the United States.
The remarkably low voter turnout in the 2021 Manhattan District Attorney's race, in which just 219,772 people voted in total, is typical of local elections in New York City and part of a wider pattern in American cities long ruled by Democrat political machines, where those opposed to their agendas, and political newcomers face a massive uphill battle to even get on the ballot.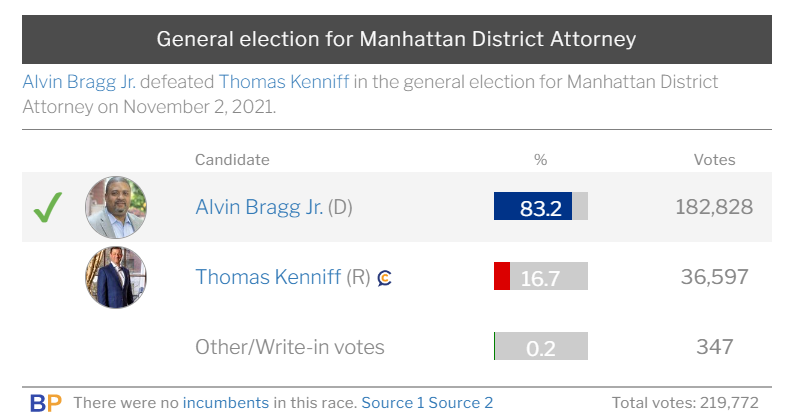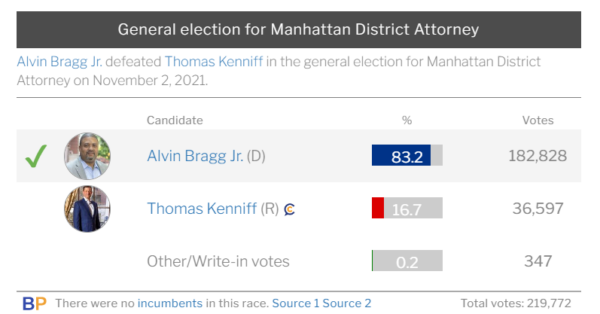 Bragg, a life-long leftist whose career has been marred by corruption, was backed by party bosses to be installed as District Attorney, and members of the Democrat Party touted his status as the "first African American" to be Manhattan's prosecutor as his main campaign plank. Since his election, Bragg has led a political persecution campaign against President Trump and others aligned with the America First movement and anti-Communism in general.
Notably, Bragg has indicted War Room broadcaster and former Trump advisor Steve Bannon for the crime of trying to secure America's southern border, and just recently, indicted Miles Guo, a Chinese dissident associated with Bannon, the War Room, and pro-freedom movements in Communist China. President Trump appears to be the last leg of a far-left prosecution trifecta that Bragg wants to pull off.
In a public statement released on Truth Social over the weekend, President Trump blasted Bragg and the politicized movement to throw him in jail and torpedo his 2024 presidential campaign.
As National File reported:
On Saturday morning, President Trump posted on Truth Social, "NOW ILLEGAL LEAKS FROM A CORRUPT & HIGHLY POLITICAL MANHATTAN DISTRICT ATTORNEYS OFFICE, WHICH HAS ALLOWED NEW RECORDS TO BE SET IN VIOLENT CRIME & WHOSE LEADER IS FUNDED BY GEORGE SOROS, INDICATE THAT, WITH NO CRIME BEING ABLE TO BE PROVEN, & BASED ON AN OLD & FULLY DEBUNKED (BY NUMEROUS OTHER PROSECUTORS!) FAIRYTALE, THE FAR & AWAY LEADING REPUBLICAN CANDIDATE & FORMER PRESIDENT OF THE UNITED STATES OF AMERICA, WILL BE ARRESTED ON TUESDAY OF NEXT WEEK. PROTEST, TAKE OUR NATION BACK!"

In a prior post on Truth Social Saturday morning, Trump also said, "OUR NATION IS NOW THIRD WORLD & DYING. THE AMERICAN DREAM IS DEAD! THE RADICAL LEFT ANARCHISTS HAVE STOLLEN OUR PRESIDENTIAL ELECTION, AND WITH IT, THE HEART OF OUR COUNTRY. AMERICAN PATRIOTS ARE BEING ARRESTED & HELD IN CAPTIVITY LIKE ANIMALS, WHILE CRIMINALS & LEFTIST THUGS ARE ALLOWED TO ROAM THE STREETS, KILLING & BURNING WITH NO RETRIBUTION. MILLIONS ARE FLOODING THROUGH OUR OPEN BOARDERS, MANY FROM PRISONS & MENTAL INSTITUTIONS. CRIME & INFLATION ARE DESTROYING OUR VERY WAY OF LIFE…"