Last Updated on October 14, 2022
A video posted to Twitter on Monday has gone viral after it showed a group of about 12 people attack a lone man and attempt to mug him, before he was able to fend off the violent attack. The man was forced to fend off at least one attacker who was armed with a knife.
The Twitter profile that uploaded the video appears to have been someone who was a part of the group, as he asked why one guy tried to fight "us."
"Why he try to fight all 30 of us [though] get a grip," Twitter user "tdotty" wrote on Monday.
— tdotty (@realzexiffyy) October 11, 2022
In a first look at the video it is nearly impossible to see, but one of the assailants wielded a knife in the attack and attempted to stab the victim multiple times. It is unclear if the intended victim was even aware that someone in the group had a weapon or that attempts were made to stab him with the knife.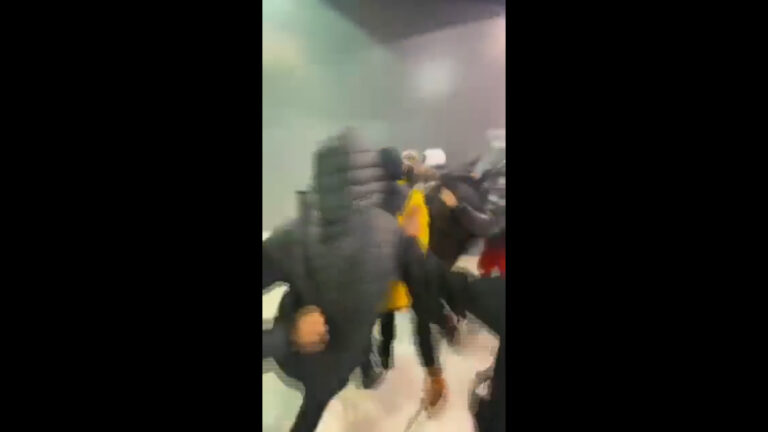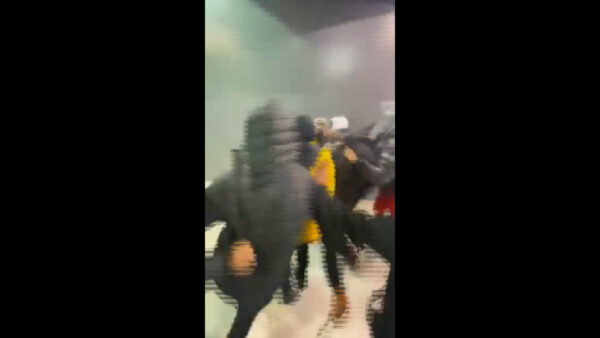 It appears that one member of the group, a male, was attempting to hold back the male who was armed with the blade.
"Look at 10 seconds kid in all black with a knife in his hand [just] watch him," the attacker added.
The user would later delete his tweet, although someone was able to screen capture the publishing it before it disappeared.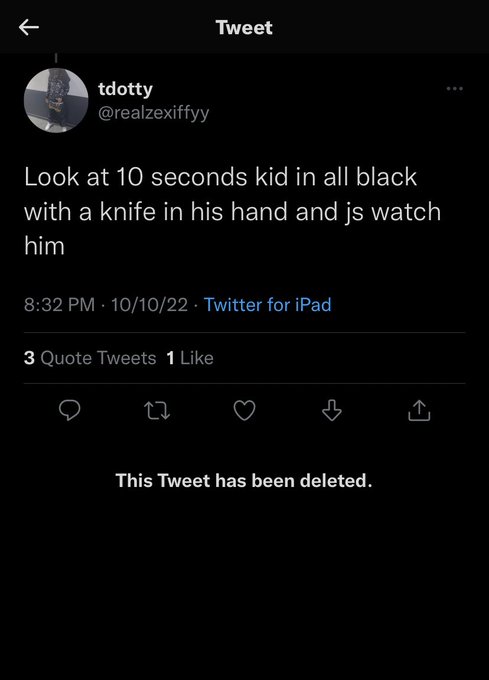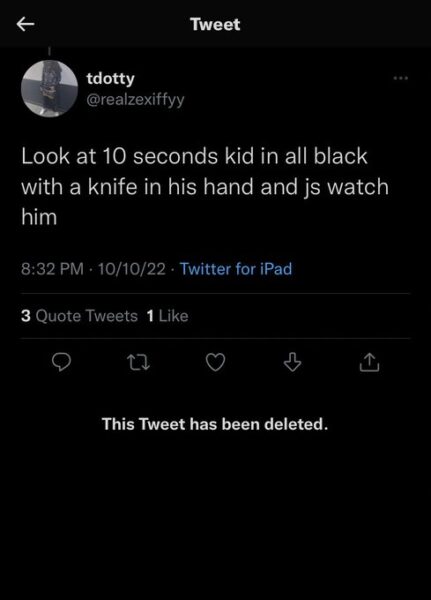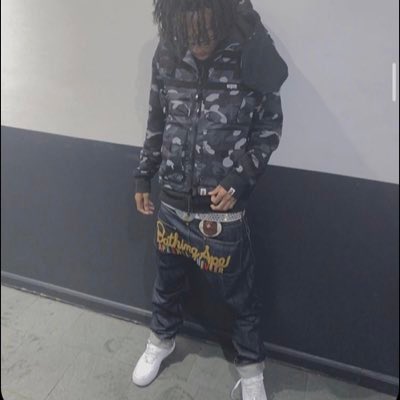 According to his Twitter profile, the attacker appears to be a high school student.
I'm in class bro pic.twitter.com/17McgQaD0m

— fxxed (@fxxedlol) September 22, 2022
"Are you not embarrassed? like at all? How do you of own free will post this," someone asked.
https://twitter.com/Wookieh4k/status/1580244552572891136?s=20&t=U7dc1FLgigoc0ROKhsUnjw
Another internet denizen wondered why he would tag his friend in the post.
— tdotty (@realzexiffyy) August 16, 2022
"Why would you tag your man in something embarrassing," he tweeted.
why would you tag ya mans in something this embarrassing

— 天 (@iannspiegel) October 12, 2022
In addition to being physically violent, the young man is also verbally abusive as well.
"On my life I'll kill both of [your] moms," he said in a tweet posted on Wednesday.
"What's up with [you] lately [you] seem so odd," someone replied.
"He got f***d by one guy they tried to 30v1 'em but lose for one guy what a pussy fortnite boy," another user responded, in reference to the young man's penchant for posting videos of himself playing the video game, Fortnite, on YouTube.
https://twitter.com/KettuFN/status/1580382257063530496?s=20&t=Z8NqGNsJ8Kkf2ayDecJc_Q
Fortunately, the intended victim of the attack was able to defend himself well enough to ward off the group of thugs. Outnumbered and facing assailants with weapons could have resulted in a much different outcome for all involved, but particularly for the intended victim.
As for the young man who uploaded the video, he is apparently still in school and has upcoming final examinations.
It's next week Thursday and Friday finals sunday

— fxxed (@fxxedlol) October 12, 2022