Last Updated on December 17, 2019
The new 2019 intake of Members of Parliament have been instructed how just to "check their privilege" by Parliament by giving them all a copy of a "privilege wheel."
Guido Fawkes, a website that follows the inner workings of Westminster politics, revealed the "privilege wheel" chart given to the new MPs by Parliament that allowed them to check their privilege.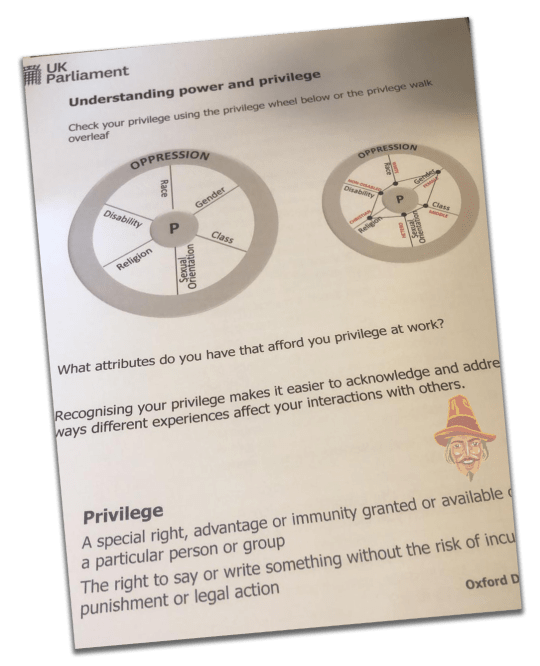 The official Parliament document instructs MPs to "check your privilege using the privilege wheel below." It has a "P" for "privilege" in the centre, and a ring around the outside labelled "oppression."
READ MORE: UK: Conservatives Win HUGE Majority in Election
The wheel is divided up into segments: race, gender, class, disability, religion, and sexual orientation.
An example wheel shows how to plot your own graph. If you're a woman, you would put a point closer to the "oppression" ring on the gender line, and if you're middle class, you'd be closer to the privilege P in the centre.
"What attributes do you have that afford you privilege at work?" it continues. "Recognising your privilege makes it easier to acknowledge and address ways different experiences affect your interactions with others."
It defines privilege as "a special right, advantage, or immunity granted or available [to] a particular person or group," and "the right to say or write something without the risk of incurring punishment or legal action."
Ironically, this means all MPs are privileged; when you speak inside the House of Commons, you are protected from any libel or defamation laws.
One MP anonymously told Guido Fawkes that it was ironic that Parliament was trying to teach about them privilege.
"Parliament itself is – thanks to Bercow [the former Speaker of the House] – part of the cultural problem," he said. "You can be robust on lecherous bastards who are bad bosses without reducing us all to David Brent."
READ MORE: LEFTIST TEARS: The Best Meltdowns of the UK Election
The document made Parliament look more like a leftist university than the British seat of government.
San Diego City College hosted an event in October that claimed "Make America Great Again" was white supremacy – the event produced fliers that had a similar look to those made by Parliament, including "pyramids of white supremacy."