Last Updated on December 13, 2019
Boris Johnson has taken the Conservatives to a stomping victory in the British general election, and it's causing quite a few leftists to have a meltdown!
Now Prime Minister Boris Johnson has secured an 80 seat majority, and the socialist Labour party led by Jeremy Corbyn have had their worst result since 1935. Lots of Corbyn supporters online are having meltdowns at the thought of Boris being Prime Minister for another 5 years after winning this election – we've collected some of the best here for your entertainment!
Leftist political commentators were so sure that Corbyn was getting in, so they're very upset:
Special congratulations to older voters who went Tory, fucking over the younger generations for decades and guaranteeing them a brexit they hate because you liked the man with the funny hair who isn't afraid to say those racist things you enjoy.

— James Felton (@JimMFelton) December 12, 2019
BBC exit poll predicts Tories to take 70+ seats. If so – a victory of the old over the young, racists over people of colour, selfishness over the planet. Scotland will leave UK. However it does not feel right compared to on-the-ground.

— Paul Mason (@paulmasonnews) December 12, 2019
I'm sick of my heart sinking when the exit poll drops, I'm sick of feeling as though my generation are constantly losing, constantly at odds with the rest of the country. I am so sick of it.

— Abby Tomlinson (@twcuddleston) December 12, 2019
Won't lie. It sickens me that people heard this man speak, with his blatant self-interested lies, and decided they wanted more of it.

— Ian Dunt (@IanDunt) December 13, 2019
I'm so, so sorry guys. Just utterly devastating. Brexit just smashed us. Keeping together an electoral coalition of Remainers and Leavers as the country bitterly divided just became impossible.

— Owen Jones (@OwenJones84) December 12, 2019
We couldn't overcome the Brexit culture war. I'm so sorry, to everyone who fought like lions til the close of polls. The movement continues, and we keep on keeping on tomorrow.

— Ash Sarkar (@AyoCaesar) December 12, 2019
Dark day for minorities in the UK. Especially for British Muslims who watched as a man who said "Islam was the problem," mocked veiled Muslim women, & also turned a blind eye to massive anti-Muslim hatred in his party, was just given a landslide majority by their fellow Britons.

— Mehdi Hasan (@mehdirhasan) December 12, 2019
READ MORE: UK: Labour Split Over Whether 90% of Giraffes are Gay
Left-wing celebrities and luvvies don't like that the ordinary proles didn't listen to them: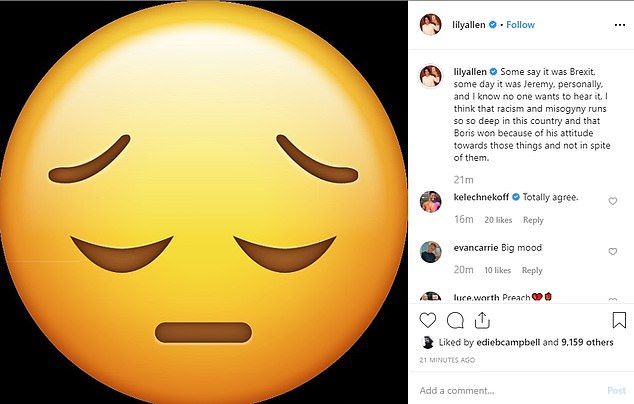 We looked around and the country decided that that, after careful consideration, we want the self-obsessed, lying, entitled toe-rag that is Boris Johnson to be in charge for the next five years? We deserve each other….

— Dom Joly (@domjoly) December 13, 2019
Young people were astonished that Labour's likes and retweets weren't translated into actual votes, and were suspicious that it's all been a set-up:
https://twitter.com/timelesbians/status/1205252599756316672
I don't want to sound bitter but something just doesn't feel right. I can't comprehend how the Tories have won this election. #GeneralElection #notmygovernment #NotMyPrimeMinister #NotMyPM #JeremyCorbyn #brexit #brexshit #BrexitBritain #ConservativeWin

— Taste of Tesfaye (@tasteoftesfaye1) December 13, 2019
READ MORE: Leftists Claim London Bridge Terror Attack is False Flag by Conservatives
Some Labour voters genuinely believe that the Conservatives are in favour of killing the poor, and selling the National Health Service to America:
https://twitter.com/MichaelM238/status/1205256934926036993
You won, Boris. Enjoy No.10, I hope it makes u happy. Dear Lord. What a sad little life Boris. U ruined the election so u can have tax breaks&sell the NHS. I hope you use the money getting lessons in grace&decorum cause u have the grace of a reversing dump truck with no tires on

— natalie james (@nataliemjames) December 12, 2019
https://twitter.com/donnyc1975/status/1205477229003706368
Lots of people who hate Brexit knew Boris would make it happen now he's won the election, and they're having meltdowns:
seeing all the people congratulating boris on brexit and winning the election under "congratulations boris" makes me so fucking sick

— jenni || bIm (@signofttimes) December 13, 2019
I think what annoys me the most about the Tories winning this election is that they'll go on to deliver Brexit under the guise that "it's what the people want", when in actuality more people voted against the Conservatives in this election than for them.#NotMyPM

— Josh Robertson #BlackLivesMatter (@JoshRobertson97) December 13, 2019
Some were just mad at whites and the working class: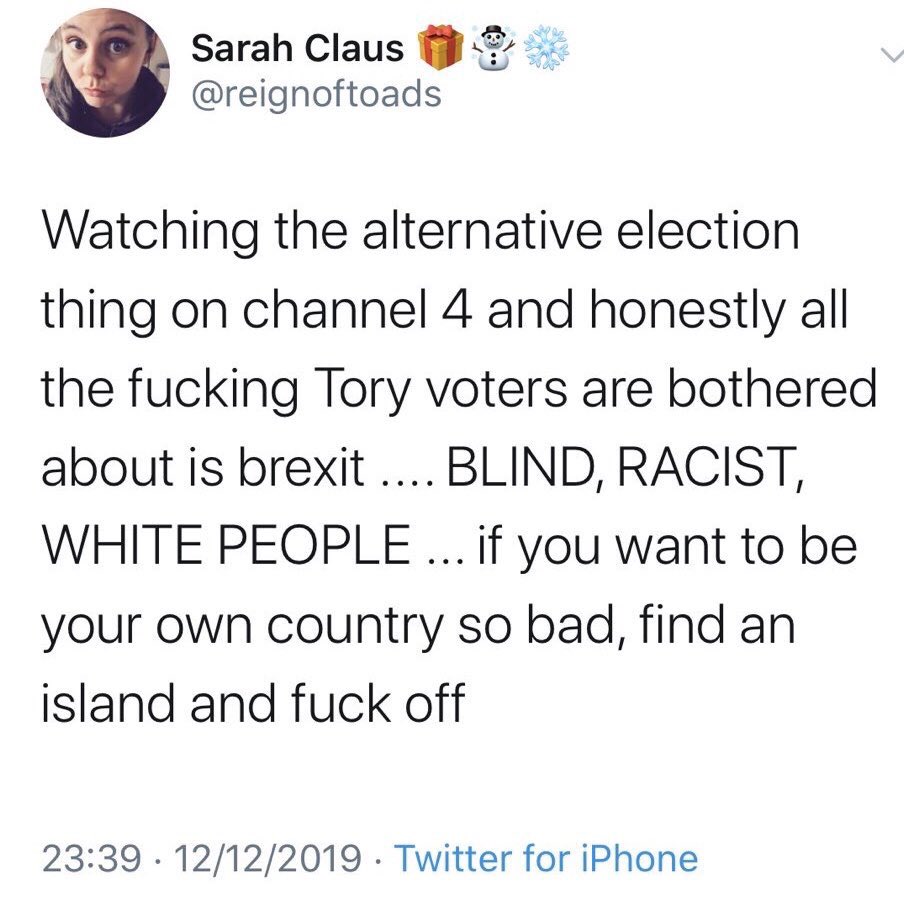 https://twitter.com/DarcieBierton/status/1205118988663037952
READ MORE: UK: Labour Party Votes to Abolish Private Schools
Some decided that the only thing left to do was have a bit of a protest – surely that would stop Boris Johnson from taking his majority!
Johnson won the election lost the country: 14.6m voting Tory vs 16.2m against!
Result is 53% vs 47% against Johnson.
Johnson lied again:
"Getting Brexit done is now 'irrefutable' decision of British people"
Apparently not say the people👇#NotMyPM pic.twitter.com/w3KmC5MIiR

— Wolf F. BBC Vicar #FBPE #FBR 🇩🇪 🇬🇧 ❤️🇪🇺🏍️ (@FreitagWolf) December 13, 2019
Protests in London #NotMyPM #NotMyPrimeMinister pic.twitter.com/92jDtEOdap

— Socialist Workers Party (@SWP_Britain) December 13, 2019
This included some supporters of Scottish independence – now that the SNP won't be forming a minority government with Corbyn's Labour, there won't be a second independence referendum, which they're not happy about!
Fuck the Tories! #NotMyPM #Glasgow #GE2019 pic.twitter.com/T1SNZmS6L3

— Adam 🏴󠁧󠁢󠁷󠁬󠁳󠁿🏴󠁧󠁢󠁳󠁣󠁴󠁿 he/him (@pingusda) December 13, 2019
Massive impromptu #FCKBORIS demo in Glasgow. Thousands of young people have taken over Buchanan street #NotMyPM pic.twitter.com/pqpHehDKza

— Bryan Simpson (@BrySim88) December 13, 2019
The belief in Scottish independence has kept me from having a breakdown in despair and anxiety over the triumph of hatred, fear and greed before compassion.

Independence is the light at the end of a tunnel that just reached its darkest stretch.🕯️🏴󠁧󠁢󠁳󠁣󠁴󠁿 #ScottishIndependence

— William G. Saraband 🏴󠁧󠁢󠁳󠁣󠁴󠁿🇵🇹🏳️‍🌈 (@wgsaraband) December 13, 2019
God, what a country 😩🏴󠁧󠁢󠁳󠁣󠁴󠁿 This is the kind of vibe I want to bring up my kid in. Not one where her mates are starving #ScottishIndependence https://t.co/kinY25htFj

— sammy (@possibIynever) December 13, 2019
READ MORE: UK: Leftists Plan to Legalize Abortion Up to Birth
And, of course, many simply cried:
https://twitter.com/Drjamesszy/status/1205570036980736001
and some of us sat and cried at the loss of humanity and integrity in our country

— Glo ✨ (@wiltshireglo) December 12, 2019
https://twitter.com/Deborah68889550/status/1205286720989810688
I have never cried as much or felt so much despair over an election result, and I remember the Thatcher years

— El Rhodes (@electra_rhodes) December 13, 2019
I've never cried before at an election result. So many people will die. Our NHS. Schools. Refugees. Homeless people. Oh my God.

— Fatima Ahdash (@Fatima_Ahdash) December 12, 2019
Here's to five more years!