Last Updated on April 8, 2021
The Jewish Congress, a far left advocacy group that claims to advance the rights of Jewish Americans, claims that Rep. Marjorie Taylor Greene's use of Gab to raise money for her upcoming reelection campaign constitutes a threat to "American democracy".
The Jewish Congress notes that Greene "raised $3.2 million in the first three months of 2021," and "This was the fifth largest Congressional amount raised so far in 2021, demonstrating her impact in the Republican party." In their press release headline, they claim Greene's fundraising on the platform constitutes "a warning shot to American democracy"
The advocacy group then notes that much of this was raised using Gab, the free speech social network launched in 2016, and claims – without evidence – that Gab is "favored by neo-Nazis, white supremacists, and supporters of the antisemitic QAnon conspiracy theory movement."
They then claim they scanned 100 accounts out of the of the millions of Gab users and determined that 58 of them shared posts supporting Greene, and 42 posted white supremacy content. With an unscientific sample size, the credibility of their exercise is severely lacking. Further, The Jewish Congress does not reveal whether the 42 who posted white supremacy content are the same users who shared posts supporting Greene.
Gab CEO Andrew Torba responded to the attack on Gab yesterday, writing, "Why does the American Jewish Congress want [Greene] off the platform?
"The American Jewish Congress provides ZERO evidence of ANY 'incitement to violence' on Gab that they claim exists here because we have zero tolerance for it and take action against threats immediately," wrote Torba. "If people are discussing other topics that trigger the American Jewish Congress they are going to have to suck it up and deal with it because it's not getting removed just because they don't like it."
"Gab is a force to be reckoned with for the 2022 and 2024 political cycles. @RepMarjorieGreene is proof of that, which is why the Oligarchs are going to work even harder to attack Gab and shut us down."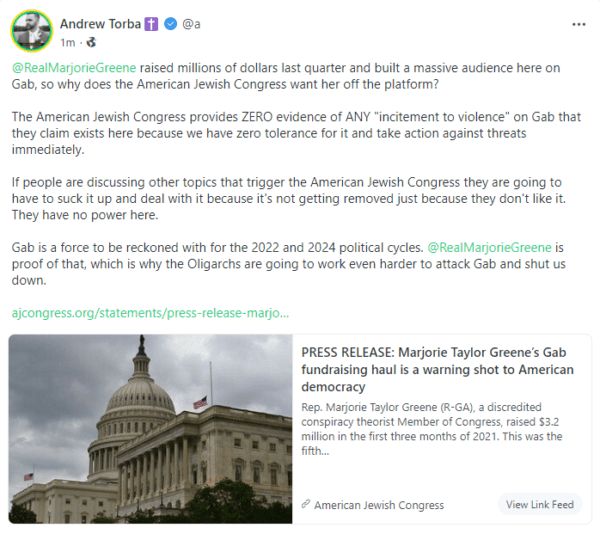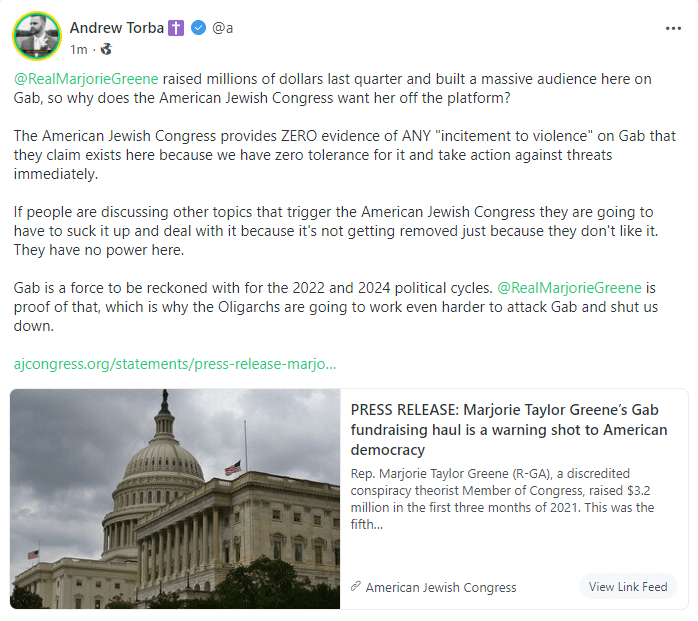 Gab was previously called anti-Semitic by Texas Governor Greg Abbott – again without evidence – and the Texas Republican Party later voted to censor themselves by deleting their Gab account. Texas GOP Chairman Allen West pushed back on this decision, and later made a Gab account of his own.