Last Updated on November 17, 2023
Candace Owens, although at a neoconservative outlet, may have proven herself as America First or at least a conservative pundit who has not bent on Trump's isolationism or the anti-war agenda.
She told Tucker Carlson on Thursday she will certainly not bow, staying true to her beliefs.
Before noon on Tuesday, she wrote Matthew 5:9-11 on X, "Blessed are the peacemakers: for they shall be called the children of God. Blessed are they which are persecuted for righteousness' sake: for theirs is the kingdom of heaven. Blessed are ye, when men shall revile you, and persecute you, and shall say all manner of evil against you falsely, for my sake.
No one can serve two masters. Either you will hate the one and love the other, or you will be devoted to the one and despise the other. … You cannot serve both God and money." 
She later added, "Christ is King."
Not too soon after, a video surfaced on X showing Ben Shapiro slamming Candace Owens for her so-called "absolutely disgraceful behavior" in regard to the Palestine-Israel conflict. He refers to her opinion as "faux-sophistication on this issue is ridiculous."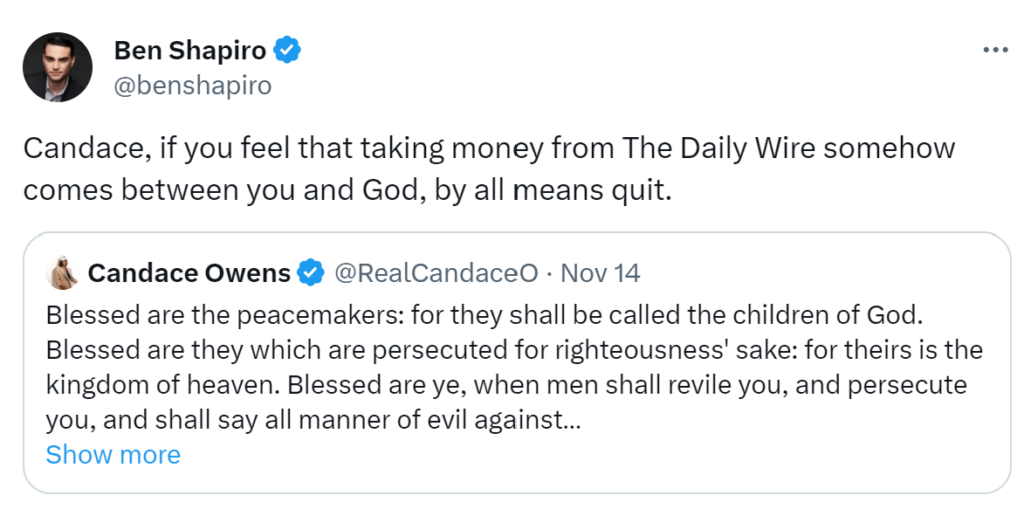 Shapiro later added to the controversy, quoting her Biblical post, saying, "Candace, if you feel that taking money from The Daily Wire somehow comes between you and God, by all means quit."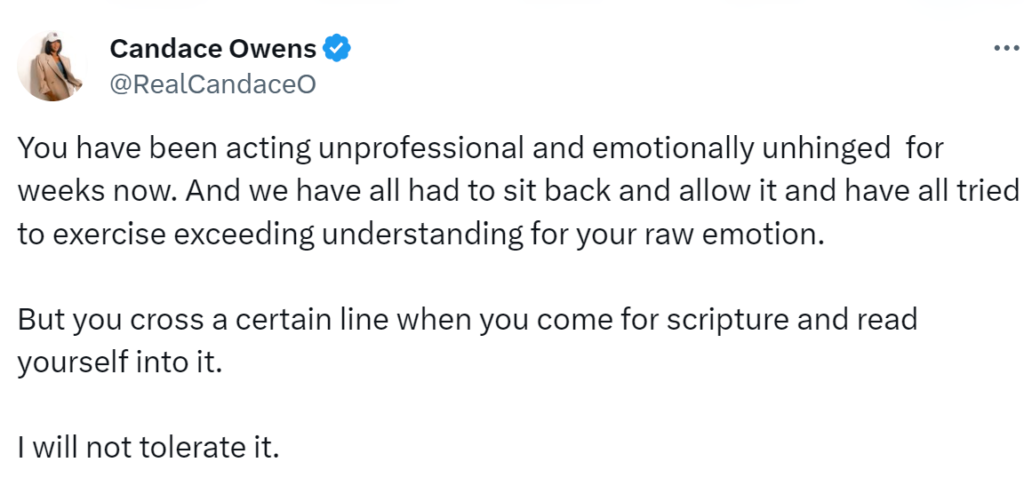 You have been acting unprofessional and emotionally unhinged for weeks now. And we have all had to sit back and allow it and have all tried to exercise exceeding understanding for your raw emotion. … But you cross a certain line when you come for scripture and read yourself into it. … I will not tolerate it.
In a subsequent episode of her show, she commented on the apparent tribalism from Zionists who demand the US to fund their foreign nation's effort, which is on clear display on X.
Owens has received the backhand from many of her supporters for questioning the mainstream media narrative behind Israel and Palestine, even commenting on X that she would be "smeared" like Charlie Kirk, Elon Musk, and Rep. Thomas Massie "as antisemites."
The founder of BLEXIT has regularly spoken against the media-dominated pro-Israel news, not expecting America "to fight foreign wars … [or to] accept the lies from politicians that we do so in an effort to 'spread democracy." She went further, saying, "Genocide, no matter which government expresses its aim, is always indefensible."
Owens has also shown support for Rep. Massie as AIPAC has continued to pressure him through the course of the past few weeks. He has responded by ignoring the "antisemitic" claims and saying the smears are "baseless" and that "tactics don't work on this Congressman."
Prior to much of this, Owens noted on X, "Power is shifting culturally and politically right now. We are living through an incredibly interesting time that will be studied well into the future …," going on to thank Elon Musk for freeing the platform.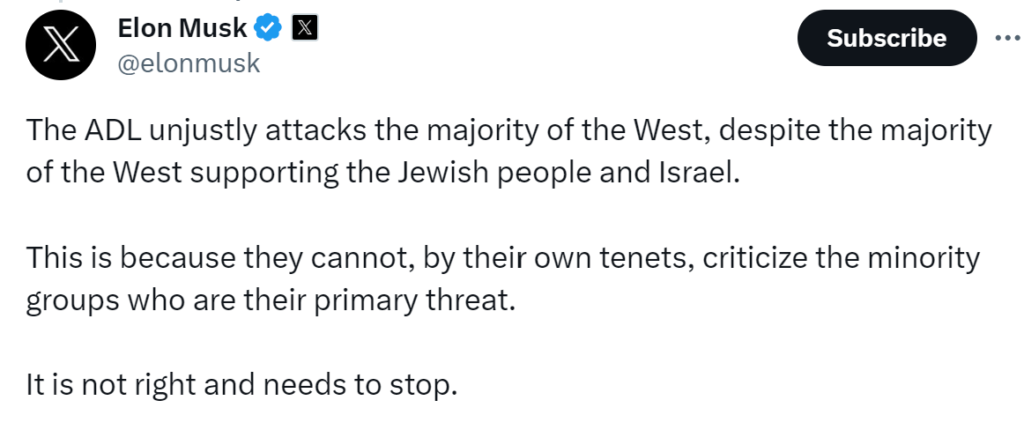 The billionaire even remarked on Thursday that "The ADL unjustly attacks the majority of the West, despite the majority of the West supporting the Jewish people and Israel. This is because they cannot, by their own tenets, criticize the minority groups who are their primary threat. It is not right and needs to stop."
The power shift may seem here with the new owner at X, but we are likely to see more attacks against Musk and calls for censorship from so-called advocacy groups.