Last Updated on November 14, 2023
Republican House Speaker Mike Johnson of Louisiana shilled for Israel's war against the Palestinians again on Tuesday at the March for Israel demonstration.
Johnson clasped hands with Democrat House leader Hakeem Jeffries, who clasped hands with Democrat Senate leader Chuck Schumer, who clasped hands with Republican senator Joni Ernst, and they all stood together in defense of a foreign war lobby and the many billions of dollars in spending that they want to pump into the burgeoning World War 3.
"The calls for a ceasefire are outrageous," Mike Johnson said, nodding fervently as the audience chanted "No Ceasefire" in a bloodthirsty ritual on America's National Mall. Johnson continued: "We stand with you in that. Hamas terrorists waged the bloodiest assault on Jewish lives since the Holocaust and there are hundreds of hostages, many of them Americans, still stuck inside Gaza. Israel will cease their counter-offensive when Hamas ceases to be a threat to the Jewish state."
Mike Johnson recently spoke to Israeli prime minister Benjamin Netanyahu — participating in what is colloquially known as "The Call." Johnson then literally posted an action photo of him talking on the phone to Netanyahu, in yet another embarrassing display for the American political class.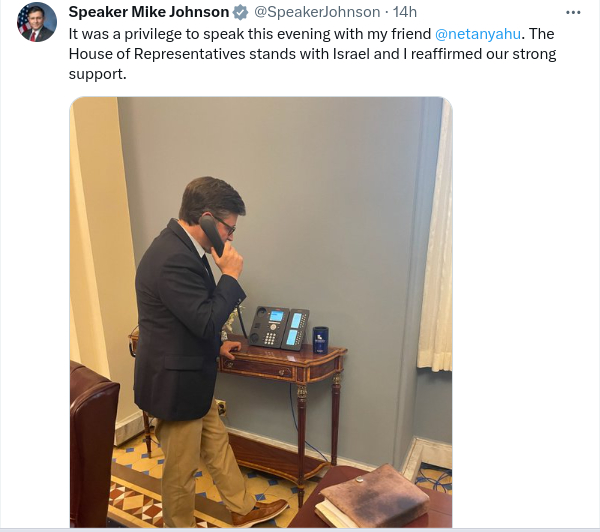 Johnson recently flip-flopped and he now supports funding for Ukraine's war against Russia.
"We all do," Speaker Mike Johnson said when asked if he supports sending more American money to Ukraine. Oh really? Then why did Matt Gaetz oust Kevin McCarthy in the first place? Matt Gaetz said that he ousted McCarthy because McCarthy was making a side deal with Joe Biden's handlers to fund Ukraine outside of the continuing resolution spending. New Ukraine funding got BLOCKED in this current 45-day continuing resolution. No wonder Mike Johnson told Sean Hannity that he is probably going to try to get rid of the motion to vacate rule that Gaetz used to oust McCarthy.
"There's, uh, we're gonna have conditions on that so we're working…We want accountability and we want objectives that are clear from the White House but we're going to have those discussions and it'll be very productive," Johnson said to the press.
But previously, Mike Johnson impressed the folks back home in Louisiana by standing up against Ukraine funding back in 2022, when he voted No on a big chunk of Ukraine funding.
"We should not be sending another $40 billion abroad when our own border is in chaos, American mothers are struggling to find baby formula, gas prices are at record highs, and American families are struggling to make ends meet, without sufficient oversight over where the money will go," Speaker Mike Johnson said in May 2022, and he impressed people in Louisiana when it was reported in the local press, according to Mike Johnson's own congressional press release.