Last Updated on June 27, 2022
Lynchburg Virginia's Blue Ridge Pregnancy Center was attacked following the release of the U.S. Supreme Court decision reversing the 1972 Roe v. Wade ruling, handing governance over abortion back to the states. In the aftermath of the decision's release, pro-abortion leftists have turned to violence nationwide, even forcing Supreme Court Justices and their families to be moved to undisclosed "safe locations" away from their homes.
Local media reports that Lynchburg police were called to the scene of the Blue Ridge Pregnancy Center at 10:40 AM on Sunday after pro-abortion leftists promised a "night of rage" directed at pro-life and Christian-based people and institutions. Police say that four individuals were seen on security cameras vandalizing the center around 1:30 AM, shattering windows and plate glass doors while leaving graffiti threatening the safety of center patients and workers. An image of the group, which doesn't show any of their faces, has been posted online by law enforcement.
"If abortion ain't safe you ain't safe," red paint sprayed around the building's entrance reads, along with more graffiti crediting the pro-abortion extremist group "Jane's Revenge" for the attack. On one exterior wall of the building, the black spray paint campaigns for Democrats, reading "vote blue lol."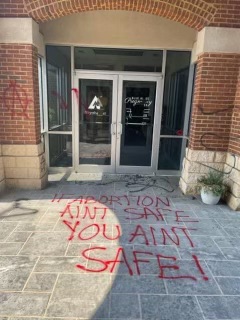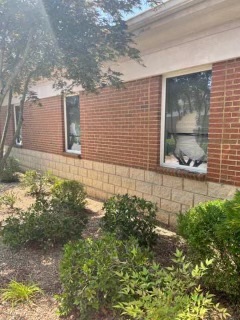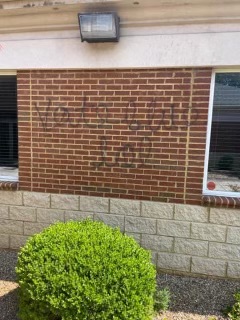 According to the Blue Ridge Pregnancy Center's website, the center, which is based in the Christian faith, is "dedicated to helping men and women faced with an unplanned pregnancy," and provides all of its services, which include pregnancy testing, ultrasounds, and counseling free of charge. The center does not provide abortions or refer patients to abortion providers but does offer after-abortion support for women who are struggling.
Photos of the attack on the Blue Ridge Pregnancy Center were posted to the center's Facebook page and quickly went viral around Virginia, leading to hundreds of leftists descending on the post in celebration of the destruction and the threats made against patients and providers.
Virginia Republican Governor Glenn Youngkin spoke out against the attack over social media, issuing a tweet offering assistance in investigating the crime from the Virginia State Police.
"There is no room for this in Virginia," Youngkin, who has said he will support tightening Virginia's abortion restrictions but has stopped short of proposing an outright ban, said in his tweet. "Breaking the law is unacceptable," Youngkin went on to say, adding that "this is not how we find common ground."
There is no room for this in Virginia, breaking the law is unacceptable. This is not how we find common ground. Virginia State Police stands ready to support local law enforcement as they investigate.https://t.co/BONC83jKgj

— Governor Glenn Youngkin (@GovernorVA) June 26, 2022
While Governor Youngkin has stopped short of supporting an all-out ban on abortion in Virginia, GOP Delegate Wren Williams announced his support for the legislative measure in a press release made following the Supreme Court's decision. Williams, who before taking down a long-time GOP establishment incumbent worked as a Trump election attorney, has been an ardent supporter of life since taking office, sponsoring Virginia's Infant Born Alive Protection Act. The bill, which would have protected babies born during botched abortion attempts from infanticide, was killed by Democrats in the State Senate.
"The iron curtain of death has crumbled," Williams said in his press release. "In America today, the people and their representatives now have the power to protect unborn children…I will support a ban on abortion in Virginia," Williams went on to say.