Last Updated on October 29, 2021
Terry McAuliffe campaign spokesperson Renzo Olivari is under fire for posting racist tweets in 2012, one of which includes a variation of a racist slur. In the same year, Olivari supported Ron Paul in the Republican presidential primary.
"#TweetLikeAGuy going out with da nigguhs" wrote Olivari in one deleted tweet dated to July of 2012. Earlier that year in February, Olivari participated in the "#ThingsBlackFolksNeverThrowAway" hashtag, adding "broken lamps" as his contribution.
Terry McAuliffe's comms guy kinda sounds like a racist. pic.twitter.com/7IE32ECWGE

— Arthur Schwartz (@ArthurSchwartz) October 29, 2021
Also in February of that year, the then self-described "moderate" extolled the many virtues of Dr. Ron Paul, a retired member of the U.S. House who ran for the Republican presidential nomination in 2012 with a campaign that focused on ending costly wars in the middle east and auditing the federal reserve.
Olivari's support began early that year with a tweet defending Ron Paul to a person who deleted their Twitter account over the intervening decade. Of Republicans, wrote Olivari, "Ron Paul is the better one out of all of them! #moderate".
On January 10 he again showed his support: "Come on Ron Paul, you can do this!" Again on Janaury 26, "If I had to pick one Republican, it'd be Ron Paul #RonPaul2012 lol". His enthusiasm continued to swell into February, when he described the candidate as "#perfect."
"I don't get why people don't vote for Ron Paul," wrote Olivari only days after using a racial slur on the same platform, "he is the #perfect candidate #RonPaul2012".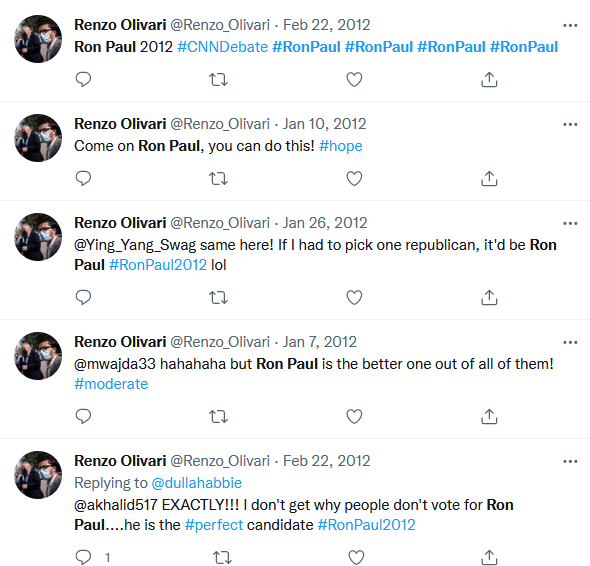 Ironically, the longtime Texas Congressman is no stranger to Virginia politics. In 2013, Paul endorsed Ken Cuccinelli for Virginia governor, and Cuccinelli was then running against none other than Terry McAuliffe. Despite Paul appearing on stage with Cuccinelli, McAuliffe ultimately won by just over 2% of the vote.
Donald Trump Jr. highlighted another problematic tweet from the McAuliffe spokesperson on Twitter. In May of 2012, Olivari participated in the hashtag "#SomethingIGetAlot" with the questionable contribution, "Are you black?" He added, "Hahahahah."
Hey @TerryMcAuliffe. Come get your comms guy. He's showing his ass and embarrassing you. pic.twitter.com/r0qdYWICqa

— Donald Trump Jr. (@DonaldJTrumpJr) October 29, 2021
It's unclear when Olivari made the transition from Ron Paul Republican to a hardened Democrat operative, but by 2015 he was tweeting regularly in support of Hillary Clinton, often at the expense of then-outsider candidate Bernie Sanders.