Last Updated on August 25, 2021
A Washington public high school is forcing student athletes to wear ankle monitors in order to help with COVID-19 tracing efforts. Eatonville High School bought the devices for both coaches and students to be used in sports. Students who play volleyball, basketball, football, soccer and basketball are required to wear the devices by the school.
The 'TraceTag' monitors are made by a company called Triax. The devices have both visual and audio sensors that alert students when they are too close to each other. They also collect contact-trace data later used to identify which students have had contact with students who test positive for the virus. According to the district, the devices are only used during games or practices.
The school was able to fund the purchase of the monitors with a grant they received. 'We received grant funding that specifically included provisions to support higher-risk athletic programs, and we used some of those funds to pay for athletic proximity monitors,' the district said in a statement. "We are using these monitors for high contact and moderate indoor contact sports. The monitors are for both staff and students on the field, regardless if they are vaccinated or unvaccinated."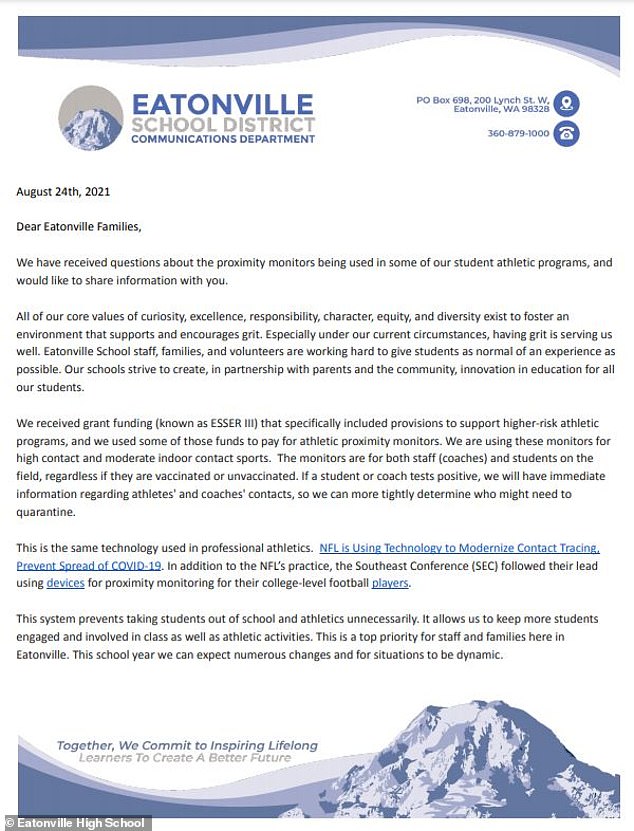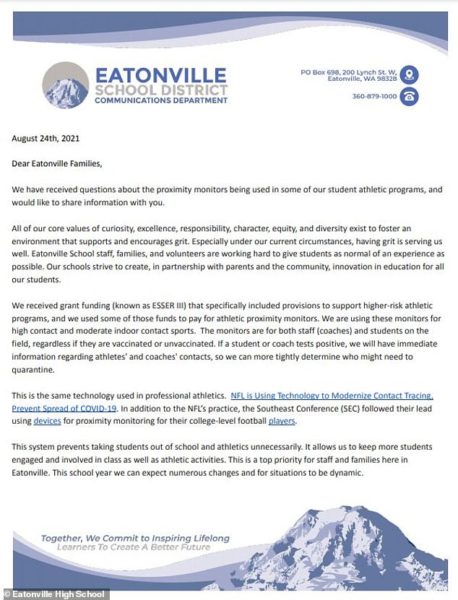 The implementation of the monitors led to backlash from some parents and members of the community. A mother who spoke anonymously to The Post Millennial received a text from her 15-year-old daughter saying she was being forced to wear an ankle monitor for volleyball practice. She later drove to the building after no one she called was able to answer questions about the monitor. Once there, she spoke with a coach, identified as Gavin Kralik, who told her that the device would inform the players when they were too close together. He added that the ankle monitor was only used for indoor sports. She was also informed that the device is used for contact tracing and that in the event of a positive test, non-vaccinated students would have to quarantine for 14 days. Vaccinated students would not be required to quarantine.
The mother was told by Kralik that there were forms to opt-out of the program at a meeting the week before. She was not informed of the meeting and was thus unaware of the new policy. The school athletic director later apologized for the "slip-up" of not obtaining parental consent. The mother then opted to take her daughter home and asked to take a picture of the device. Staff members would not allow her to take a picture of the monitor on the child's ankle and said she could only photograph the device in Kralik's hand.
After the backlash, School Board Director Matt Marshall later told The Post Millennial that the school district has shelved the devices for the time being. The board will reconvene this week and will discuss the program in more detail.