Last Updated on March 7, 2021
Merle Rutledge, a grassroots candidate for Governor of Virginia, says he's been "blackballed" by the state's political establishment after he was barred from back-to-back candidates' forums hosted by the College Republicans and former Senate nominee Daniel Gade's New Mission PAC respectively and in conjunction with the Virginia Republican Party.
Though one of the forum events was ultimately canceled due to "scheduling conflicts," Rutledge, the only black candidate in the race, wouldn't have been allowed on stage either way, telling National File that Liberty University's College Republicans reneged on his invitation to their March 1 forum after he had RSVP'd in the affirmative.
"I was contacted by [Liberty College Republicans Chair] Jack Collins by email about attending the event," Rutledge told National File. "I later contacted them to make sure my attendance was guaranteed and to learn the format of the event. At that time, [Collins] informed me that I could not participate and the slate was full."
After his invitation was seemingly pulled, Rutledge says he contacted members of Republican leadership looking for an explanation or recourse, eventually speaking with RPV Chair Rich Anderson, who he says assured him such a mix-up wouldn't happen again.
Days later, on March 4, a second event was set to take place, with 2020 U.S. Senate nominee Daniel Gade and his New Mission PAC acting as host. While all candidates are meant to be invited to such forums, Rutledge says that once again, this was not the case.
"After all this happened, I was not invited to Daniel Gade's New Mission Governor's Forum," Rutledge says. "It's clear from his advertisement who his PAC invited and it wasn't me."
According to a March 1 Facebook post advertising the event, Rutledge is correct. Originally posted by the New Mission PAC and shared by the Republican Party of Virginia, the forum advertisement reads "Daniel Gade and Chris Saxman will be hosting gubernatorial candidates Kirk Cox, Sergio de la Pena, Peter Doran, and Glenn Youngkin on March 4th at 7 pm!"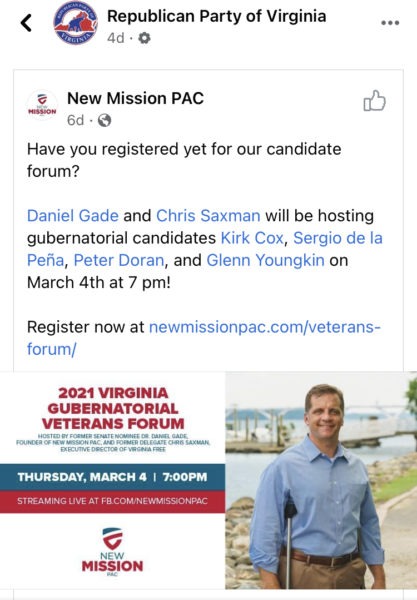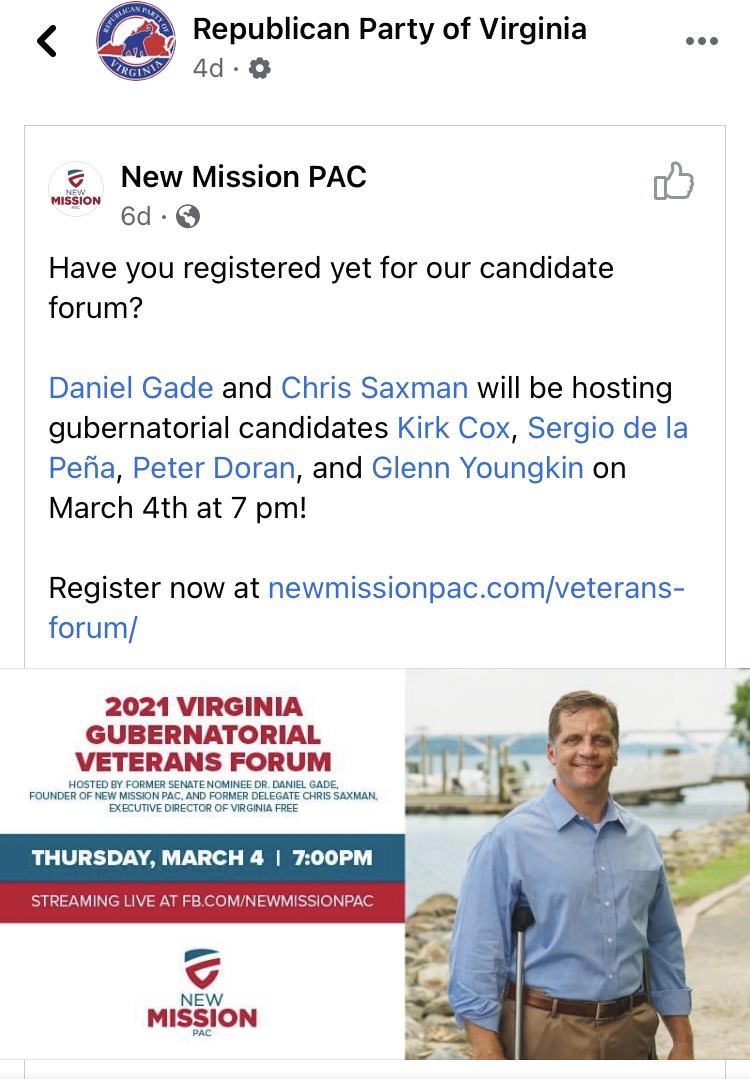 According to text messages provided by Rutledge to National File and dated March 1, 2021 – three days ahead of the New Mission PAC Forum – Rutledge reached out to RPV Chair Anderson yet again for help in straightening out the situation.
While Anderson replied with a simple "I'll text them," signaling he'd be in touch with the forum's organizers, it appears that was the end of the conversation, with Rutledge never gaining access to the forum or receiving further texts from Anderson. The forum went on, minus Rutledge.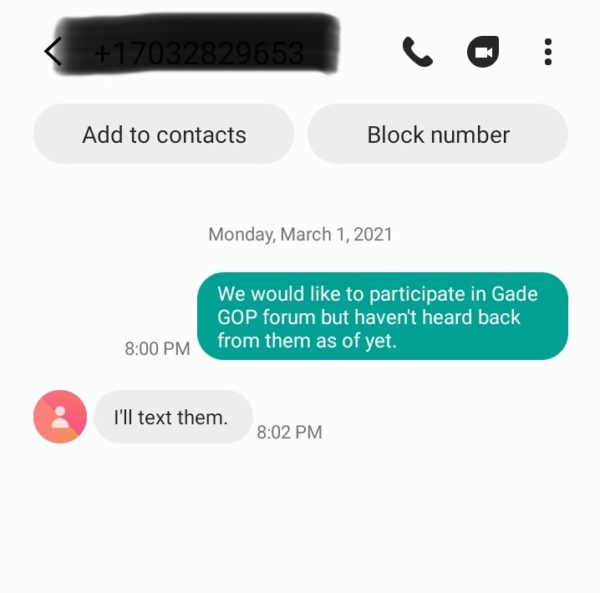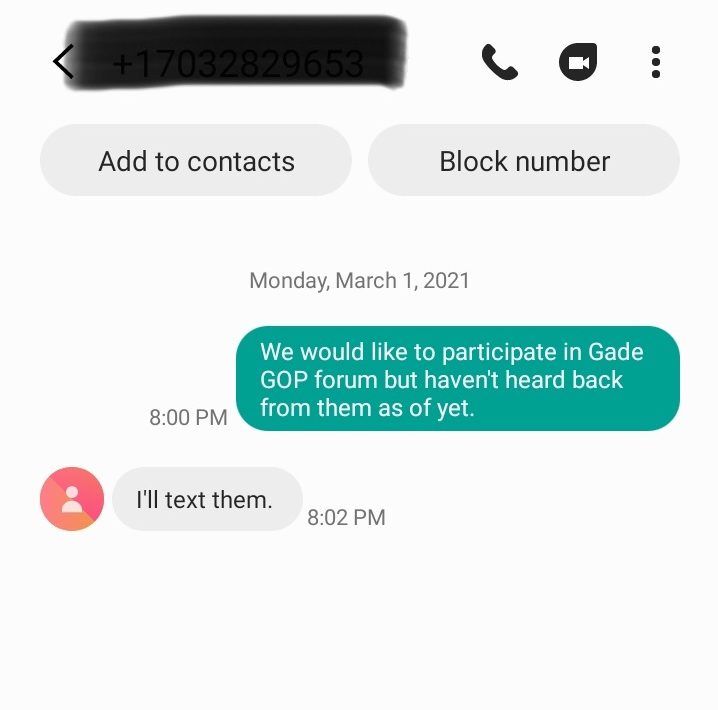 "What they are doing is costing us with petty antics," Rutledge tells National File of the back-to-back snubs, saying he believes his presence in the race as a true political outsider – Rutledge has never held office – intimidates the notoriously establishment-friendly RPV.
"My presence in the race intimidates their favorite candidates. It appears they'd rather have gold than substance. If someone like me, from outside the establishment, can fix the problems in Richmond then no one will vote for the establishment. I'm being blackballed."