Last Updated on January 27, 2020
Since gaining control of Virginia's legislature last November, Democrats have seemingly worked around the clock to usher in their increasingly left-wing agenda as quickly as possible.
While Bloomberg-sponsored gun control and confiscation bills – plus the resulting public outrage – dominated headlines, a number of other far-left initiatives managed to fly under the radar, including a push to grant in-state tuition to illegal aliens. 
Included in Governor Northam's "Common-Sense Virginia 2020 Plan," a list of Democrat's top priorities for the legislative session, in-state tuition for illegal aliens falls under the "increase education funding" line item.
So, as Virginians begin to experience sizeable tax hikes, while Democrats look to add over $1 billion annually to the state budget, a portion of their earnings will go to subsidizing the college tuition of illegal aliens, whether they can afford to send their own children to college or not. 
Twin bills granting illegal aliens in-state tuition are already making their way through the state legislature, both of which were introduced by Northern Virginia Democrats. 
The House version, HB 1547, was introduced by Majority Whip Alfonso Lopez (D-49) of Arlington. Lopez is the son of a Venezuelan illegal immigrant, his father having permanently overstayed his tourist visa to the United States in the 1950s. "Every time I see a DREAMer kid, I see my father," Lopez has said. 
SB 935, the Senate version of the bill, was introduced by Senator Jennifer Boysko (D-33) of Herndon. In 2018, Boysko sponsored legislation that would allow illegal aliens to obtain Virginia driver's licenses. That bill died in committee. 
The bills have received widespread support from Virginia's Democrats, with Anne Holton, the President of George Mason University and wife of Senator Tim Kaine, recently tweeting out a letter she wrote to Virginia's legislative leaders urging their passage. 
Undocumented students are among the most determined, talented and successful members of our @GeorgeMasonU community. Virginia lawmakers, I ask that you support legislation granting in-state tuition for undocumented students who attend high school in Virginia. pic.twitter.com/VrqNEzlSEz

— Anne Holton (@AnneHolton) January 21, 2020
In the letter, Holton claims that illegal aliens "enrich" college campuses and make George Mason, home to over 300 students who "identify as undocumented," "one of the best and most diverse universities in the Commonwealth." Holton calls illegal aliens "valued members of our inclusive academic community," and vows to "continue to support their right as in-state residents to pursue and complete their education." 
Under Holton's watch, the university even endorses a student organization, Mason DREAMers, dedicated to building "a more inclusive environment for undocumented students through education and advocacy," while operating under the slogan "Unafraid, Unashamed, Undocumented," and promoting scholarships for illegal aliens. 
The group looks to be extremely political, and openly advocates for left-wing identity politics.
A photo from the group's Instagram account even brags "WE FLIPPED VIRGINIA!" in reference to last November's mid-term elections, crediting "people of color, young people, LGBTQ+ folks, immigrants, workers, women" with Democrat victories following heavy redistricting efforts.
https://www.instagram.com/p/B4gkTjNH5v9/
"Familia! We did it," reads the post's caption. "Virginia has been flipped blue!" 
Senator Kaine appears to be directly involved with the university's illegal alien community, and is pictured on the Mason DREAMers website alongside students wearing t-shirts which read "no human being is illegal."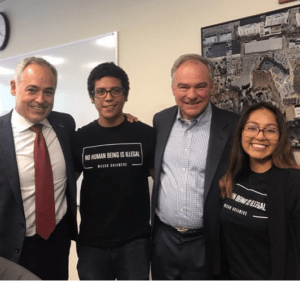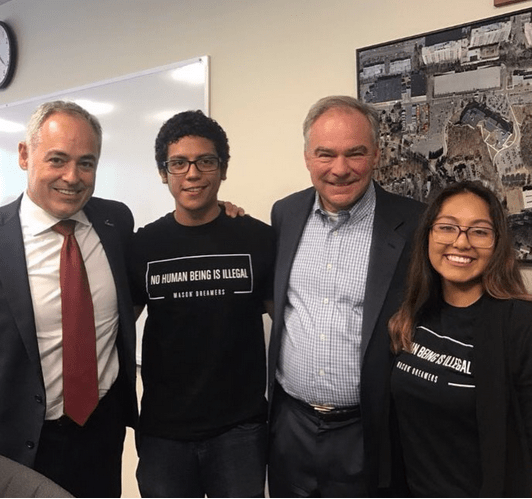 Ironically, before endorsing amnesty programs and in-state tuition for illegal aliens, Kaine once attempted to position himself as an immigration hawk of sorts.
In 2005, he ran for Governor of Virginia as a candidate "deeply opposed to illegal immigration," while calling on the federal government to "stop the inflood of illegal immigrants into this country."