Last Updated on April 22, 2023
A Charlottesville, Virginia socialite who's described as the "scion" of a major uni-party legal family and the ex-wife of a federal magistrate judge appointed under the Obama Administration has been arrested after she sent child rape porn to undercover investigators and traveled to a Northern Virginia hotel, equipped with silk undergarments and lubricant, to rape an 8-year-old girl.
Eleanor Beaumont Hunton Hoppe, a 45-year-old divorced mother of two daughters, was arrested on March 20th and charged with multiple federal crimes. Currently, Hoppe is facing federal charges of distribution of child pornography, enticement of a minor, and attempted transportation of a minor with attempt to engage in sexual activity.
All of the charges are felonies and Hoppe faces up to life in prison if she's convicted.
The arrest isn't even Hoppe's first for a sex crime, having been charged and convicted in 2019 for "undressing where prohibited." Unfortunately, that case was appealed and the charge was later dismissed, leaving Hoppe to continue acting on her perversions.
As a result of the investigation, authorities have found Hoppe to have been peddling child rape pornography and nude photos of herself online, in "fetish" forums where she chatted with fellow pedophiles and, fortunately, with undercover investigators. It's unclear if any of the little girls in Hoppe's child rape videos are her own children, who are 10 and 12 years old respectively, but she told undercover investigators during web chats that she was interested in "taboo parenting."
In text messages that Hoppe sent to an investigator, she described in detail the plans she had for raping an 8-year-old girl, who didn't truly exist, but was the creation of the investigative team, unbeknownst to Hoppe.
"I can't wait [to rape the 8-year-old girl]," Hoppe wrote in a text message. "And then of course, putting her to bed and waking her up to do a few extra things will be so fun."
"A great thing to do is to wake her up by trying new things," Hoppe wrote in another message, fantasizing about raping a sleeping child. "That hazy/ dreamlike state is perfect to introduce a variety of new things…especially with someone to help with positioning her body and then you let her fall right back to sleep."
She also described a pink robe (which was seized by investigators at the scene) that she'd bring to the hotel to serve as the young victim's "big girl robe."
"I'll be [there] as soon as I can and I'll get naked too," Hoppe wrote as she embarked for the hotel.
Upon her arrival at the hotel in Warrenton, Hoppe was immediately arrested by FBI agents. In addition to the robe meant for the little girl, Hoppe was in possession of silk undergarments and lubricant.
In addition to being the ex-wife and co-parent of federal magistrate judge Joel Hoppe, of the Western District of Virginia, Eleanor Hoppe, whose full name is Eleanor Beaumont Hunton Hoppe, is the scion of a prominent Virginia legal family, which operates one of the largest law firms in the state, Hunton, Andrews, Kurth.
The Hunton, Andrews, Kurth law firm donates millions of dollars to uni-party candidates, as demonstrated in the campaign finance report pictured below: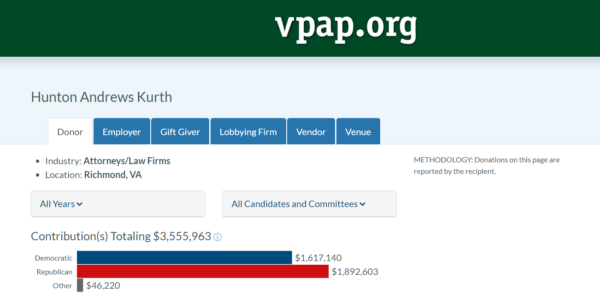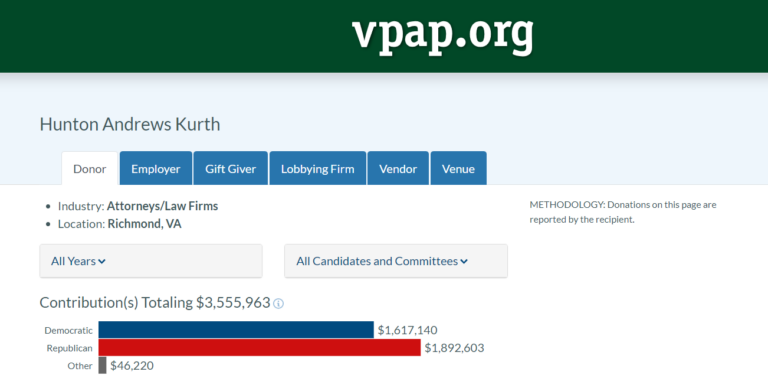 Disturbingly, throughout Eleanor Hoppe's adult life, she's worked and volunteered in various positions that would give her access to young children and other vulnerable individuals.
She recently worked as an "event planner" at the University of Virginia, which has declined to comment on the case, and was a volunteer for Big Brothers Big Sisters of the Central Blue Ridge. Prior to that, she worked for two years as a victim's advocate in the Richmond prosecutor's office.
Together with her federal judge ex-husband, Hoppe has donated to the Foothills Child Advocacy Center.
Currently, Hoppe sits in DC's Central Detention Facility and has been denied bail.
Stick with National File for updates as this story continues developing…