Last Updated on December 11, 2022
Russian arms dealer Viktor Bout, who was dubbed the "Merchant of Death," spoke on America's downfall in an interview he did with RT, after being repatriated to Russia as part of a prisoner swap between the two nations that also included WNBA player Brittney Griner.
In his interview with RT's Maria Butina, his first since returning home to Russia, Viktor Bout compared the American media to the Soviet propagandists of old, but said it's even worse, because the Soviets understood that there were limits to the wild propaganda you could feed to the public.
But in America, Bout told RT, there is no limit, and Americans are too stoned to do anything about it.
When asked if Americans would stand up for themselves against government abuses, and launch a modern-day "revolution," Bout explained that the America the world knew is long gone, thanks to drugs and cultural degeneracy.
"I don't believe they'll have a revolution in the United States," Bout said, adding that widespread drug use has made the American people too weak "to do anything." He also cited the inhumane treatment of J6 demonstrators, and other Soviet-style crackdowns against patriots who question the status quo.
"They're losing their Christian values. They're losing their families. They're losing literally their country. It is not anymore the same country we knew America used to be, the model for the entire world and lead and be an example. Like they say, a shining town, you know, a sparkling town on a hill."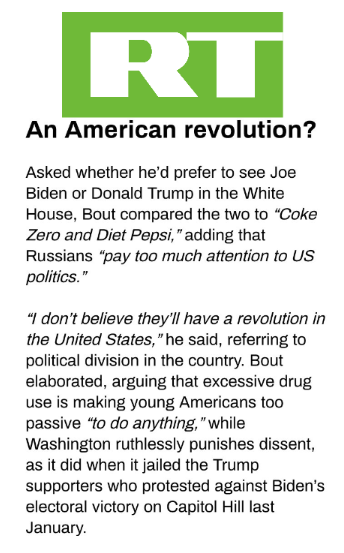 When speaking about his interactions with American prisoners and Americans in general, Viktor Bout told RT that in fact, Americans and Russians should be natural allies, not the enemies they've been pitted as by the left-wing globalist order.
While he was initially held for years in solitary confinement, Bout was eventually placed in general population, where he describes witnessing rampant drug use among his fellow inmates, but speaks favorably of his encounters with rural Americans, who tend to be far more conservative than their urban and suburban counterparts.
"Every American I met in the prison who was from a rural area was very easy to deal with, he has no problem with Russia, and he was curious about Russia, despite all the propaganda."
Others were curious about Russia too, Bout told RT, when he described his friendly encounters with the black and Hispanic minorities who make up a majority in many American prisons.
"Mostly my fellow inmates were sympathetic towards Russia," he said. "Or at least if they knew nothing about it, they would ask me questions."
But still, for Bout, the drug use he witnessed in America, even from behind prison walls, was shocking.
"If it happens in a prison, just imagine what is happening out there on the street," he told RT.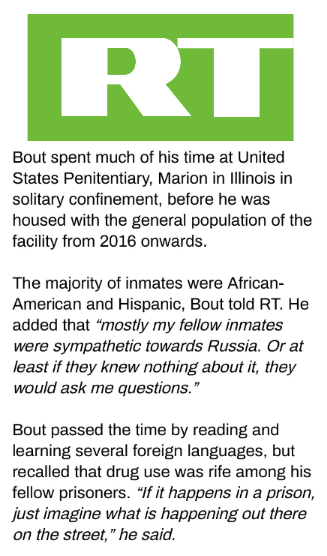 Watch Viktor Bout's Full Exclusive Interview With RT Below: