Last Updated on August 22, 2023
Stew Peters EXPOSED the Anti-Defamation League's pro-pedophile origins in a recent segment of the Stew Peters Show, harkening back to the birth of the ADL, which was formed to defend convicted Jewish pedophile and child-killer Leo Frank while accusing those who sought justice, including the child victim's family, of antisemitism. To this day, the ADL blames a black man for the murder, despite overwhelming evidence and a jury of his peers convicting Leo Frank.
"It's time for a little history lesson about the Anti-Defamation League," Peters said at the segment's opening, before exposing the ADL's ties to Israeli intelligence and anti-American spy rings, then dropping the hammer, reminding the American People that the far-left ADL is rooted in the defense of a murderous pedophile and the actual defamation of an innocent black man.
"The ADL's origins go back more than 100 years. They go to an infamous murder case in Georgia," explained Peters.
"Leo Frank was the Jewish manager of a factory in Atlanta that relied on child labor," Peters went on. "One of Frank's workers, a 13-year-old girl named Mary Phagan was found raped and murdered in that factory."
"Frank was put on trial, convicted ultimately and unanimously despite hiring the best legal team that money could buy, and [was] sentenced to death," said Peters.
"But, after heavy political lobbying, Georgia's Governor commuted Frank's sentence to life in prison. So an outraged group of Georgia citizens calling themselves the 'Knights of Mary Phagan' broke into Frank's jail, kidnapped him, and hanged him in Marietta, Georgia."
Years later, thanks to massive political pressure from the ADL, Frank was given a symbolic pardon by Georgia's state government, even over the objections of young Mary Phagan's family, who, as Peters explained in the segment, "strongly believed that Frank was guilty."
The case has received renewed interest in recent weeks, as a musical falsely proclaiming Leo Frank's innocence once again plays on Broadway, and after the ADL marked the anniversary of Frank's death by claiming that he was an innocent casualty of antisemitism.
"Last week, ADL leader Jonathan Greenblatt marked the anniversary of Frank's death with a tweet, calling him the victim of an unjust conviction motivated by, of course, antisemitism," Peters explained.
"But the ADL got something unexpected. The new Twitter or X community notes system – that's the new post-Elon Musk system where people can add helpful, factual notes to the bottom of tweets."
"Before Musk, the ADL practically ran Twitter's censorship regime. Well now, censorship is at least superficially mostly gone and the fact-checking is in the hands of the people," said Peters.
"[Leo Frank] raped and murdered a 13-year-old white girl and tried to frame the illiterate black night janitor," the community notes attached to Greenblatt's post read, exposing Leo Frank for the racist pedophilic murderer that he was, and exposing the ADL for the racist, pro-pedophile, pro-child killers that they are.
"His pardon, 73 years after his death, does not clear him of the accused crime and was likely politically-motivated," the community notes went on to say, citing multiple web links.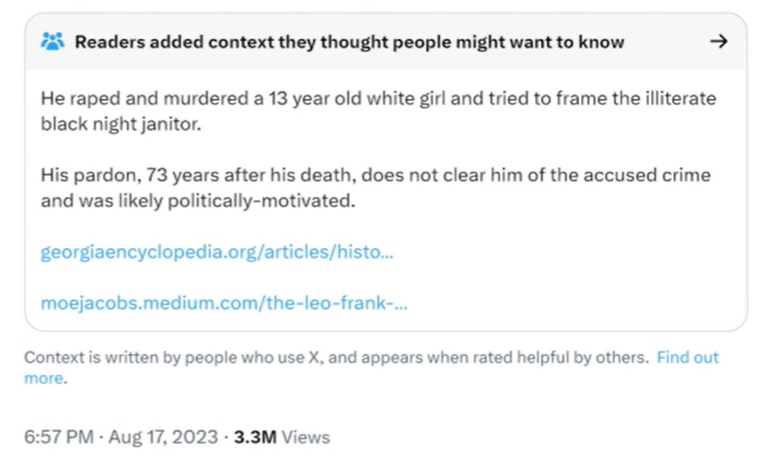 After citing the Community Notes that blew the ADL's Leo Frank narrative out of the water, Stew Peters went on to recount the indictment of Leo Frank, in which multiple Jewish grand jury members voted to charge the perverted killer with the rape and murder of a child; as well as the subsequent trial, in which Frank's defense tried to blame a black maintenance worker named Jim Conley for the crime.
It didn't work, even in the Jim Crow South.
In fact, at Frank's trial, "a huge number of witnesses" blamed Frank for the crime and Jim Conley was cross-examined for a whopping 16 hours, but still refused to accept Frank's blame.
"Frank's defense team also made outlandish, racist attacks on Conley," detailed Peters.
"One of Frank's attorneys said quote 'Conley is a plain, beastly, drunken, filthy, lying N-word with a spreading nose through which tons of cocaine have probably been sniffed."
"That's the defense argument that the ADL was created to promote," said Peters.
Watch the full Stew Peters Show segment exposing Leo Frank and the ADL below: