Last Updated on March 24, 2023
Security footage taken in a Nashville laundromat shows a club-wielding black thug launching an unprovoked, seemingly random attack against a white man as the victim's helpless child looked on. The attack is just the latest black-on-white violent crime to go viral on social media, as vicious attacks and murders of whites at the hands of ethnic minorities have become commonplace in America's once-great cities.
The hard-to-watch footage was recorded on Thursday, March 23rd, and shows the victim and his child standing alone in a laundromat before the club-wielding black thug walks into the frame and immediately begins smashing the head of his victim as his child looks on. When the man falls to the ground, the thug continues beating him in the head, face, and upper body with the club.
Obviously terrified, the man's young child flees to another part of the laundromat, exiting the footage frame before the thug leaves the scene.
"Please be on the lookout for this man who randomly and without provocation attacks a 45 yr old in a laundry mat," the Metropolitan Nashville Police Department tweeted on Thursday night, including surveillance footage of the brutal attack and adding that the same assailant "is a suspect in 3 other similar attacks" that have occurred in recent days.
See the attack footage below:
https://twitter.com/MNPDNashville/status/1639013221683302402
According to subsequent tweets posted by the Metropolitan Nashville Police Department, the suspected attacker, 32-year-old Khadree Renfro, was arrested by detectives from the city's Violent Crimes Division on the same night as the attack.
"Renfro has been booked on 3 counts of attempted criminal homicide," the Metropolitan Nashville Police wrote to Twitter on Friday morning, after the thug had been arraigned. "His bond this morning was set at $150k. The investigation into him continues."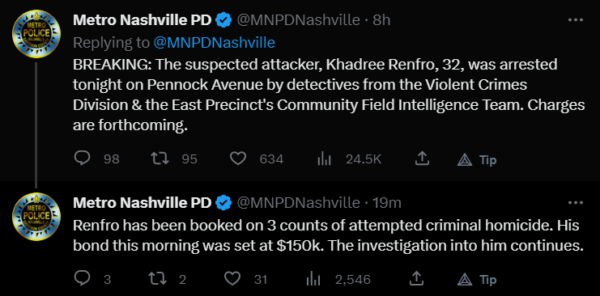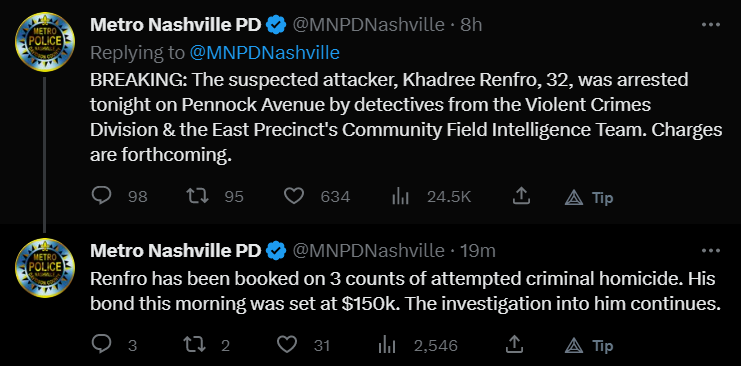 The disturbing footage from Nashville is just the latest black-on-white attack to go viral online, as white people are evidently being hunted down all over the country, as left-wing politicians and pundits continue to openly push a blood libel against them.
In many of the attacks, it's been noted that the assailants deliberately target the victims' heads, punching them, kicking them, stomping on them, and even jumping up and down on them when they get them to the ground. The public has repeatedly demanded that those attackers be charged with attempted murder, like club-wielding thug Khadree Renfro was in Nashville, as the blows to the head have routinely led to fatalities.