Last Updated on August 17, 2022
Anti-Trump Republican Congresswoman Liz Cheney was dealt a crushing defeat in her Wyoming GOP Primary last night, with the multi-generational establishment politician losing to her Trump-endorsed challenger by a nearly 40-point margin. Cheney, a member of Nancy Pelosi's J6 Committee who called for Democrats to meddle in GOP politics to salvage her political career, dedicated her concession speech to bashing 45th President Trump and even compared herself to Abraham Lincoln at Gettysburg.
Wyoming Rep. Liz Cheney was crushed at the GOP Primary polls by challenger Harriet Hageman, who enjoyed President Trump's endorsement in the contest. According to the next-day results, Cheney lost by over 63,000 votes and a nearly 40-point margin.
Voters have been outspoken in their repudiation of the multi-generational establishment politician, citing her impeachment votes and close work with Democrats and the deep state establishment.
Her father Dick Cheney, the former Bush 43 Vice President who was regularly called a "war criminal" by the left before he became a weapon against Trump, recently cut an ad in which he said that Liz Cheney's "most important" purpose in life is destroying Donald Trump and making sure he can never be President again.
According to the state's reported election results, the only area in the state of Wyoming won by Cheney was Jackson Hole, the state's only Democrat stronghold. Ahead of the GOP Primary, a desperate Cheney tried recruiting Democrats to cross parties and support her campaign and touted an endorsement from far-left "Yellowstone" actor Kevin Costner in her efforts to woo Democrats.
In a post made to Twitter, Cheney's victorious primary race opponent, Harriet Hageman, thanked Wyoming for her triumph over Cheney. Hageman is expected to easily win election to the US Congress in Wyoming, where the GOP Primary has effectively served as the general election for years.
Despite her Trump endorsement, serious concerns have been raised regarding Hageman's background and her personal links to the Cheney family. Some have even accused Hageman of being a "Trojan Horse" meant for the Cheney family to maintain influence in the DC swamp.
As reported by National File, Hageman has been described as Liz Cheney's "best friend forever" and even served as an advisor to Cheney's failed 2013 Senate run.
Furthermore, Hageman has refused to call out 2020 election fraud, despite her alleged America First political orientation.
Thank you, Wyoming! pic.twitter.com/vZbdeKE6D9

— Harriet Hageman – Text WYOMING to 90103 (@HagemanforWY) August 17, 2022
During her concession speech, Cheney compared herself to Abraham Lincoln, hinting at a potential 2024 presidential run.
WATCH:
BREAKING: Liz Cheney compares herself to Abraham Lincoln pic.twitter.com/nwiLOzf9Aq

— Jack Posobiec XLV (@JackPosobiec) August 17, 2022
President Trump himself was outspoken after Liz Cheney's crushing primary race defeat, making several posts to Truth Social in which he slammed the outgoing Republican over her refusal to acknowledge credible evidence of election fraud and congratulated Harriet Hageman on "her great and very decisive WIN in Wyoming."
"This is a wonderful result for America," President Trump posted to Truth Social in congratulating Hageman. "And a complete rebuke of the Unselect Committee of political Hacks and Thugs. Liz Cheney should be ashamed of herself, the way she acted, and her spitful, sanctimonious words and actions towards others. Now she can finally disappear into the depths of political oblivion…"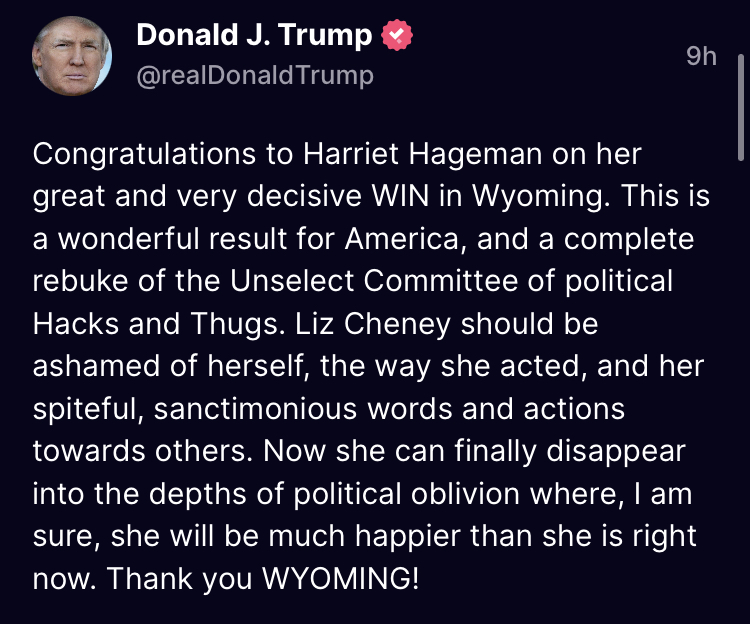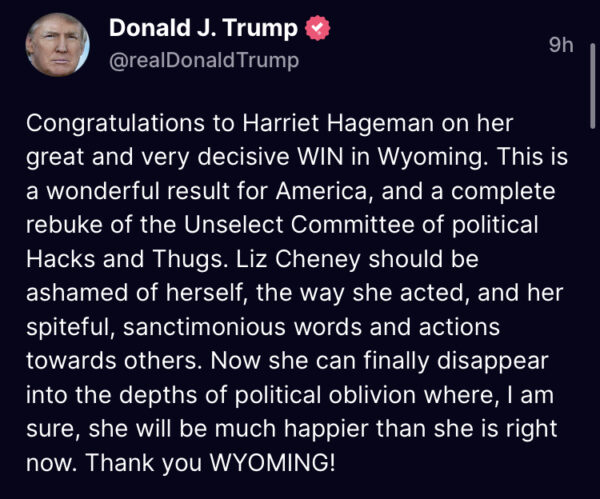 Stay tuned to National File for any updates.