Last Updated on November 16, 2022
The recent mass shooting at the University of Virginia has quickly vanished from corporate media headlines after reality contradicted the racial narrative that quickly arose out of the triple homicide.
Though corporate media outlets like ESPN and The Washington Post were initially interested in the UVA mass shooting, which killed three members of the school's football team, that quickly waned after it was realized that the shooter wasn't a bloodthirsty white supremacist or unhinged gay porn YouTube star, but a black former member of the team himself.
Like the shooter, all three of his deceased victims, as well as the two he wounded, are black.
As National File reported on the morning after the shooting, initial reports suggested the shooter was a white male, specifically naming Bryan Silva, a YouTuber who's also starred in gay porn videos. He's had numerous run-ins with the law and, after the shooting and media coverage, was arrested for unrelated threats he made against the university.
Despite initial media interest and hyperbolic tweets from anti-gun pressure groups like Moms Demand Action, enthusiasm for publicly eviscerating the shooter and holding him up as the image of everything that's wrong with the 2nd Amendment suddenly evaporated when it was realized that the UVA mass shooter was in fact, Christopher Darnell Jones.
Jones, a black former member of the UVA football team who was still enrolled as a student, it has been revealed, was already in trouble with the law, having been convicted of a weapons charge in the weeks before the mass shooting.
Unconfirmed reports from UVA social media pages have stated that he was kicked off of the football team, for which he never appeared in a game, after the 2018 season, when he was accused of sexual assault.
Jones reportedly waited in a parking garage for a bus to return from a field trip, carrying a class containing a number of UVA football players. When the bus arrived, Jones murdered Lavel Davis Jr., D'Sean Perry, and Devin Chandler.
After the shooting, Jones led authorities from multiple jurisdictions and the Virginia State Police on a more than 12-hour-long manhunt, though it's unclear if the phony description that was first issued by media and law enforcement had anything to do with his prolonged time spent at large.
What has been confirmed though, is that officials at the left-wing University of Virginia knew of Jones's gun crime conviction before the shooting, and failed to act to protect the student body.


Before largely ditching sensational coverage of the UVA mass shooting, The Washington Post published a piece excusing Jones's murderous behavior.
According to The Post, Jones "flourished" before murdering three people.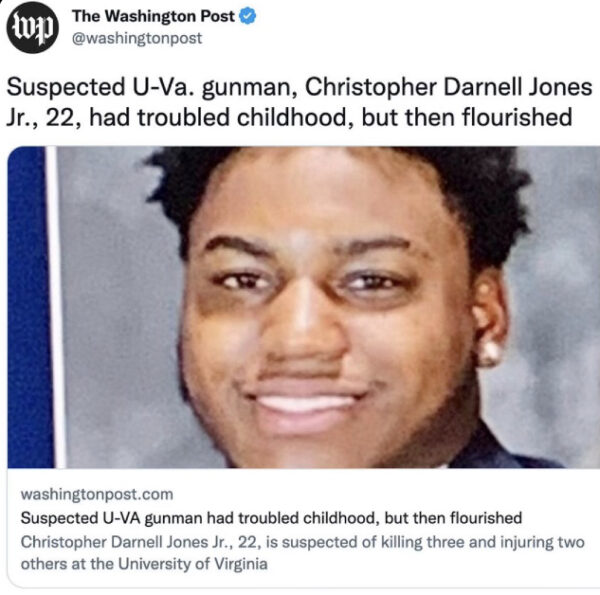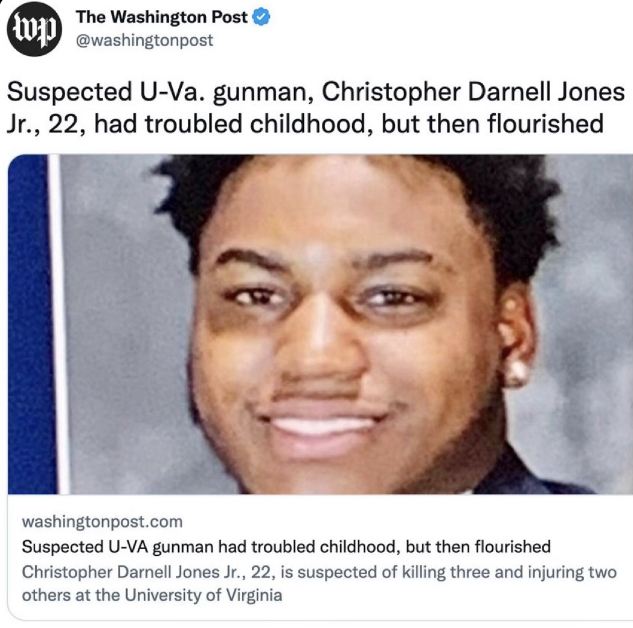 In a broadcast segment this week, "Fearless" host Jason Whitlock, himself a former college football player, argued that the UVA mass shooting "foreshadows America's matriarchal future."
The shooting, and others like it, as well as the gang violence that plagues American communities, is the direct result of anti-family policies and engineered cultural shifts, that have taken fathers out of their sons' lives and enforced a feminine worldview on young men.
The assertion is backed up by years of studies showing that an overwhelming proportion of mass shooters, regardless of race, grew up fatherless.
Like the overwhelming majority of other mass shooters, Jones grew up fatherless for much of his life.
Whitlock also blasted corporate media outlets for their sudden dropping of UVA mass shooting coverage, calling out ESPN for the hours upon hours they devoted to the Rachel Richardson race hoax, but not to a mass shooting that cost three lives but didn't make them any racial hay.
Watch Jason Whitlock's "Fearless" Segment on the UVA Mass Shooting Below: