Last Updated on February 23, 2023
Ukrainian schoolchildren are being asked to report on their parents for watching Vladimir Putin's recent round of speeches or Russian television and news programming in general. The dystopic reality of life in Ukraine is a far cry from the pro-war myths sold by Western corporate media and NATO politicians, as Volodymyr Zelensky and his allies aren't just using Stasi tactics against children, but have banned the free press and even Orthodox Christianity, the religion adhered to by a majority of Ukraine's population.
Having been created directly by Russia and existing in the Russian sphere of influence since its beginnings, a massive segment of Ukraine's population is ethnically Russian, linguistically Russian, and, largely, politically Russian. This includes those in the Donbas region, where most of the active war is being fought. That area seceded from Ukraine after the Obama and Soros-backed overthrow of Ukraine's democratically-elected, pro-Russia government in 2014.
In Crimea, residents staunchly opposed the 2014 overthrow, seceding from Ukraine to be willingly annexed by Russia.
Ukrainian schoolchildren asked to report if their parents watched Putin's speech at home

Dystopia or western values? pic.twitter.com/GElnRBZNIV

— What the media hides. (@narrative_hole) February 22, 2023
A computer-translated version of the Ukrainian questionnaire for schoolchildren confirms the Stasi-like tactic of having children snitch on their parents and family members to government authority figures.
Titled as a "questionnaire for students of grades 1-5," after asking the children their names and their class, the form asks if the children know about Russian President Vladimir Putin's recent State of the Nation speech, in which he blasted NATO and Ukraine alike, telling the Russian People and others listening that Russia is standing for tradition and sovereignty in the face of depraved globalist aggression.
"How did you find out [about Putin's speech]?" the questionnaire asks the schoolchildren.
"Have you or your relatives seen this performance," it goes on, before asking children if they "watch [their] native Russian channels at home."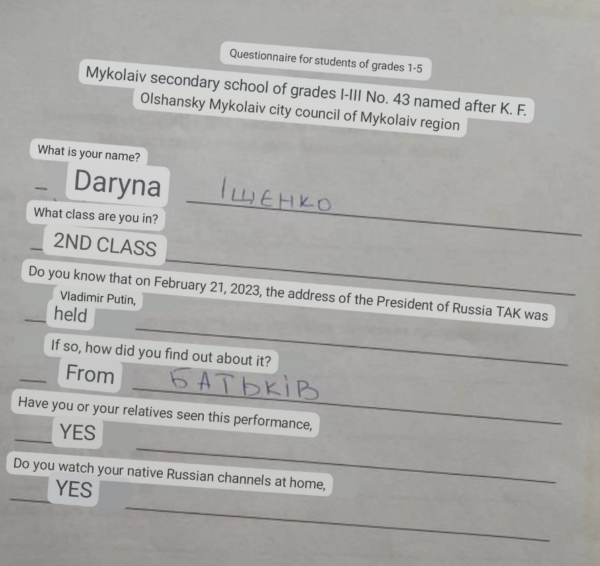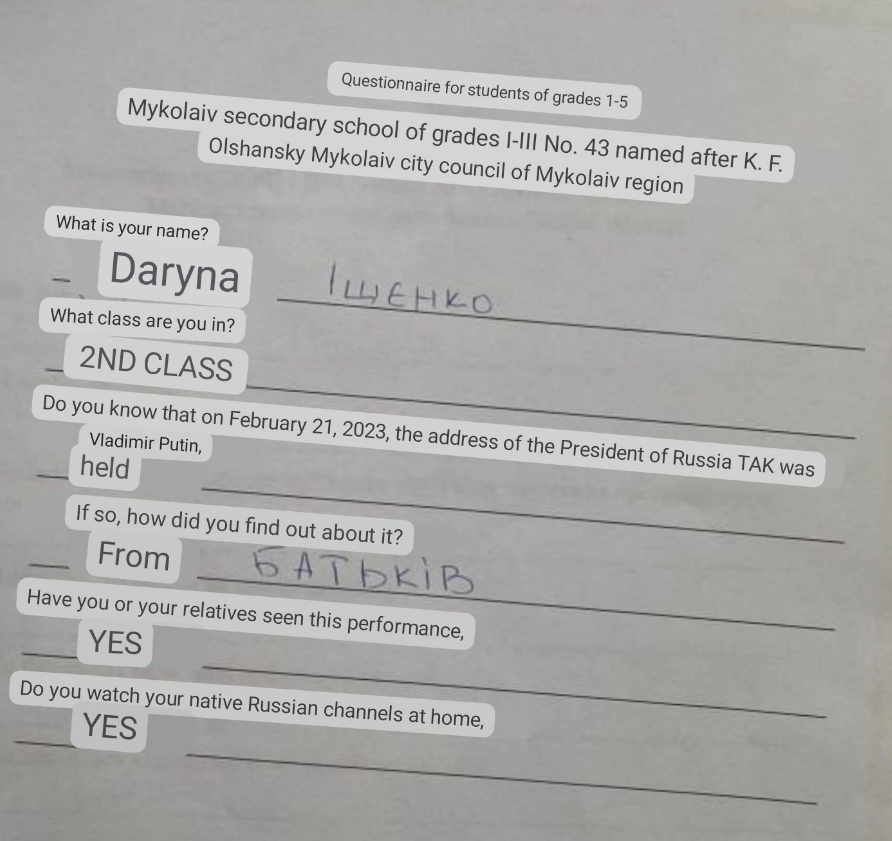 As the war has dragged on, Ukraine's carefully-procured, homogenous, nationalist image has taken a major tumble, as reality has begun to emerge. Unable to fill their military ranks and keep up with frontline casualties, Ukrainian commissars have begun the forcible conscription of young men all over the country, and the government has reportedly lowered the age of enlistment to 16. Disturbing video footage that's gone viral online shows, military men, on several occasions, fighting with young conscripts before tossing them into vans and driving them to the front.
In another video that recently went viral, a female Ukrainian citizen blasts a state-backed journalist who tried to pressure her into supporting the continued war effort on television. The woman repeatedly expressed her feeling that Ukraine is a direct product of Russia, and that two related ethnic groups were killing each other on behalf of the globalist order.