Last Updated on August 27, 2021
Virginia Congressional candidate Jarome Bell was locked out of his Twitter account after posting a Taliban execution video, because the Big Tech site determined that Afghan terrorists have a "recognized right to privacy."
Conservatives and others across the political spectrum have been critical of the Joe Biden administration over the chaos that has resulted from the attempt to pull US troops out of Afghanistan. One of them was Jarome Bell, a candidate for Congress in Virginia's 2nd District. "These men assisted our troops and were left behind with over 15000 Americans," Bell wrote on Twitter, attaching a video of Taliban fighters executing men who were believed to have worked with American and Allied forces in the country. "This will be Joe Biden's legacy and the democrats and some of you approve of this message."
As a result, Bell's Twitter account was locked, with the Big Tech platform seemingly determining that the video of Taliban executions violated the privacy of those involved. Specifically, Bell's tweet allegedly violated their rules on "posting private media of an individual from a country with a recognized right to privacy law." It is unclear how this could be the case, given that the Afghanistan government and therefore any regime that could implement such a law, has fallen to the Taliban.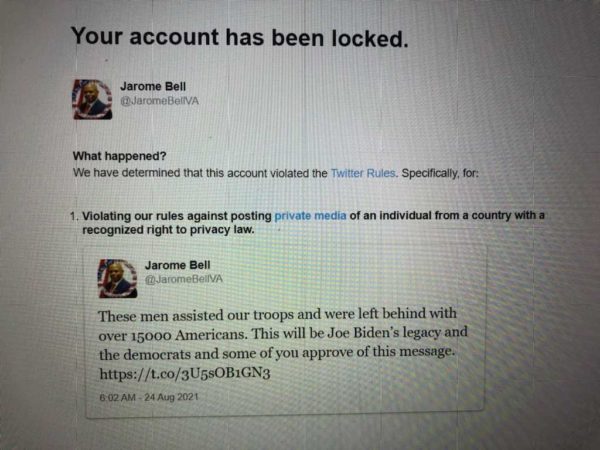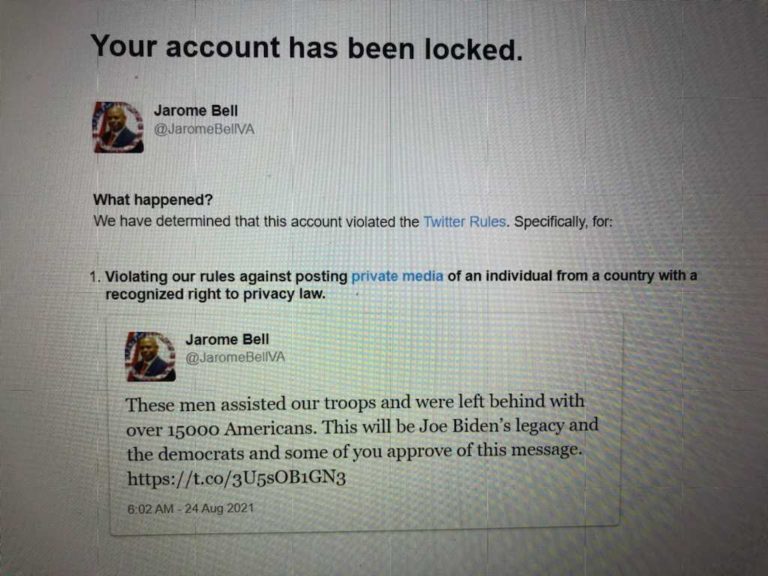 While the video was graphic, and depicted the execution of a number of men, it is also not clear whether the video would have actually violated Twitter's policy regarding sensitive media. According to Twitter's policy, graphic violence is not permitted on live video or profile or header images, however, the video posted by Bell was in a tweet, and would not have fallen under this category. Any such video not marked by the user as sensitive should result in a Twitter employee manually marking the video as sensitive, not given the poster of the video a lock. (READ MORE: GOP Lawmakers Josh Hawley, Matt Gaetz, Ronny Jackson, MTG Join Call For Biden To Resign Over Afghanistan Debacle)
National File contacted Twitter before publication of this article, and put a number of questions to them, including as to why Bell fell foul of privacy regulations and not their policy regarding sensitive media, and if the video in question would have fallen within their exemptions regarding newsworthy events. This article will be updated with any response from Twitter.