Last Updated on November 11, 2022
A high-level Twitter executive who censored the Hunter Biden laptop story, called Trump supporters Nazis, and was revealed to be a far-Left radical, has been ousted from the social media company.
Yoel Roth's Twitter bio now states he is the "Former Head of Trust & Safety at @Twitter."
After Elon Musk took over Twitter, Roth's background was exposed and struck controversy. In 2016, the high-profile Twitter exec wrote a 298 dissertation praising Grindr, a hookup app used by active homosexuals.
The lengthy paper, written to fulfill requirements for a doctorate in Philosophy at the University of Pennsylvania, praised Grindr for bringing active homosexuality into the mainstream by allowing homosexuals to easily indulge in promiscuity.
Roth also faced pushback for his political views. In 2016, Roth criticized Americans living in "flyover" states by saying, "we fly over those states that voted for a racist tangerine for a reason."
In 2017, Roth called Trump supporters "ACTUAL NAZIS" and equated Senate Minority Leader Mitch McConnell to a "personality-free bag of farts."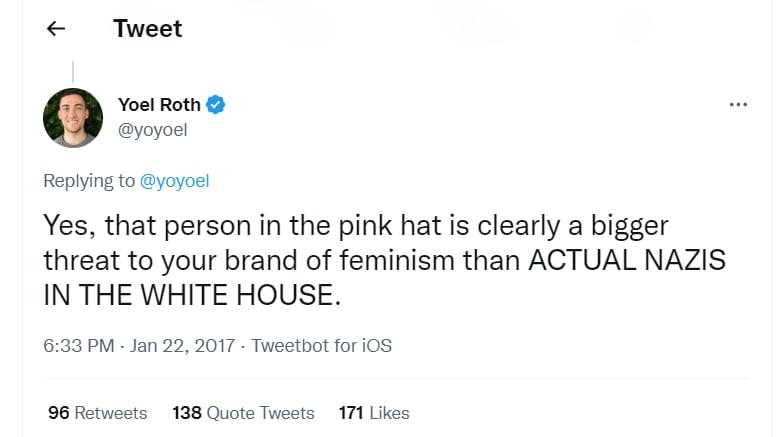 Roth was reportedly the ringleader at Twitter who ordered employees to censor stories about Hunter Biden's laptop. As the social media company's "Head Head of Trust & Safety" at Twitter, Roth helped lead Conservative censorship under the guise of "content moderation."
National File previously reported on Musk's desires to cut Twitter's workforce:
Previously reported mass firings at Twitter officially began Thursday with a companywide email sent by new CEO Elon Musk. The email, which was obtained by The Washington Post, informed workers that formal layoffs will begin as early as Friday morning. After top executives were fired, it has been reported that as much as 50 percent of Twitter's staff — nearly 3,700 workers — could be let go.
"In an effort to place Twitter on a healthy path, we will go through the difficult process of reducing our global workforce on Friday," the internal email stated.
"We recognize that this will impact a number of individuals who have made valuable contributions to Twitter, but this action is unfortunately necessary to ensure the company's success moving forward."
READ MORE: EXCLUSIVE SOURCE: Biden Daughter's Diary Details 'Not Appropriate' Showers With Joe As Child
READ MORE: 'Highly Credible' FBI Whistleblowers Allege Bureau Covered Up Hunter Biden Laptop Dirt
Stay tuned to National File for any updates.