Last Updated on October 29, 2022
Elon Musk is shaking things up in major ways at Twitter, firing executives and announcing that he will gut the left-wing platform's notorious censorship policies.
Musk officially took over Big Tech giant Twitter this week, completing a deal that's been in the works for months and has been staunchly opposed by Big Tech's left-wing elite.
Since taking over at Twitter, Elon Musk has already started cleaning house and has promised to restore the banned and shadow-banned accounts of Twitter users who have been booted from the platform by overwhelmingly left-wing censors.
Among Musk's first orders of business was firing pro-censorship CEO Parag Agrawal, and sending Agrawal's CFO, Ned Segal, out the door with him. 
Also on the march out of Twitter HQ was Vijaya Segal, the infamous "content moderator" behind 45th President Trump's Twitter ban, and who has been credited with being a ringleader in Twitter's outwardly left-wing, anti-speech overhaul. 
In a tweet that came after multiple firings of Twitter executives, Musk posted "let the good times roll," and added a "spoiler alert" tag to his tweet, suggesting that many more firings and policy changes are already in the works.
In a subsequent tweet to his new platform, Elon Musk announced that Twitter will be "forming a content moderation council with widely diverse viewpoints."
The creation of an ideologically diverse Twitter council represents an extreme pivot away from the platform's left-wing censorship oligarchy of days past, though many have quickly questioned why a council to "moderate" content is needed at all.
Many though, have expressed hope that Musk can steer the content moderation council away from censoring political speech and towards censoring the criminal activity, even as extreme as child trafficking, that has seemingly been ignored on social media platforms.
"No major content decisions or account reinstatement will happen before that council convenes," Musk added to his tweet, seeming to dispel rumors that certain individuals would have their banned accounts restored in a matter of hours or days.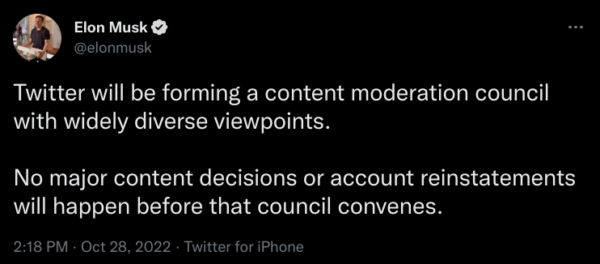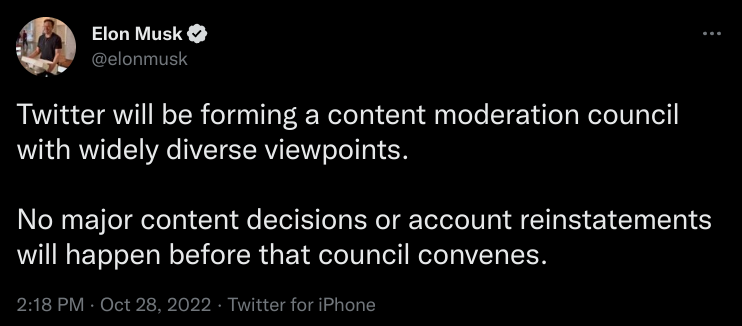 As Musk continues to shake things up at Twitter, those on the left are quickly melting down over the ownership change and the sudden re-embrace of free speech.
On Friday, Billy Baldwin, the brother of "Rust" actor Alec Baldwin, who recently shot a woman dead on-set, expressed his panic that Elon Musk, a "reckless," pro-free speech "ideologue," had taken "control" of Twitter just ahead of an election.
National File will continue following the rapidly-developing situation over at Twitter, as Elon Musk takes control and takes the Big Tech industry for a wild ride.