Last Updated on August 4, 2021
President Trump responded on Tuesday to the report on excess vote numbers from elections expert Seth Keshel, calling them "overwhelming and election-changing."
Seth Keshel, the retired army intelligence captain and elections expert, posted on Telegram on Tuesday a map and data table displaying what he describes through various analyses as being predicted excess votes for Biden in the 2020 election in each state, "based on trend analysis in the modern political era, considering population growth/decline, recent voter history, and registration information, including registration by party."
From this analysis, Keshel claimed that President Trump actually won Pennsylvania, Michigan, Wisconsin, Nevada, Arizona, Georgia and Minnesota. He further highlighted a number of other states that if "cyber flipping" of votes occurred, would also have gone to Trump, including New Mexico, Virginia, Colorado, New Jersey, and New Hampshire. Some Democrat states were allegedly closer than expected, including Washington, Oregon, Rhode Island, Connecticut and Hawaii.
Expert who correctly predicted all 50 states in 2016 using pop. growth/decline, Party reg. trends, and voter history, identifies 8 million excess Biden votes in 2020

That's how he lost 18/19 bellwether counties, didn't flip a single state leg. and lost 27/27 toss up House races pic.twitter.com/aWfmnzHEqw

— Liz Harrington (@realLizUSA) August 3, 2021
In a statement, President Trump responded to the Keshel's report on the numbers by describing them as "overwhelming" and "election-changing," noting the numbers could be even bigger than suggested. "They show I won the election—by A LOT! Now watch the Democrats coalesce, defame, threaten, investigate, jail people, and do whatever they have to do to keep the truth from surfacing, and let the Biden Administration continue to get away with destroying our Country," President Trump continued. "The irregularities and outright fraud of this election are an open wound to the United States of America."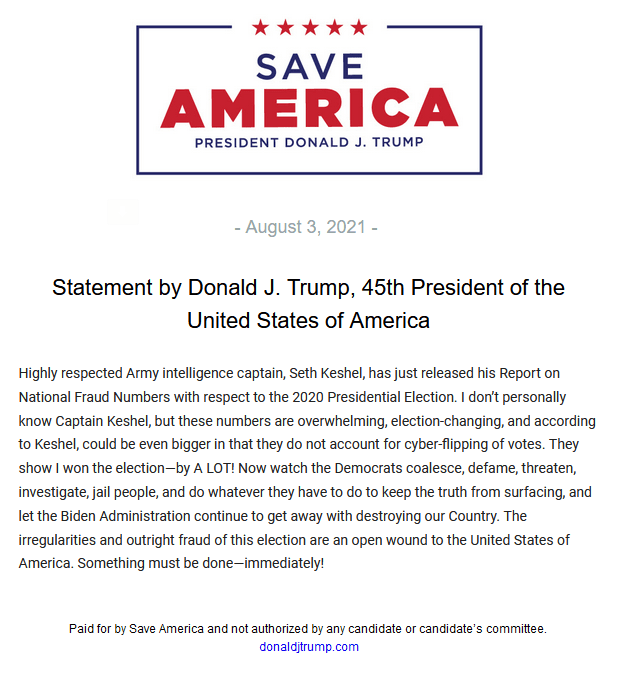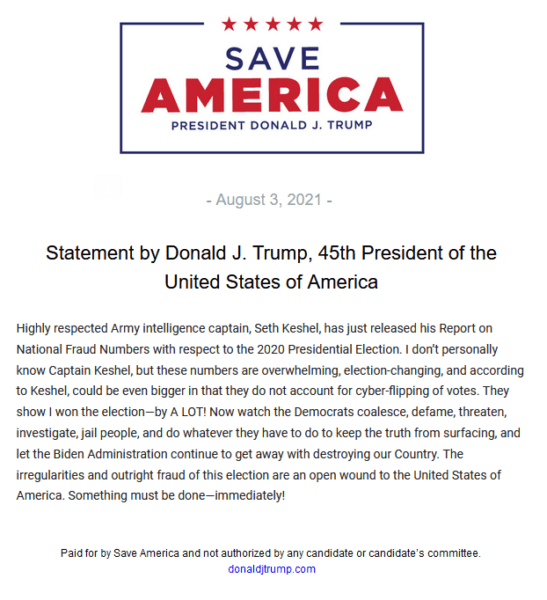 Keshel later noted that the only way for any of his analysis to be disproved would require "full forensic audits" in each of the states, something Democrats have been mostly fighting against. As National File reported, the only full forensic audit to have currently taken place in the country, in Arizona, is currently facing massive resistance, and the Biden administration's Department of Justice has ordered states not to conduct any more audits in their style, lest they face fines and prison time.