Last Updated on August 3, 2023
45th President Donald J. Trump called his arrest at the hands of Joe Biden's DOJ a "great honor" as he traveled to Washington, D.C. earlier today, adding that he is being arrested on behalf of the American People.
As President Trump prepared to leave his home in Bedminster, New Jersey to be arraigned in Washington, D.C., where he's been indicted by the Biden DOJ on charges that claim he broke the law by fighting for election integrity and transparency, the 45th President reaffirmed his belief that the 2020 Presidential Election was "corrupt, rigged, [and] stolen," in a post he made to Truth Social.
"I AM NOW GOING TO WASHINGTON, D.C., TO BE ARRESTED FOR HAVING CHALLENGED A CORRUPT, RIGGED, & STOLEN ELECTION," Trump wrote in his famous all-caps style, before adding that he's being arrested on behalf of the American People, as he stands up against what millions believe to be a deep state effort to derail his 2024 campaign.
"IT IS A GREAT HONOR, BECAUSE I AM BEING ARRESTED FOR YOU. MAKE AMERICA GREAT AGAIN!!!" wrote Trump.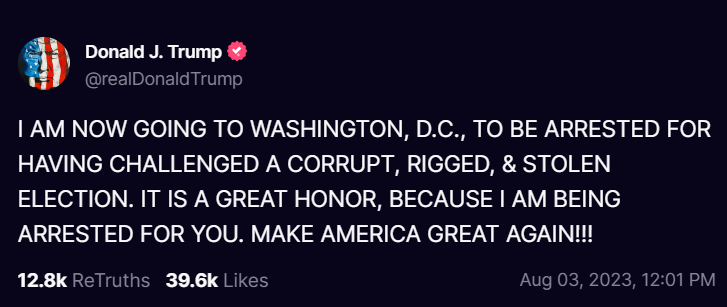 In a subsequent post, President Trump called out the Biden family and their notorious pattern of global criminality. He slammed the obvious bias of not just the foreign-born judge overseeing his case, but the staunchly anti-Trump jury pool in Washington, D.C., a federal city full of deep staters and their allies.
"Biden and his family steal Millions and Millions of Dollars, including BRIBES from foreign countries, and I'm headed to D.C. to be ARRESTED for protesting a CROOKED ELECTION. UNFAIR VENUE, UNFAIR JUDGE. We are a Nation in Decline. MAGA!!!"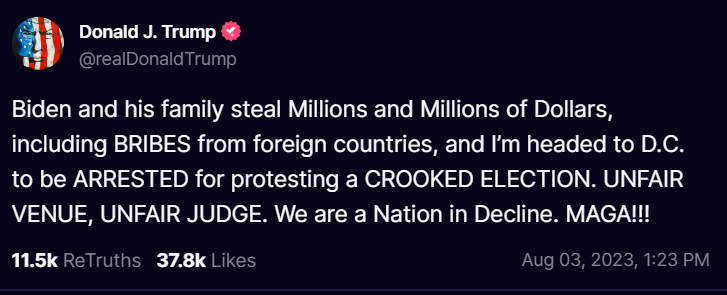 After President Trump's arraignment, where he was greeted by a crowd of supporters as well as left-wingers reveling in his political persecution, Trump took to Truth Social once more, saying that all in all, he'd had a "very good day".
He also called out the skyrocketing violent crime in D.C., a city he says is now "falling apart", and slammed Joe Biden for his third-world act of indicting his political opponent.
"CONSIDERING THE FACT THAT I HAD TO FLY TO A FILTHY, DIRTY, FALLING APART & VERY UNSAFE WASHINGTON, D.C., TODAY, & THAT I WAS THEN ARRESTED BY MY POLITICAL OPPONENT, WHO IS LOSING BADLY TO ME IN THE POLLS, CROOKED JOE BIDEN, IT WAS A VERY GOOD DAY!" wrote Trump.