Leaked audio of a 2016 phone call between Joe Biden and then-Ukrainian President Petro Poroshenko has emerged, revealing that Biden assured Poroshenko that the FBI's investigation into the corrupt Ukrainian oil and gas firm Burisma had been "stopped," seemingly at the direction of Biden himself. The leaked recording comes on the heels of news that a highly trusted informant told the FBI that Joe Biden received a $5 million bribe from a top executive at Burisma, where Hunter Biden, who the informant says also received a $5 million dollar bribe, sat on the board, a position for which Hunter was paid $50,000 a month.
In the audio, which was recorded as the Obama Administration prepared to leave office, then-Vice President Joe Biden assured then-Ukrainian President Petro Poroshenko that the FBI's investigation into Burisma had been shut down. What's more, is that Biden seemed to imply that he was playing a personal role in shutting the investigation down and burying evidence of his own international corruption and the international corruption of his son, Hunter, as well as their Ukrainian accomplices.
Speaking about one of his former aides, Oleksandr Onyshchenko, who was working with investigators and claimed to be in possession of tapes and documents proving both Biden and Poroshenko's large-scale corruption, Poroshenko told Biden that "if it is true that the FBI [is] working with him, at least I want to know that."
Biden replied with an assurance that the investigation had been "stopped."
"No, no they are not. I told you the FBI concluded he had nothing and they stopped. That was it. There is no reason to talk to him again," Biden said, before adding that he would personally "check" on the investigation status and report back to Poroshenko.
"I will check that and confirm with you," Biden added.
In addition to the audio, a previous Ukrainian media report indicates that the information provided to the DOJ/FBI by Poroshenko's former aide, Oleksandr Onyshchenko, was received by Andrew Weissmann, the left-wing hardliner who has been described as Bob Mueller's "pit bull," and who has been accused repeatedly of helping to cover up Biden family crimes with the rest of the DOJ and FBI.
Now, the Ukrainian media report appears to have been emboldened by the publishing of a document bearing the signatures of both Onyshchenko and Weissmann. The document is dated 2016 and lists Weissmann as the Chief of the DOJ's Fraud Section.
This is leading to widespread speculation that it was Andrew Weissmann who personally killed the investigation into Biden, Poroshenko, and Burisma, perhaps at the direction of Joe Biden himself.
It should also be noted that Biden admittedly directed Poroshenko to end a Ukrainian investigation into Burisma, having boasted that he held a billion dollars worth of foreign aid money over Poroshenko's head, demanding that he fire a Ukrainian prosecutor investigating Burisma corruption – a demand that Poroshenko obeyed.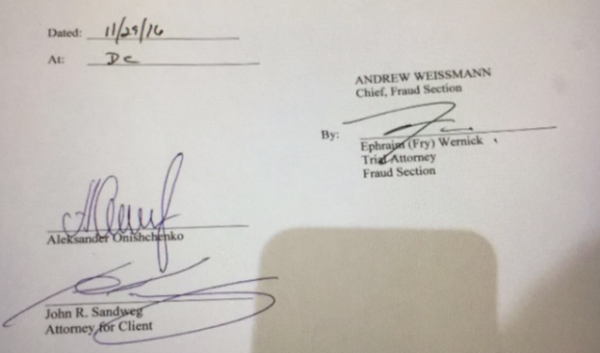 Listen To The Explosive Audio Below: 
If you thought this was bad, here's the real shocker. Shortly after Poroshenko's aide blew the whistle, Poroshenko asked Biden whether the aide was now cooperating with the FBI. Incredibly, Biden assured Poroshenko that the FBI wasn't pursuing it. How would Biden have known? https://t.co/FdkBQEdQMY pic.twitter.com/qMbZF6ODPb

— Hans Mahncke (@HansMahncke) June 13, 2023