Last Updated on April 1, 2022
Los Angeles Dodgers pitcher Trevor Bauer has filed a defamation lawsuit against The Athletic and a former writer for the publication, Molly Knight. The Cy Young award winner alleges that the outlet misled readers by deliberately omitting information in reports about a sexual assault allegation against him last year. Bauer was not charged, though he was sidelined for the remainder of the season while an investigation played out.
The lawsuit, which was filed Tuesday in U.S. District Court for Central California, accused The Athletic and its former writer Molly Knight of running a harassment campaign to defame him. Bauer alleges that the sports website had access to his accuser's medical records and intentionally omitted that CT scans showed she did not suffer a fractured skull.
Police opened an investigation into Trevor Bauer last year after a woman filed a restraining order against him under a domestic violence prevention law. She accused Bauer of fracturing her skull, choking her unconscious during sex and other violent sexual behaviors. Bauer has denied assaulting the woman, and the Los Angeles County District Attorney's Office declined to press charges.
"I never assaulted her in any way at any time," Bauer said in a video statement at the time. "While we did have consensual rough sex, the disturbing acts and conduct that she described simply did not occur."
Shortly after the allegations, Bauer's camp revealed text messages that showed the two stayed in contact after the alleged sexual assault. The accuser, who was referred to as "Ms. Hill" in legal proceedings, even requested more "rough" sex from Bauer after the first encounter. The Dodgers star also revealed other, general conversation messages that would seem strange given the alleged circumstances.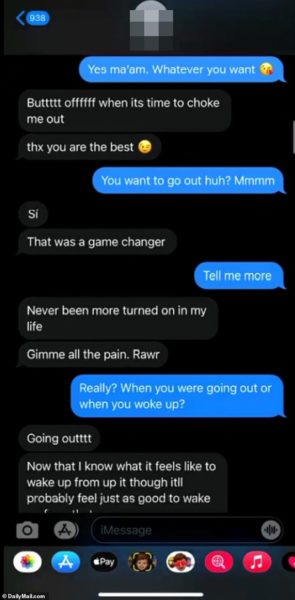 Bauer's attorney Shawn Holley cross-examined Hill, a recovering alcoholic, regarding text messages sent between her and an AA sponsor, Lisa Decker. Hill reportedly told Decker that Bauer was her way to "secure the bag", insinuating that she was after money. "Isn't the general meaning of 'secure the bag' to get the money?" Holley asked. Hill replied that it "could" mean that, but also that she wasn't sure.
During a hearing last August, Holley referenced the text messages exchanged between Hill and Bauer to say that the encounters were consensual. Holley pointed out that Hill did not include any of these texts in her declaration to the court, asking for a domestic violence restraining order against Trevor Bauer. Holley also cast doubt on Hill's claims that she wanted nothing more to do with Bauer after the second sex encounter, pointing out that on June 18, more than a month after their second meet-up, she texted a friend saying she wanted to watch a LA Dodgers game on TV because "Bauer is pitching."
"You had deleted all your communications with him but you still wanted to watch him pitch that night?" asked Holley. Hill said it was "possible", but also said she was having trouble sleeping and was seeing a therapist.
According to Bauer's suit, The Athletic published the article based on documents that were filed for the restraining order, which included medical documents. The referenced documents made no mention that the results of those scans were negative" for a fracture after it said she had signs of one.
Bauer further alleges that Knight, who wrote for the publication as recently as July, tweeted false claims that he had fractured Hill's skull. On July 2, Knight tweeted that one could "not consent to a fractured skull." The tweet was referenced in the lawsuit, as was a similar one, in which knight wrote: "There seems to be some confusion surrounding the issue of consent but here is some clarity: it's not possible to consent to a cracked skull."
Trevor Bauer asserts that Knight's tweets, and The Athletic's decision to omit the full results of the CT scans, gave readers a "reasonable understanding" that he fractured Hill's skull.
In order for a public figure to win a defamation suit, they must prove "actual malice", or proving the publisher acted in bad faith. The lawsuit states that The Athletic's history of publishing what it describes as "negative" articles about Bauer and the omission of the scan results meet the actual malice standard.
The Athletic has stated that they are aware of Bauer's legal action, but also that they stand by their reporting. Molly Knight has yet to comment publicly.