Last Updated on April 1, 2022
The director of Race and Equity at UCLA wished for the death of Supreme Court Justice Clarence Thomas in a tweet last week. Thomas was recently hospitalized for an infection, though he has since been discharged and is reportedly recovering well.
"No one wants to openly admit [we all] hope Clarence Thomas dies. Whatever you need to tell yourselves," Jonathan Perkins tweeted on Thursday. "This whole rule we're not to wish ill on people is silly. Uncle Thomas is a sexist token who's committed himself to making us all share in he and his treasonous wife's misery."
Thomas was admitted to the hospital on March 18 after experiencing "flu-like symptoms" and was treated for an infection with intravenous antibiotics. By Monday, Perkins has set his account to private, reports Fox News.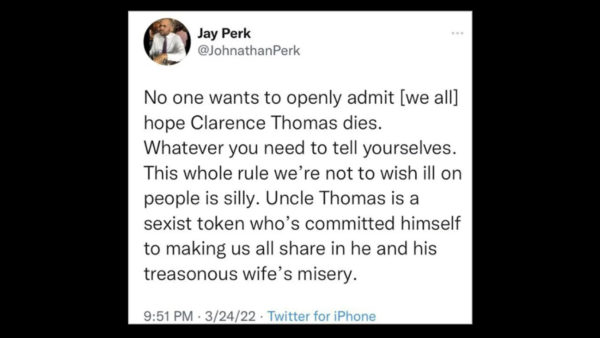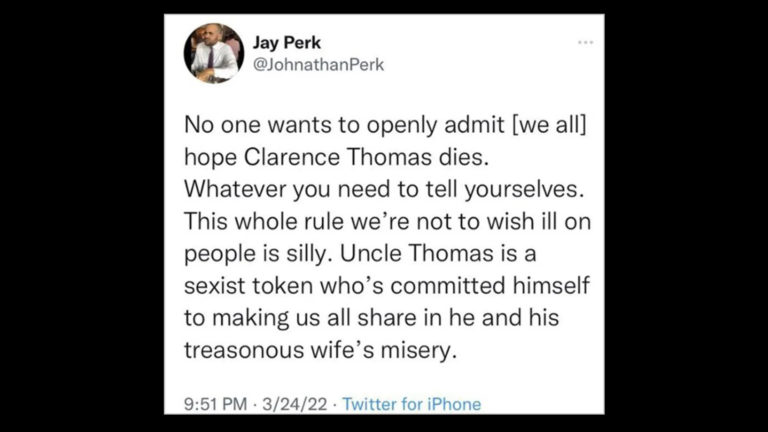 "Uncle Thomas" refers to "Uncle Tom", a derogatory term thrown at black figures who refuse to support black supremacist ideology. Uncle Tom, a character in the 1852 antislavery novel "Uncle Tom's Cabin," has been criticized by Malcolm X and others for his subservience to his slave owners.
UCLA's Perkins "is a public academic, higher education attorney, lecturer and podcast co-host of black&," according to his personal website. "His activism and academic work is rooted in antiracist allyship and the effects of individual and institutional bias," reads his bio.
In a statement to Fox News, Anna Spain Bradley, Vice Chancellor for Equity, Diversity and Inclusion at UCLA said Perkin's tweet "does not reflect my or UCLA EDI's views."
The UCLA Equity department lists deepening "support for communities that have been victims of racism, members of our community with disabilities, our LGBTQIA+" as a priority on the university's website. UCLA, along with the UC system as a whole, has dozens of "equity"-themed task forces devoted to advancing the needs and wishes of non-white and LBGT students, though white and Asian students receive no such emphasis.
UCLA has yet to take action on the threats made against Clarence Thomas.