Last Updated on February 7, 2021
After several news publications falsely reported that President Donald Trump joined Gab, when in reality they were referencing a years old archive account that was linked to the former President's Twitter account, Gab CEO and founder Andrew Torba explained that President Trump is being blocked from joining the vibrant platform by his advisors.
[President Trump] is and always has been a mirror archive of POTUS' tweets and statements that we've run for years," wrote Torba. "We've always been transparent about this and would obviously let people know if the President starts using it."
Elaborating on why President Trump is not using Gab, Torba added, "The only reason he's not using it right now to contact his base is because dopey advisers like Jared Kushner, who lost him the election, are blocking him from using it."
This comes a month after there were rumors that President Trump was set to join Gab, and Torba revealed that he was in communication with President Trump's remaining team on January 13. After days of no action from President Trump, Torba revealed that Jared Kushner and Dan Scavino were preventing the President from joining the platform. Now, Torba is doubling down.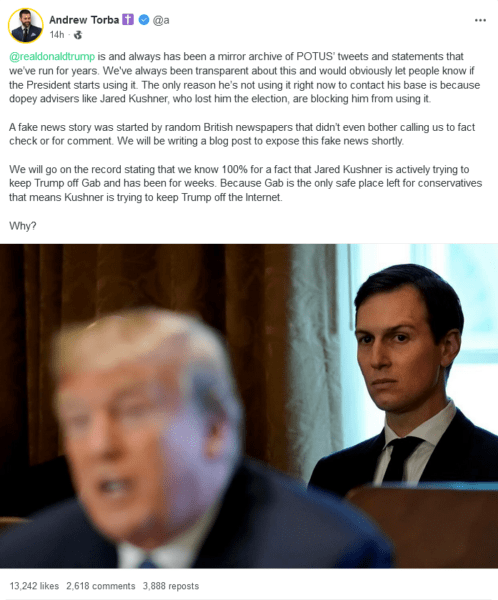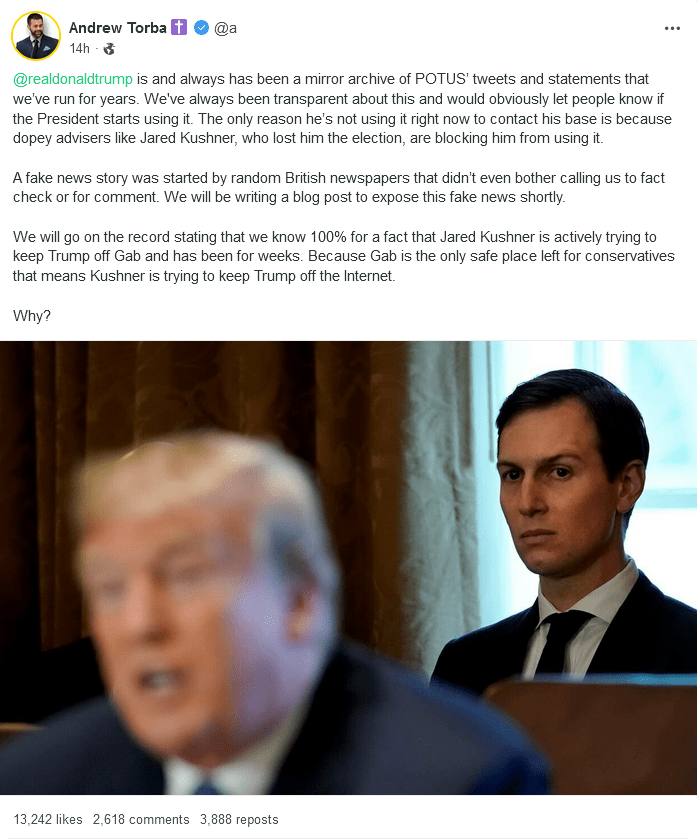 "We will go on the record stating that we know 100% for a fact that Jared Kushner is actively trying to keep Trump off Gab and has been for weeks," Torba wrote yesterday. "Because Gab is the only safe place left for conservatives that means Kushner is trying to keep Trump off the Internet."
In July, when the Trump campaign was facing dismal levels of excitement from its base, President Trump reportedly revealed that he regretted going along with Kushner's advice.
National File reported at the time, "Axios reported Wednesday that sources inside the White House say Trump wants "no more of Jared's woke sh*t," after several weeks of abysmal polling for the administration that indicates an uphill battle in the 2020 election, and no net increase in black voters."
"In recent days, Trump has reversed course on the riots and vandalism, signing an executive order to protect national monuments from desecration and describing Black Lives Matter signs as symbols of hate," we reported, noting that President Trump seemingly moved away from Kushner's "woke sh*t" as the election drew closer.