Last Updated on August 11, 2021
Young Americans for Liberty (YAL) recently announced that Lauren Daugherty would become its new Executive Director. Daugherty is a former political candidate representing the Libertarian Party who appears to remain the Executive Director for the Libertarian Party of Texas, and many have expressed concern that Daugherty will reverse YAL's efforts to elect pro-liberty Republicans to state-level public offices by utilizing tried and true door knocking strategies responsible for electing nearly 200 candidates.
Daugherty, who is now at the helm of an organization famous for electing liberty-leaning Republicans to state level office, served a number of roles for the Libertarian Party's National Committee, including Head of Development, Interim Executive Director, and Development Director, starting in 2015 and ending in mid 2019. In 2021, National File was told, Daugherty serves as the Libertarian Party Platform Chair, and Daugherty appears is still listed as Executive Director of the Texas Libertarian party.
National File spoke to three sources with close knowledge of YAL and its goals both before and after Lauren Daugherty's tenure began, and all expressed skepticism that she would continue the organization's track record of electing pro-liberty Republicans to state legislatures using effective door knocking campaigns. One source told National File that Daugherty is already in the process of gutting YAL's effective door knocking program.
YAL recently hosted their large, annual event, Revolution 2021 from August 5-7. Sen. Rand Paul and Rep. Thomas Massie, who have headlined every YAL convention since 2016, were not speakers. One source told National File that "donors and YAL members" should ask Daugherty whether "YAL is moving away from the Rand Paul, Thomas Massie strategy" and instead "going all in on the failed strategy of Justin Amash." In opposition to President Donald Trump, Amash abandoned the Republican Party and later became a Libertarian Party member. After abandoning the Republican Party, he did not run for reelection, and abandoned his presidential aspirations after becoming highly unpopular among Republicans.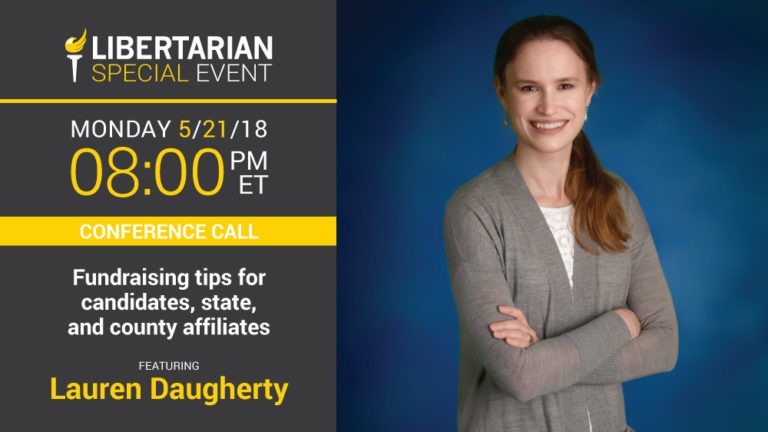 One source told National File that many donors and staff members are questioning whether "Daugherty [will] abandon the Libertarian Party and embrace the YAL model," and noted that "Staff members are worried that she understands Win at the Door is a big part of what YAL does, but she's not necessarily the biggest fan." While Win at the Door remains a prominent feature on the Young Americans for Liberty website under Daugherty's tenure, it does not appear to have been updated recently, and focuses on the initiative's founding in 2018.
"A sitting platform committee chairman of the Libertarian National committee was just appointed head of YAL. The things I pull from that are anti-Trump, anti-Republican, anti-Thomas Massie," one source told National File. "Anyone that is part of the Libertarian Party, especially the National Committee, their goal is to not to let anybody win except a Libertarian Party member." Many liberal publications have repeatedly touted the Libertarian Party for its ability to "spoil" elections for Republicans, and hand them to Democrats. Vox, Newsweek, The Hill, The Guardian, Reuters, CATO, CNBC, and other prominent publications all questioned whether the Libertarian Party would siphon enough votes from President Trump to secure Joe Biden a victory in 2020.
A second source with knowledge of the day-to-day operations of YAL prior to Daugherty's tenure told National File that, since Daugherty took control of YAL, at least 13 National YAL staffers have left the organization. Additionally, those who remain are "nervous" that YAL's strategy of electing liberty-leaning state candidates is being sabotaged by Daugherty's "fringe loyalty" to the Libertarian Party.
According to a third source, Daugherty is already working to "scale down" the successful Win at the Door operation used to elect local liberty-leaning Republican candidates. This source told National File that, not only is Daugherty scaling down this strategy, she has already informed "one of YAL's largest donors" of her plan to curtail door knocking. Another source told National File that donors consider this strategy a fundamental part of YAL's operations, and suggested they may discontinue their donations if Daugherty's plans to "scale down" the program come to fruition.
Daugherty's loyalty to the Libertarian Party appears to be impacting the organization's messaging, as well. One source, who worked at YAL until recently and still maintains contacts familiar with the operation, told National File that under Daugherty's leadership, representatives of the organization were forbidden from launching political attacks against Rep. Liz Cheney (R-WY), who voted to impeach President Trump and repeatedly bashed the 45th President.
"From everything I'm seeing and hearing, it's a lot of leftist rhetoric," the source told National File. "On Twitter and social media, they weren't allowed to go after Liz Cheney. This can be verified," the source explained, attributing the decision to Daugherty's influence. "I would attribute that, personally, to the idea that a lot of Libertarian Party folks respect institutions."
According to FEC records, Daugherty donated exclusively to the Libertarian Party and its candidates and causes during the 2020 political cycle. Daugherty donated hundreds to failed Libertarian Presidential Candidate Bill Weld, who was unable to secure his party's presidential nomination, and thousands to the Libertarian Party. Daugherty appears to have donated to no Republicans during the 2020 political cycle.
Daugherty unsuccessfully ran for Justice of the Peace in McLennan County, Texas during the 2018 cycle, representing the third party in a race between a Republican, who ultimately won, and a Democrat, who could have been buoyed by the contentious Senate race happening in Texas during that year. Daugherty came in third place with 21.7% of the vote and 7,139 votes. At the time, Daugherty blamed the contentious race between Sen. Ted Cruz and Robert Francis "Beto" O'Rourke for her third place finish, and claimed she was "swamped by the flood of partisanship and new (highly partisan) voters" who turned out to vote for Cruz or O'Rourke.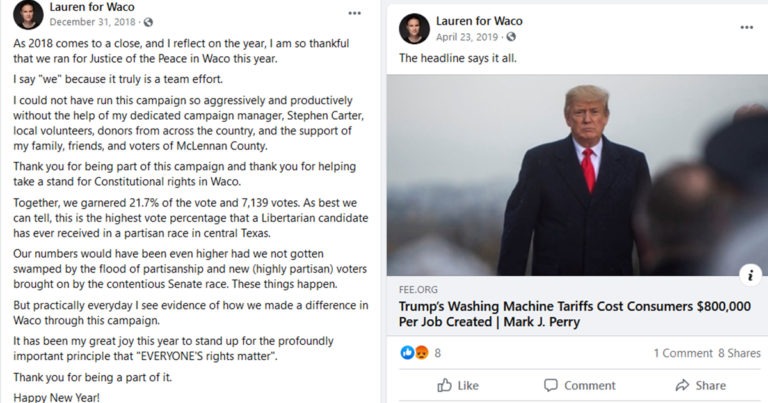 While Daugherty appears to have scrubbed most of her social media posts before entering her new position at YAL, in April of 2019 Daugherty shared an article to her Facebook page bashing President Trump's tariffs aimed at saving American jobs. Daugherty commented, "The headline says it all" while responding to an article titled "Trump's Washing Machine Tariffs Cost Consumers $800,000 Per Job".
National File called Daugherty to ask about her goals for YAL and its approach for the 2022 political cycle, and specifically asked whether YAL would continue its Win at the Door initiative to elect pro-liberty Republicans to local office. We did not receive a response in time for publication of this article.