Last Updated on June 1, 2020
Jim Kaczmarek, a top surrogate for ex-GOP establishment Congressman Scott Taylor's latest campaign, who heads up the "Scott Taylor Eastern Shore Grassroots 'Seal the Deal Team'" Facebook page, has been caught lying about an endorsement he claimed the candidate received from the Accomack County Republican Unit in a Facebook post.
"Accomack County Republican unit has endorsed Scott Taylor again because they know he is [sic] only one with the Bankroll [sic] to beat Luria in November…Glad Dona Danziger and Wesley Edwards have finally seen the light!

Wonder if Felot [sic] POS Mapp or Used [sic] wife will share this!

2 can play at sotre [sic] telling right?

Truth don't matter in ACRU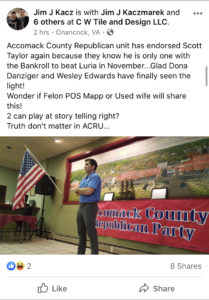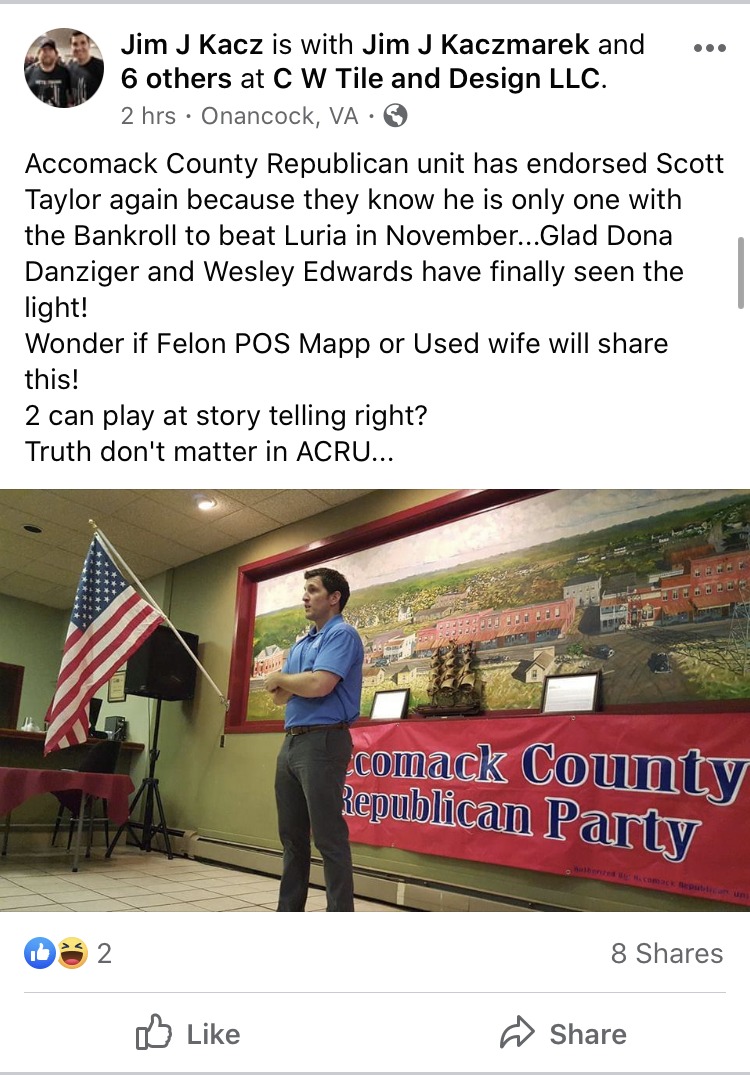 Just hours after the Facebook post touting the phony endorsement was made, Wesley Edwards, the Chairman of the Accomack County Republicans, responded in a post made to the Accomack and Northampton Republican Units joint Facebook account, debunking Kaczmarek's claims.
For Immediate Press Release:

Like many of you I have Jim J Kacz blocked on all my devices, but the below post by him is a BOLD FACE LIE.

I or the Accomack Republican Party of Accomack Cty has NOT endorsed Scott Taylor. As a matter of fact 6 of 8 Chairman in the congressional district (2) have endorsed BEN Loyola and a seventh is expect to endorse Ben as soon as Ben and staff can visit.

The picture in the text is 4 or more years old and was likely taken in 2016 and or used with out authorization for the 2020 primary.

Mr. Taylor has already been beat by the current Democrat candidate and is still under investigation for criminal charges from that election. Part of his staff has already been convicted and other charges are still pending. Does anyone believe if he couldn't beat her as the incumbent how is he going to beat her with pending LEGAL charges and the scandal from 4 years ago. For Mr. Taylor to be associated with Jim Kacz tells you all you need to know about Scott Taylor.

Wesley Edwards

Republican

Chairman

Accomack Cty.
https://www.facebook.com/ESVGOP/posts/688690625229772
As I've previously reported with both National File and Politics Elections, Jim Kaczmarek has an extremely troubled past within the Republican Party.
Last year, Kaczmarek was banned from nominating events and official committees altogether for a 4-year period following his active campaigning for the re-election of Democrat Lynwood Lewis to the Virginia State Senate. Following Lewis' victory over his Republican challenger, Kaczmarek recorded himself taunting his fellow Virginians. "It's an election win for me," said Kaczmarek. "The State of Virginia lost, but that's not my problem."
The year prior, while serving as Vice Chairman of Virginia's 2nd District GOP, Kaczmarek was forced out of his post following revelations that he had made violent threats to Mary Jones, then-Congressman Taylor's 2018 Primary Election opponent, and her female supporters. Kaczmarek was additionally found to have been operating at least 8 alternate Facebook accounts, some of which had also issued threats.
It appears Kaczmarek still runs a number of phony Facebook accounts, recently stating under an account by the name of "Jim Roberts," that "Republican scumbags on the Shore are converting me to a Solid [sic] Lewis supporter."

Kaczmarek even made the post touting the phony endorsement from an alternate account under the name of "Jim J Kacz" – and tagged at least one other account operated by himself – under the name of "Jim J Kaczmarek," his actual name."