Last Updated on November 22, 2022
"Died Suddenly," the newest feature-length documentary film from Stew Peters and his mega-viral Stew Peters Network, raked in over 2 million views within just hours of its Monday evening premiere, setting the world ablaze with the horrifying truth about the COVID death jab genocide.
"Died Suddenly" is making massive waves since hitting the internet on Monday evening, compiling millions of views after months of anticipation.
Though Big Pharma, corporate media, tech oligarchs, and others have tried to stymy the film's release with censorship and mockingbird talking points, they've failed. Majorly and publicly.
Following its premiere, the phrase "Died Suddenly" broke through left-wing censors, to trend on Twitter as one of the most talked about topics on planet earth – something the phrase had already done multiple times in the run-up to the film's release day.
The morning after the premiere, on Rumble alone, figures show that the "Died Suddenly" film has already brought in over 1.9 million views.


Additionally, across social media platforms, "Died Suddenly" streams have raked in hundreds of thousands, if not millions, of more views for the groundbreaking film.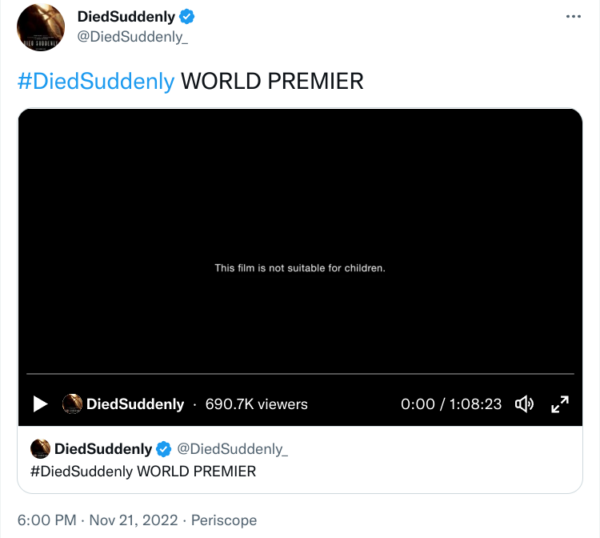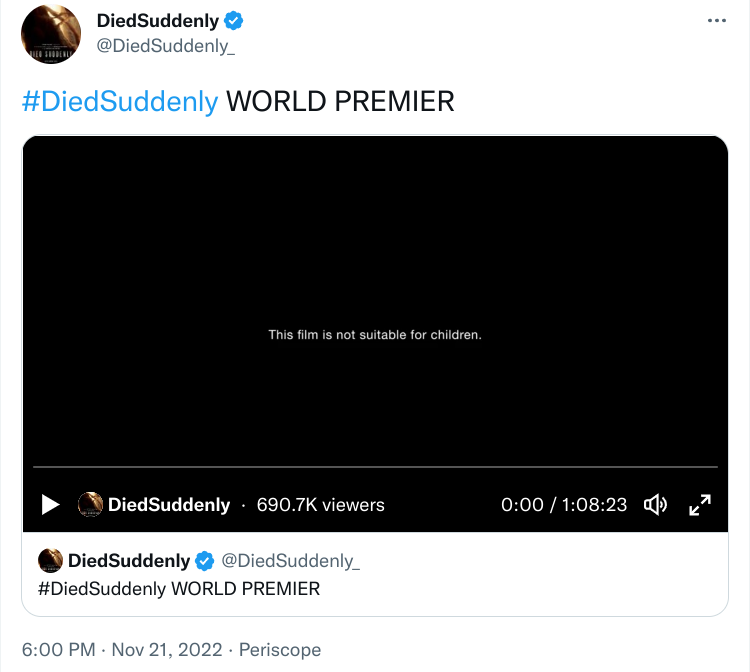 Watch The Full "Died Suddenly" Film HERE
Taking the truth straight to the people, "Died Suddenly" exposes the horrifying facts surrounding COVID-19 and its genocidal death jabs, with producers taking a deep dive into the world of fact-based, not politics-based medicine.
In naming the film, Peters and his team took inspiration from what has become the most commonly employed phrase in the obituaries of seemingly healthy individuals all over the world – "died suddenly."
In the era of COVID-19 and its "treatments," "died suddenly" has become the calling card of Big Pharma's death jabs, claiming the lives of men, women, and children of all shapes, sizes, and backgrounds.
Not even professional athletes in peak physical shape have been exempt, with horrifying videos going viral on a routine basis of jabbed sports stars dropping dead on the field of play.
Watch The Full "Died Suddenly" Film HERE
Stew Peters Blows the Whistle: "This Time, the Genocide Will be Televised" – READ MORE