Last Updated on January 19, 2023
Stew Peters called on President Trump to issue an apology to the millions of people who've been maimed and murdered by the COVID-19 death jabs the 45th President continues to push when he makes the first tweet of his pending return to Twitter.
"I hope Trump's first tweet back on Twitter is an apology to the millions maimed and murdered after his incessant and continuous push of the bioweapon death jab," tweeted Stew Peters, the nationally-syndicated host of the Stew Peters Show and producer of the groundbreaking Died Suddenly film, which blew the lid off the depopulation agenda at the heart of COVID-19 and its "vaccine" roll-out.


The tweet from Peters, who's spearheading real-world action to hold Big Pharma and other jab pushers accountable for the unprecedented carnage of COVID "vaccines," which have been identified as mRNA bioweapons, came in the wake of President Trump's continued defense and endorsement of the shots.
During a recent appearance by Trump on The Water Cooler podcast, he dug his heels in on his defense of the COVID jab, claiming that Operation Warp Speed, saved as many "100 million lives." Additionally, President Trump dismissed the millions injured and killed by COVID jabs, claiming that "problems" occurred only in "relatively small numbers."
Warp Speed, part of the Trump-era response to COVID, allowed the jab to skip years of safety testing and be delivered straight to the American people and the world while still under experimental status. Despite the obvious hazards, jab mandates were forced onto the general population en masse, prompting a historically massive death wave that's led to young people in peak health suddenly dropping dead.
For others, blood clots and debilitating vaccine side effects, including strokes and paralysis, have ended or destroyed their lives.
In a tweet Peters made earlier this week, he called on President Trump to "admit one of two things."
That he was either "lied to, and what was meant for good (WarpSpeed) was hijacked and used by evil people to deploy a bioweapon."
Or, that "he's in on it."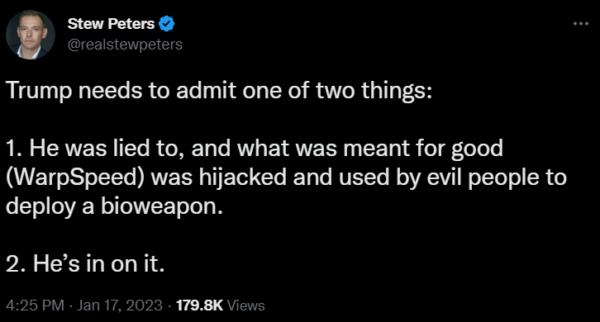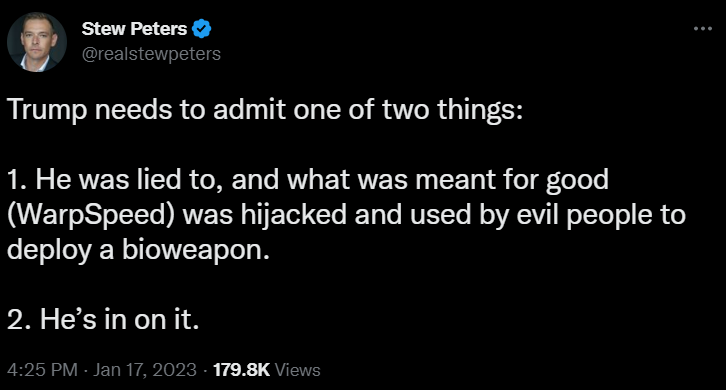 While it remains to be seen when President Trump will begin tweeting again, recent reports suggest that it will be soon, as his account was recently reinstated, like the account of Stew Peters was, after Elon Musk's takeover of the platform.
In the meantime, Trump continues to post exclusively to his Truth Social platform, where Peters' Died Suddenly film was censored, much like it was on multiple Big Tech platforms when it made its premiere.
As National File reported at the time:
The post was not deleted, though it was slapped with a "sensitive content" warning that viewers had to acknowledge before viewing the post and linked article. "'Truth' Social has more censorship than Elon Musk's Twitter," Peters wrote in a Gab post referencing the warning label.

Former President Trump launched Truth Social in the name of free speech absolutism after his Twitter account was unjustly shut down. However, the company does adhere to a number of "anti-hate" standards laid out by Google and Apple in order for its app to be available in their respective marketplaces.

Stew Peters has questioned the platform's commitment to free speech absolutism in the past. Not long after the platform was launched, Peters was slapped with a similar label after testing the platform's boundaries compared with other Twitter alternatives.