Last Updated on March 1, 2023
Stew Peters is calling for Kevin McCarthy to be removed as Speaker of the House over his cover-up of more than 40,000 hours of security footage taken at the US Capitol Building during the January 6th, 2021 protests against election fraud – footage that could exonerate J6 political prisoners and shed light on the criminality of federal and DC authorities.
Nationally-syndicated news host Stew Peters has been vocally opposed to Kevin McCarthy's fraudulent "release" of the J6 footage he promised to share with the American People. After winning his speakership in part on his promise to release the footage, McCarthy has instead given exclusive access to Fox News and Tucker Carlson, throttling the release through a terminal at the US Capitol, where select Fox News staff is viewing it.
Obviously, it will be impossible for them to view all of it – more than 40,000 worth – if this situation continues, and even if they could, Fox News could never feasibly air it all, meaning that the American People will continue being kept in the dark as to the true events of January 6th, 2021.
In securing his speakership with less than 218 votes, Kevin McCarthy also agreed to bring back the Jeffersonian motion to vacate the chair, scrapping the Pelosi rule that put the Speaker of the House above reproach, and made it impossible for rank and file members of Congress to invoke the motion to vacate and oust a lousy speaker.
Peters took note of the concession, and in a recent pair of tweets, called on members of Congress to invoke the motion to vacate against Kevin McCarthy, and bring the truth about January 6th to the American People.
"There are POW's being held on US soil whose lives are being completely DESTROYED, because the FAKE "Republicans" know where the bodies are buried," Peters tweeted. "They'll let them rot in prison or DIE before they let you see the truth."
"VACATE THE CHAIR!"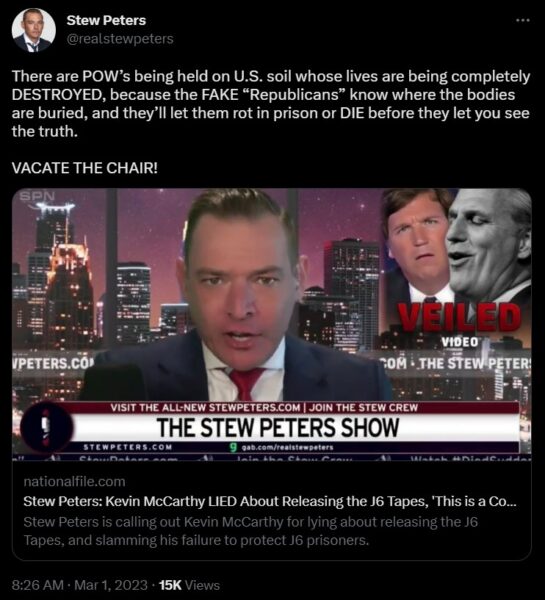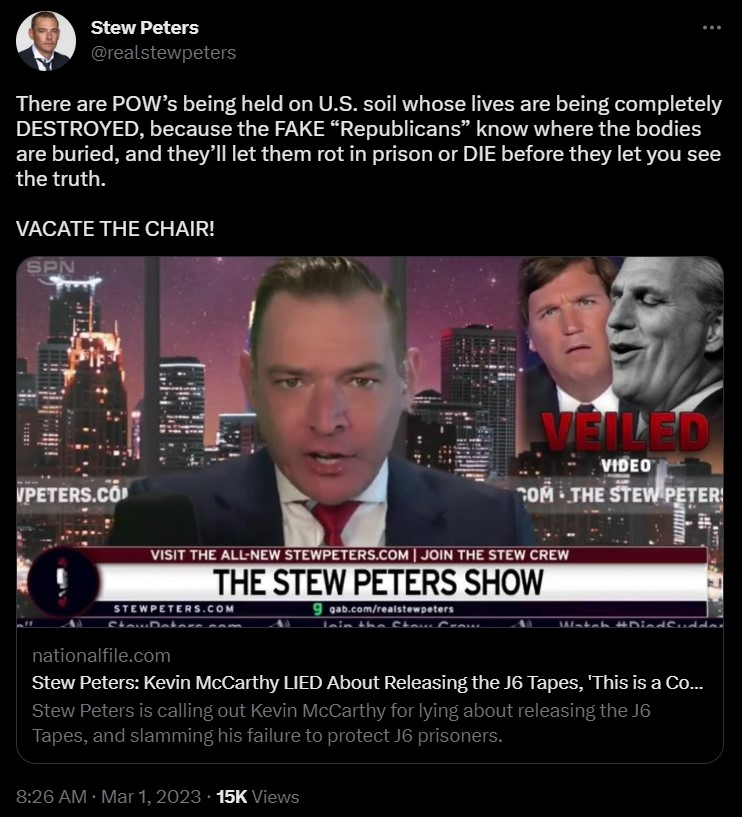 Peters echoed those sentiments in a subsequent tweet, writing "No J6 footage, no criminal referrals, time to vacate the chair."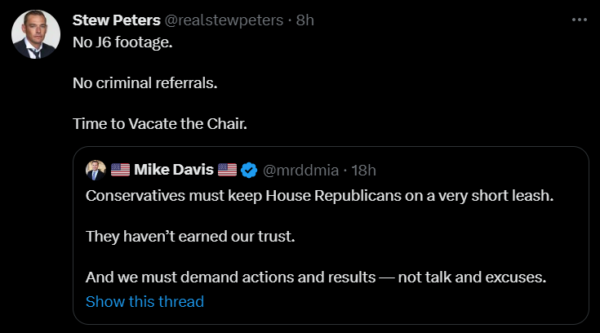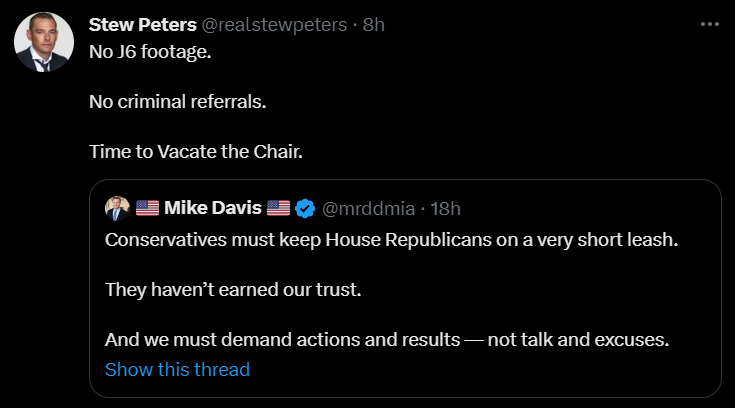 Peters's tweets came on the heels of a segment of the Stew Peters Show in which he ripped Kevin McCarthy and Fox News alike for their continued cover-up of January 6th.
In throttling the footage through Fox News, Peters said, Kevin McCarthy knows that the truth will never get to the American People.
"If Speaker McCarthy turned over these tapes to the Stew Peters Network, we would release them immediately in their entirety and allow the viewing public to reach the relevant conclusions," Peters said.
"I don't trust Fox one bit," J6 political prisoner Andrew Taake told Peters when he joined him for the segment.