Last Updated on October 6, 2019
Wednesday,  a well known American magazine, known even to the world of non-sports fans for beautiful women in swimsuits, saw a reduction in over half of their employees in an aggressive take over of the business.
NEWS: Management at Sports Illustrated just informed its newsroom in meetings that half the staff has been laid off, according to a person present.

— David Folkenflik (@davidfolkenflik) October 3, 2019
What is going on? According to a press release:
Maven today becomes the proud operator of Sports Illustrated magazine and SI.com and begins a three-month transition process aimed at revitalizing and strengthening the iconic magazine and website. To refocus the world-renowned publication, Maven, an expansive media destination and coalition of hundreds of professional journalists and creators, will add more journalistic firepower and boost investments in technology. Fueled by the world-class journalism and photography synonymous with Sports Illustrated, these vital improvements will enhance real-time news cycle coverage, strengthen mobile platform delivery, and increase the development of complementary video content."
The rebranding of American iconic instructions for "Woke" ideology is called "Cultural Marxism".   Sports Illustrated tipped off the world about the coming changes in the 2019 Bathingsuit issue, but really leftist thought domination has been going on for years in the world of sports and in magazines.
The highly-coveted cover photograph of the loved Spring edition has been considered as the arbiter of supermodel succession, until 2019 when there was a shocking cultural shift when most people would really understand the change.
Consider the Buraka Bikini and plus-sized models, both social justice activists:
https://twitter.com/SexyTroopLover/status/1179910326264971264?ref_src=twsrc%5Etfw%7Ctwcamp%5Etweetembed%7Ctwterm%5E1179910326264971264&ref_url=https%3A%2F%2Fpublish.twitter.com%2F%3Fquery%3Dhttps%253A%252F%252Ftwitter.com%252FSexyTroopLover%252Fstatus%252F1179910326264971264%26widget%3DTweet
Sports Illustrated  sent political leaning, "Leftist happy",  sportswriters a "hat tip" from the "money issue" Page 76 Sports Illustrated, September 23-30, 2019 issue, the NBA is "Woke League":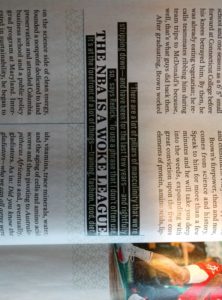 According  to the new breed of sportswriter, sports are now about leading influential social justice warriors than mere athletes, being just a vehicle for Marxist propaganda, from the article:
In comparison to other sports leagues, the NBA just "gets it." Not speaking of league leadership in general, but in terms of having more leading strong influential figures, the NBA is way more woke. College football and baseball just have too much of an old guard, stuffed shirt vibe.

The NFL has some progressive elements, but the game always has, and always will be, inter-twined with over-the-top jingoism and the military-industrial complex. There are some sharp, dissenting minds in the college basketball world, but unfortunately the NCAA cartel curtails their expression too often.
Highlighting favored Democrat-friendly policies, in 2015 Sports Illustrated favored an environment-friendly stadium for the Super Bowl that year, pushing unpopular "climate change hoax" theories at the same time.
"Sustainability probably isn't the most exciting subject in front offices around the NFL. But with big-money savings and positive effects on the fan experience, designing a sports sanctuary with longevity and environmental impact in mind is becoming the standard. With modern features like complex LED lighting, solar panels, concentrated-use energy systems and green roofs team executives can save their franchises millions. Fittingly, the NFL's marquee event, this year's Super Bowl between the Carolina Panthers and Denver Broncos, will be held in one of those monuments to forward-thinking innovation—Levi's Stadium​, the home of the San Francisco 49ers in Santa Clara, Calif."
Online reaction to the takeover has been mostly unfavorable, talking about the new low quality of writing, and about the harshness of great journalists being discarded. Some people point to "low wage" writers replacing well trained Sports Journalists, as a business decision, saving cash in overhead.
Reactions are not good:
Sports Illustrated employees are concerned about the future of the historic brand.

In the past three hours, over three-quarters of our staff came together to ask ABG and Meredith to save our brand #SaveSI pic.twitter.com/z2GG86t5n0

— Sports Illustrated Union (@si_union) October 3, 2019
Sports Illustrated Gets Woke Goes Broke
Does Sports Illustrated re-branding plans include more Colin Kaepernick style stunts?  Recall the humiliating and public fall from grace for once idolized QB Colin Kaepernick, who went from someone with massive media coverage to someone who bankrupted the NLF and got dumped. 
Is this about profits or about shifting American culture?  Time will tell.  If SI leads a new charged for "Pussy hats, not helmets"- we will have our answer.