Last Updated on November 12, 2021
National File has uncovered more texts in the conversations between the Biden family which were previously reported by pundit Candace Owens and Biz Pac Review referring to a "sexually inappropriate" relationship between Hunter Biden and his niece. National File has obtained over 800 pages of text messages sent or received by Hunter Biden from 2018 and 2019. In them Hunter repeatedly reveals that his former love interest Hallie, the widow of the late Beau Biden, claimed he behaved in a "sexually inappropriate" way around a minor family member.
Hunter Biden, the son of President Joe Biden, told sister Ashley Biden that former lover Hallie Biden described him as being "sexually inappropriate" with a minor female family member. The text messages were retrieved from the infamous laptop abandoned by Hunter Biden. National File has redacted the name of the person in question, as she is still a minor at this time.
Hallie Biden is the widow of Beau Biden, who Hunter was involved with romantically after his brother's death. Hunter referenced Hallie's allegation to multiple people via text messages, including his close family members.
In fact, the texts reveal that most members of Hunter Biden's family seemed to know about these allegations. Among these family members are Hunter's parents Joe Biden and Jill Biden, his sister Ashley Biden, and Jim Biden, the brother of Joe Biden. In some cases, family members decided to take Hunter's "side" of the apparent family argument over the allegations, choosing to believe him over Hallie Biden.
Previous reporting pertaining to the situation, including comments by prominent pundit Candace Owens and Rep. Lauren Boebert, have claimed that the teenage relative in question is Natalie Biden; the daughter of Hallie and the deceased Beau Biden, Hunter's niece. From Biz Pac Review:
Owens replied, "More importantly— Ashley Biden is the SECOND person in the Biden family that has made incestuous sexual allegations. Do not forget about Hunter's laptop and the text messages about his niece. These are accounts DIRECTLY FROM the Biden family. Not conspiracies."

…

The second person in the Biden family to be caught up in whispers of incest is Hunter Biden's teenage niece who was said to have been seen topless in photos with her uncle Hollywood LA News reported. The photos were allegedly found on Hunter Biden's infamous laptop.

Although the alleged photos of Hunter Biden and his niece Natalie Biden were purportedly turned over to jurisdictional authorities in the state of Delaware by former New York Mayor Rudy Giuliani and former New York Police Commissioner Bernard Kerik, there has been no verification concerning that incident to date either. Natalie is the daughter of Hunter Biden's now-deceased brother Beau Biden. Hunter Biden would go on to have a romantic relationship with his brother's widow while he was married to someone else.
More importantly— Ashley Biden is the SECOND person in the Biden family that has made incestuous sexual allegations. Do not forget about Hunter's lap top and the text messages about his niece.

These are accounts DIRECTLY FROM the Biden family. Not conspiracies. https://t.co/WTcXTLFPMo

— Candace Owens (@RealCandaceO) November 5, 2021
On September 22, 2018, according to the texts, Hunter Biden was complaining to Ashley Biden about his estranged lover Hallie Biden, the widowed wife of the late Beau Biden. Hallie was frustrated with Hunter, who at this point had spent months away from his family, according to his text messages, using drugs and sleeping with prostitutes in a series of expensive hotels.
According to the text messages exchanged between the siblings, during this time Hunter was barred from seeing a close minor relative by Hallie, who claimed he was engaging in "sexually inappropriate" behavior around the teen.
The subject of the allegations, who is still a minor, was between the ages of 14 and 15 during the time the text messages obtained by National File were sent or received by Hunter Biden.
During the discussion, Ashley noted that she was unaware that Hallie was not allowing Hunter to see this relative. Hunter referenced Hailie's drug use, and claimed that Hallie had tested positive for cocaine on August 20 and visited him in rehab a few days later, apparently suggesting that Hallie was in no position to bar him from having contact with this family member.
Then, Hunter told Ashley that she sits "in judgement of me in agreement with her [Hallie] that [redacted] cannot be alone with me," the text messages show.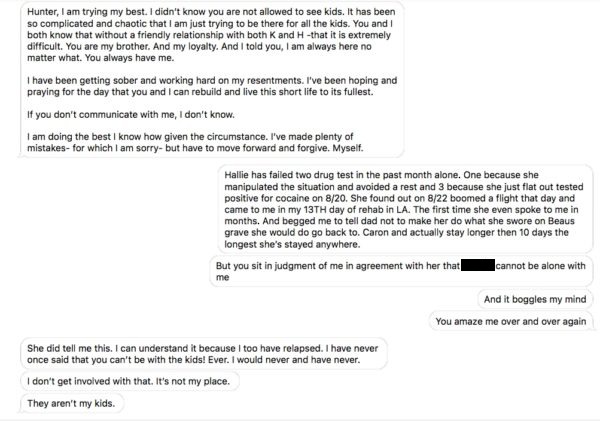 After Ashley told Hunter to keep her name out of the situation, Hunter told his sibling, "WTF are you talking about." He added, "You were involved in every aspect of my kids life and you're telling me that you don't feel it's appropriate for you to say my brother can see those kids whenever he wants like I did for you while you were killing me," he asked her.
"She told my therapist that I had been sexually inappropriate with [redacted]," Hunter wrote in a text message to his sister, emphasis added by National File. "Sexually inappropriate my therapist had to question her for close to 10 minutes to make certain that she did not have an obligation to report me to the police."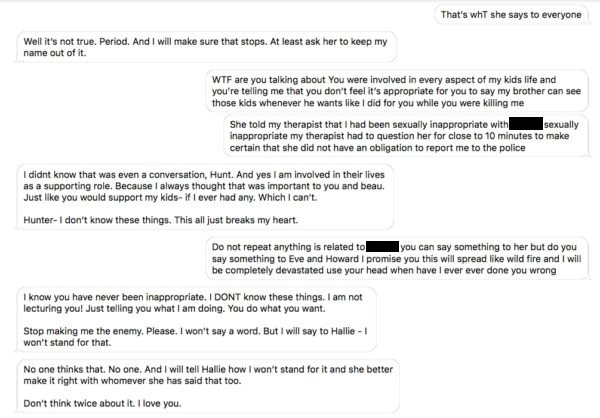 "I didn't know that was even a conversation, Hunt. And yes I am involved in their lives as a supporting role. Because I always thought that was important to you and beau. Just like you would support my kids- If I ever had any. Which I can't. Hunter- I don't know these things. This all just breaks my heart," Ashley replied.
Hunter asked Ashley to "not repeat anything is related to [redacted]," adding that "you can say something to her but do you say something to Eve and Howard I promise you this will spread like wild fire and I will be completely devastated use your head when I have ever ever done you wrong."
Ashley Biden received a master's of social work degree from the University of Pennsylvania's School of Social Policy and Practice in 2010. She is a known professional social worker, which typically requires mandatory reporting. It is unclear if Ashley Biden would have had a legal obligation to report this allegation at the time, or whether she took any action to report the allegation.
The following day, on September 23, 2018, Hunter attempted to contact a person who appears to be Elizabeth "Liz" Secundy, the sister of Hallie Biden, and thus a relative of the teenage girl. In the text exchange, Hunter told Liz Secundy that he assumes that she is no longer speaking to him because she is "under a lot of pressure." He again mentioned his frustration with Hallie informing "people I'm sexually inappropriate with [redacted]."
Hunter added, "If any one of you ever repeat that again I swear to god you might as well put the gun to my head yourself because Liz if all the tabloids who live to Dick with me anyway were to repeat a rumor that came from Hallie that that's why I can't come home I will not survive that no one could survive that."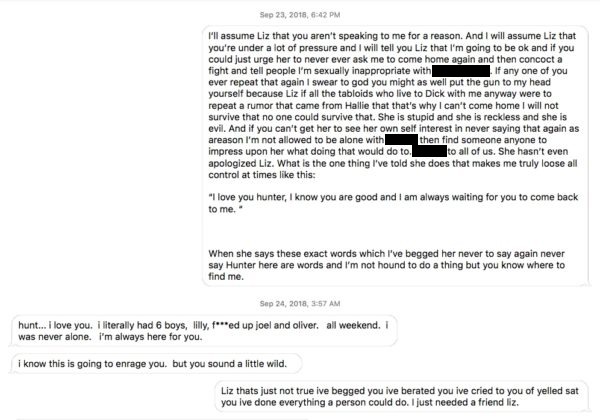 In the early morning on September 24, 2018, Liz told Hunter in a text message that he sounds "a little wild," per the text messages. Hunter then said "Liz thats just not true ive begged you ive berated you ive cried to you of yelled sat you ive done everything a person could do. I just needed a friend liz."
What Did Joe Know And When Did He Know It?
Roughly six weeks prior to Hunter's conversations with Ashley and Liz on August 9, 2018 at 8:21 a.m., according to the texts from the laptop, Joe Biden's brother, Jim Biden, texted Hunter urgently requesting to speak with him. Jim Biden seems to have been a business partner of Hunter's in various international businesses related to Ukraine and China at the time.
"It is imperative that I speak with you," wrote Jim Biden. "We are friends and partners and family. I have always been there for you and you have always been there for me. It is simply not fair to shut me out. This about you and me — nothing to do with Caroline. I love you. Call me, text me, we have to be able to communicate with each other," Joe Biden's brother added.
A few hours later following no responses from Hunter, Jim Biden added "I'm not mad or angry. What I want to do is get on a plane and come see you! I don't want to be driving all over LA trying to find you. It could take me months! Where are you staying? I have a flight at 7:45 est time tonight. Love, U Jim."
Hunter responded around 2:55 p.m. and said he would contact Jim 15 minutes later. "I'm just down I promise and for good reason. But I swear I am ok," Hunter told Joe Biden's brother. "I want and need to come. It's been to long. Period the end!!!," Jim replied. "Give me the address. Just between us!"
Then, two hours later at 4:58 p.m., Jim appeared to inform Hunter that someone important – potentially Joe Biden – was informed of a situation involving Hallie Biden. "Everything good. He will be calling you. He will not say a word. I'll have a truck here sun/ Monday whatever works. I love you," said Jim.
The next day, Jim reached out to Hunter again, this time insisting that he call either him or Joe Biden: "Hunter, it is imperative you call me or your father. Your father is getting as am I barraged by Hallie. He has not responded I have not responded," wrote Jim Biden, emphasis added by National File.
Jim explained to Hunter that both he and Joe Biden "agree and trust you" regarding Hallie's concerns. "She is spreading what you told me and I believe you !!!! Are lies," wrote Jim.
"Once again we both need you side of the story so we can both shove it down her fucking throat !!!! I implore you to call. Please I/we are on you side. I believe you," Jim texted Hunter, adding that "this is nothing short of character assassination. Love, U Jim." Emphasis added by National File.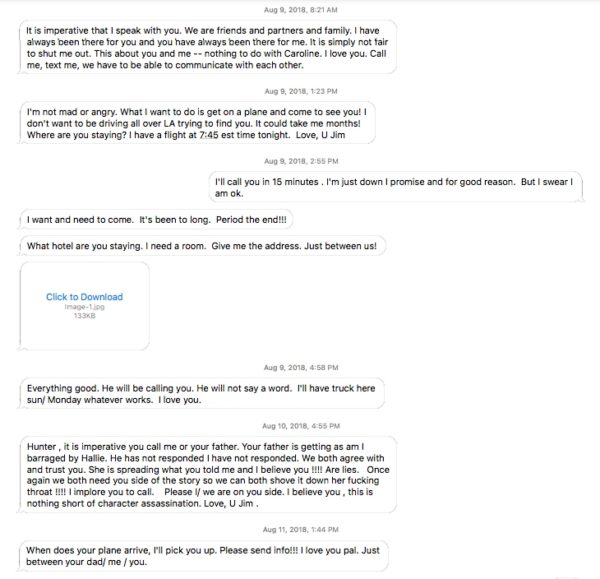 Hunter did not respond, and Jim offered to pick him up the next day from the airport. "When does your plane arrive, I'll pick you up. Please send info," Jim wrote."I love you pal. Just between your dad/ me / you."
On August 12 at 6:33 a.m., Jim texted Hunter saying "Your father has called me 5 times since 6:15! My time. He has kept his word 'not saying a thing' he is being beating up."
"Being push to have everyone come to you in Ca!!! They want me to go with them to see you 'help you' He a bad father, me bad uncle with my head in the sand! Please call me with flight# and definite time for coming home," Jim continued. According to the text messages, it seems Hunter Biden was currently in California for the purpose of treating his drug addiction.
"This is important to your dad. I believe in you and always will. Love Uncle Jim. Please call him or me. We are both with you 100 % Call!!"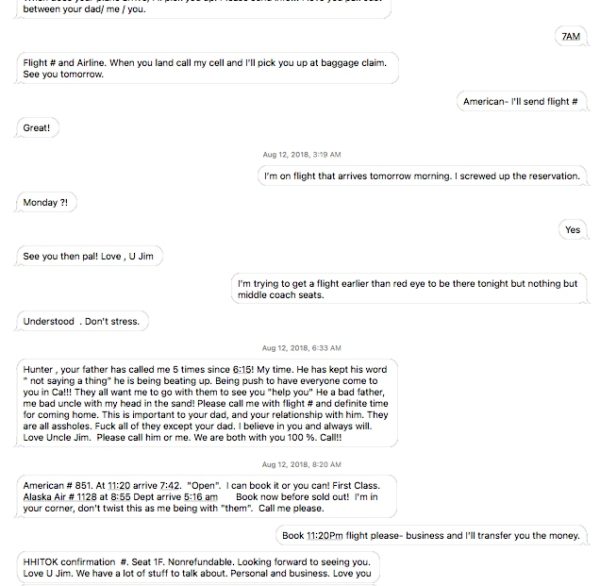 Jim continued to attempt to reach Hunter in person despite him thinking "this is a bad idea" throughout the entire night. "Everyone needs to remember the source of this ridiculous hysteria," Hunter wrote to Jim after claiming he had extended issues arranging his flights. "I swear to god I'll turn around uncle Jim and if you would like to come be my guest I always want to see you."
"That sounds good," Jim replied. "Other than your dad who kept his word, they are all F-nuts. Let's talk tomorrow. I'll go back to my original recommendation and stay away, I mean it."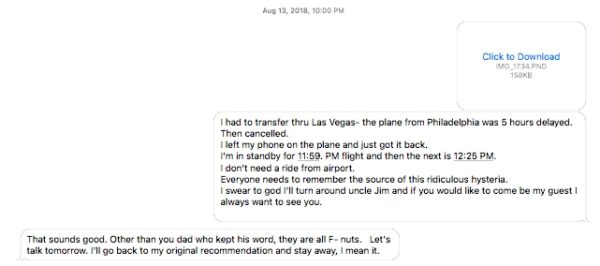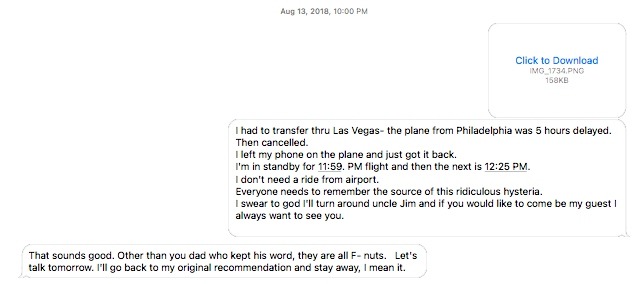 Hallie Biden Put Her Foot Down In July 2018
On July 8, 2018, during an erratic exchange over several days between Hunter and Hallie, Hunter was prevented from seeing the teenage girl due to her fear that she may have been in apparent danger due to Hunter's drug use and behavior at the time.
"Ill send [redacted] flight info," Hunter told Hallie. "No way. Goodby hunter," she replied. "So why won't you send [redacted] why hallie?" Hunter asked.

Hunter Discussed The Allegation Again In March 2019
Further exchanges between Liz and Hunter on March 16, 2019 show a series of long and frantic texts where he expressed his frustration with his relationship with Hallie and accused her of "intentionally hurting me and creating an almost perfect storm for my relapse."
"I really don't know how to leave because the isolation and loneliness is doing to Jill," Hunter randomly noted. Liz then told Hunter "i love you and i'm here for you. but real talk. you're wrong. i'm sorry if that hurts you."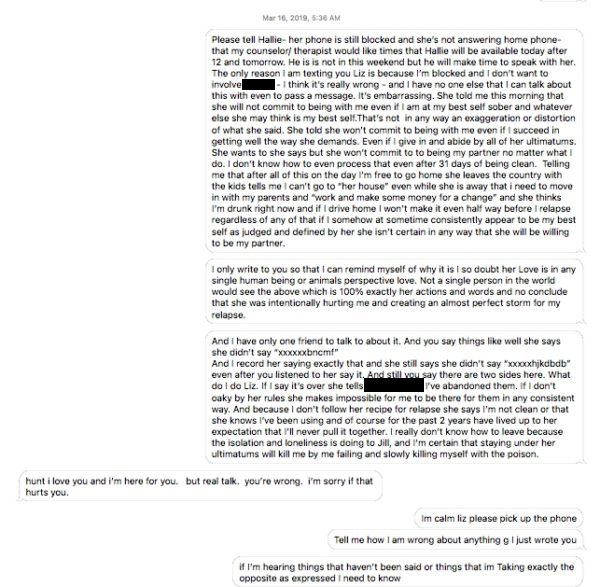 After Liz refused to respond to Hunter's tirade, he proceeded to urge her to talk to him on the phone. Liz further noted that Hallie previously told her that after the two had spoken earlier that morning, Hallie was "not ready to engage in a conversation with you and your therapist."
Later that day, Hunter went on a bizarre and much more detailed tirade about Hallie, who he compared to his "mom," presumably, Jill Biden, who raised him with Joe Biden as a stepmother following the death of Biden's first wife in 1972.
"She is just like my mom in so many ways and I don't like my mom I love her but I don't like her and that's not gonna change and my mom doesn't like me because of the same reasons that Hallie doesn't like me she loves me but she's never gonna like me," Hunter said.
Toward the end of his rant, he mentions that "my mom tells him things like I'm sexually inappropriate with the children." Emphasis added by National File.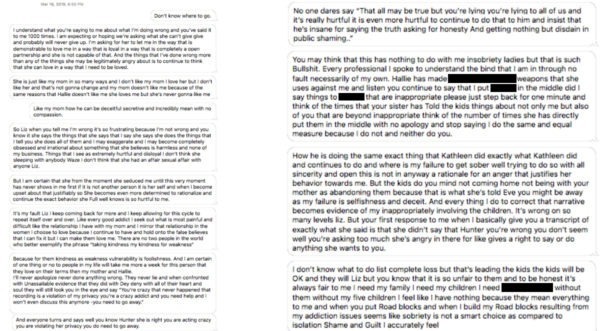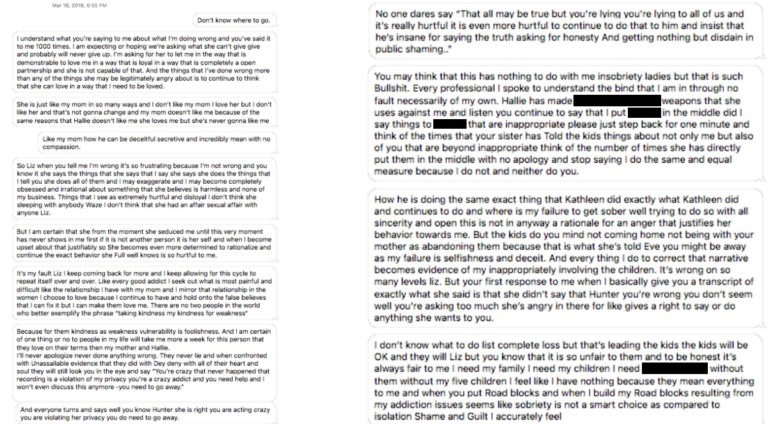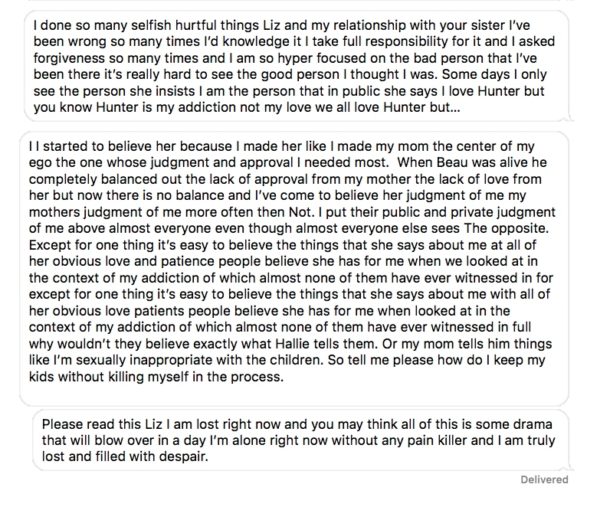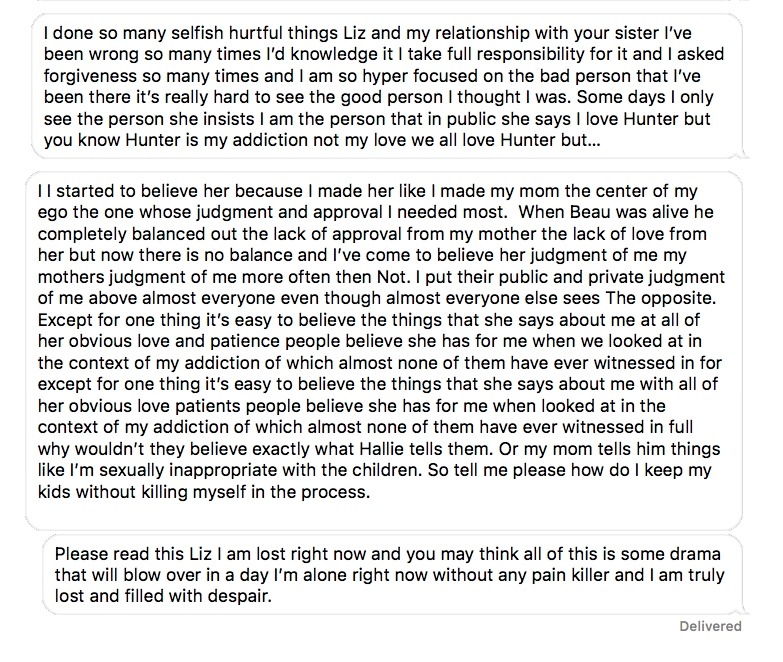 While Hunter does not specifically mention who "he" is – given the context of prior conversations between Hunter and Jim, who seemed to indicate that Joe Biden was aware of the sexual allegations, and Hunter, who was talking about his "mom" and "them" with Liz, it is possible that Hunter was frustrated with his stepmother, Jill Biden, for telling Joe about the sexual allegations.
Hunter Confronted Hallie Over The Allegation In November 2018
More talk about Hunter's alleged sexually inappropriate behavior with his underage relative occurred on November 8, 2018 when Hunter texted Hallie complaining that "[redacted] thinks I molest her." Emphasis added by National File.
"Poor you," Hallie responded.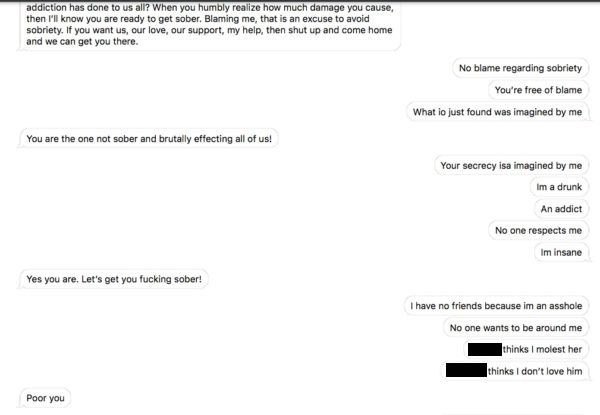 20 days after Hunter confronted Hallie, the Beau Biden Foundation for the Protection of Children, of which Hallie is a board member, published a tweet quoting Hallie Biden that showcased child sexual abuse statistics, including that 10% of children will be sexually abused by the time they turn 18, 60% of victims never report their abuse, and that 90% of victims are abused by someone they know, love or trust.
"By now, I'm sure many of you know the facts…" Hallie said in a statement, according to the tweet.
"By now, I'm sure many of you know the facts…" -Hallie Biden, co-chair @BeauBidenFdn #OperationSafeguard pic.twitter.com/8eIzwhuGZT

— Beau Biden Foundation (@BeauBidenFdn) November 28, 2018
Hunter Told Hallie To Stop Talking To His Therapists In January 2019
During a discussion in January 2019, Hunter confronted Hallie over her conversation with controversial therapist Keith Ablow, who was treating Hunter for his drug addiction at the time, about the incident that involved Hallie throwing Hunter's firearm in the garbage, resulting in a Secret Service investigation, despite Joe Biden not actively being in government.
In the text exchange, Hunter informs her that "the last time I let you speak to my therapist you told them I was sexually inappropriate with [redacted]."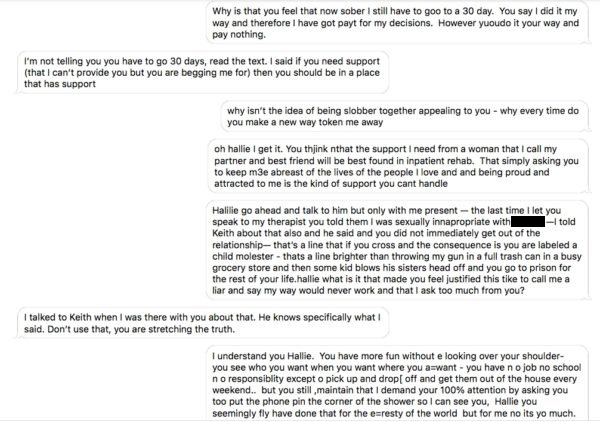 He added, "that's a line that if you cross and the consequence is you are labeled a child molster – thats a line brighter than throwing my gun in a full trash can in a busy grocery store and then some kid blows his sisters head off and you go to prison for the rest of your life."
That same month in the afternoon of January 30, texting directly to therapist Keith Ablow, Hunter once again mentions that Hallie "accused me of being sexually inappropriate" with his close, underage relative. "Hallie called and said I both was physically abusive too her and sexually inappropriate with [redacted] and her cousin [redacted]," Hunter told Ablow.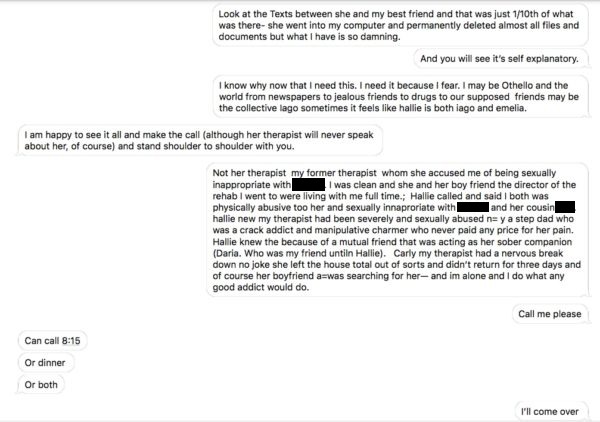 "Call me please," Hunter pleaded with Ablow. "Can call 8:15," he replied. "Or dinner" he added. "Or both."
Ablow later lost his license to practice medicine in May of 2019 after it was claimed he allegedly used his position as a psychiatrist to manipulate female patients. According to the New York Times' reporting in 2019, "Dr. Ablow's license was suspended in Massachusetts after an investigation determined that his continued practice was a threat to the 'health, safety and welfare' of the public."
National File obtained hundreds of pages of text messages from Hunter Biden from a high level source with first hand knowledge of the information contained on the laptop formerly owned by Hunter Biden that was the subject of a series of reports from the New York Post last year. National File has confirmed the authenticity of the text messages.
"Ashley Biden" began trending on Twitter following verification from the New York Times and FBI that confirmed the diary National File published last year, which included various scandalous details regarding Ashley Biden's life including "not appropriate" showers she took with her father Joe as a child, was reported missing by Ashley Biden.
Marco Polo research group contributed to this exclusive National File report.