Last Updated on September 12, 2022
Federal Magistrate Judge Sarah Cave and DOJ prosecutor Robert Sobelman, of the Southern District of New York, have sat across the bench from each other for major hearings related to Project Veritas and the SDNY's targeting of the whistle-blowing journalism outfit. At the behest of Sobelman and his DOJ colleagues, Judge Cave has signed off on Project Veritas search warrants and the plea deal that sent two people to federal prison as part of the feds' effort to cover up the explosive contents of Ashley Biden's abandoned diary, which was obtained by Project Veritas and exclusively published by National File. Under federal law though, Judge Cave and prosecutor Sobelman could have an illegal relationship, throwing the federal targeting of Project Veritas journalists and others into serious question.
Federal Magistrate Judge Sarah Cave has ruled on a number of motions directly tied to DOJ prosecutor Robert Sobelman and related to the SDNY's targeting of Project Veritas, the whistle-blowing journalism outfit that obtained the Ashley Biden Diary before it was exclusively published by National File. Among the diary's most disturbing contents were child molestation accusations made by Ashley Biden against her own father, sitting US President Joe Biden. 
Late last year, Judge Cave struck down efforts by government transparency and freedom of the press activists to unseal records related to the DOJ's probe into Project Veritas founder James O'Keefe and the origins of the Ashley Biden Diary story. 
As a federal prosecutor, Robert Sobelman has played an integral role in the district's Veritas targeting and has appeared in front of Judge Cave in federal court numerous times. Both Cave and Sobelman are mentioned extensively in court documents and media reports issued over the past two years documenting the ongoing legal saga. 
Along with the Department of Justice and the SDNY as a whole, Cave and Sobelman's actions on the Veritas case have been blasted by critics on the political left and right alike as a blatant violation and shredding of the First Amendment.
Under the US Code though, Cave and Sobelman could have an illegal relationship, and Cave could be in violation of federal law for not recusing herself from Sobelman's cases. 
According to 28 US Code Section 455, which governs the "disqualification" of court officials, "any justice, judge, or magistrate judge of the United States shall disqualify himself in any proceeding in which his impartiality might be reasonably questioned."
Going into further detail and offering more criteria, the Code states that "he shall also disqualify himself in the following circumstances: Where he has a personal bias or prejudice concerning a party or personal knowledge of disputed evidentiary facts concerning the proceeding."
As you will learn in the coming paragraphs, Judge Sarah Cave and DOJ prosecutor Robert Sobelman appear to have plenty of reasons to be considered biased in favor of one another, and with Cave sitting on the SDNY bench, that could present a serious legal problem.
Both of them attended Colgate University in upstate New York. While Cave graduated in 1995 and Sobelman in 2008, both remain publicly active within the school's alumni community. Sobelman even heads up the Colgate University Lawyers Association, a "professional network," and is listed as the group's leader on the Colgate website. It is unclear whether or not Judge Sarah Cave is also a member of the organization. 
If she is, that could further violate the aforementioned 28 US Code Section 455, which calls for a judge to recuse him or her self if they have "a financial interest[…]in a party to the proceeding, or any other interest that could be substantially affected by the outcome of the proceeding."
In a 2016 article published on Colgate's website and titled "Freedom's Advocate," the school celebrated Cave's work in the legal profession and her continued involvement in the Colgate community. Cave, who was at the time a practicing lawyer, defended an accountant described as being "a couple of steps away from the heart of the Madoff scandal," Colgate's article reported, and did pro bono work in the immigration field, helping homosexuals from third-world countries gain asylum in the United States. 
Not running short on any school website accolades himself, Robert Sobelman is listed online as one of Colgate's "notable alumni," for his work in "politics and advocacy."


In 2019, a few years after the "Freedom's Advocate" piece on Cave was published, Colgate University made another online post to celebrate her legal career. This time, it came in the form of a LinkedIn announcement marking Cave's appointment as the SDNY's new magistrate judge. Apparently celebrating right alongside their mutual alma mater was SDNY prosecutor Robert Sobelman, who "liked" the post.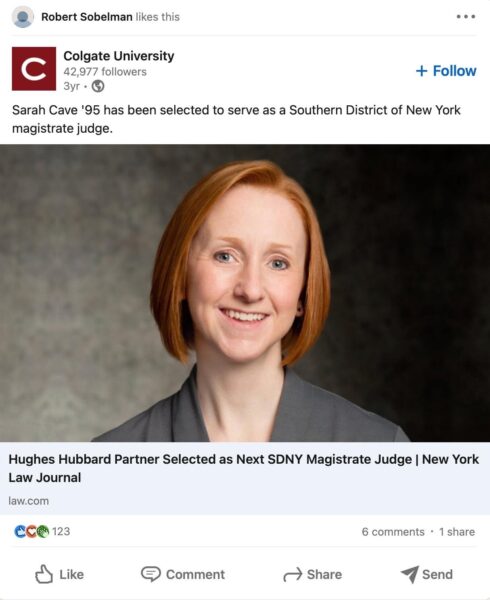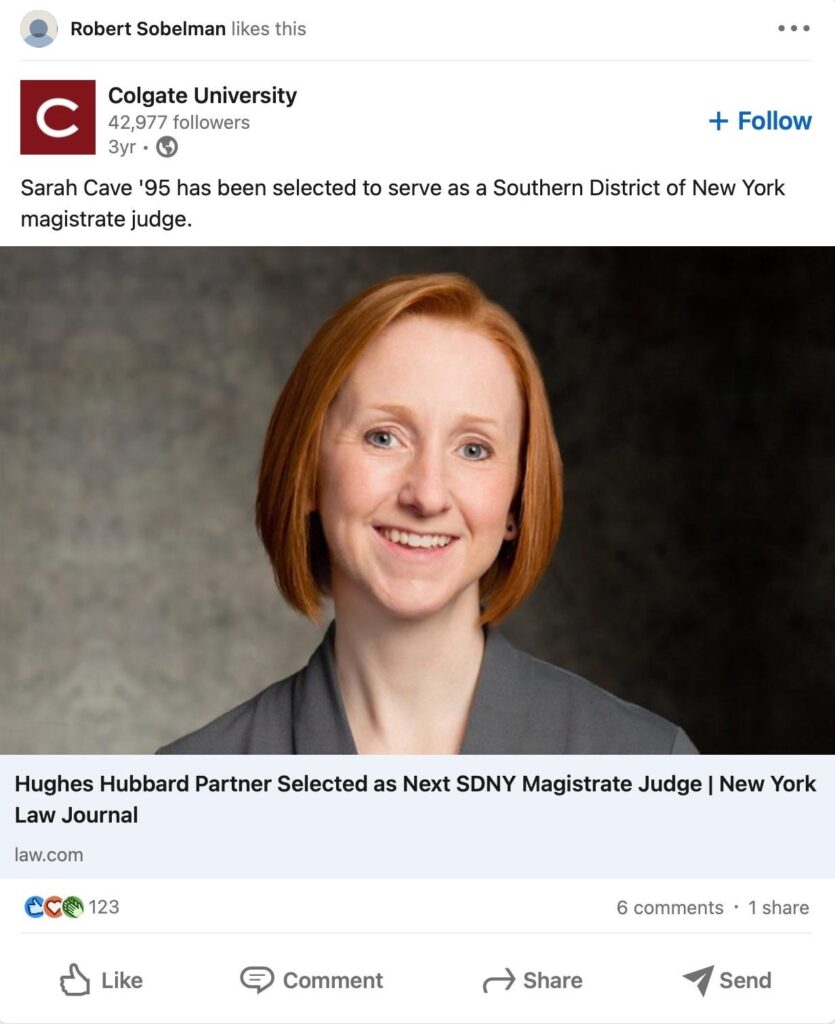 Given the clearly outlined parameters of the US Code, which state that a judge shall recuse his or herself in "any proceeding" in which their "impartiality might be reasonably questioned," National File reached out to both Judge Cave and DOJ prosecutor Sobelman, seeking clarification and further details regarding their personal relationship and mutual Colgate connections.
In a pair of recent emails made to the respective parties, National File asked Cave and Sobelman if they have a private friendship or any other form of relationship with one another. Furthermore, National File asked them both if they believe that, considering the historic and highly-charged nature of the cases they've crossed paths on, their public connections to each other could be seen as a conflict of interests or another form of impropriety. 
Neither SDNY Judge Cave nor DOJ prosecutor Sobelman responded to National File's inquiry.