Last Updated on October 13, 2023
Steve Scalise (R-LA), the GOP establishment's chosen one to succeed Kevin McCarthy as Speaker of the House, has abandoned his speakership campaign, sticking a fork in it after his brief candidacy failed to secure the votes he would need to win on the House floor.
Trepidation about supporting McCarthy ally Steve Scalise for Speaker of the House was seen in wide swaths of the GOP after Scalise was narrowly nominated by the party in a closed-door internal vote, despite it being fairly obvious that he didn't have the wide-ranging support needed to win the gavel. After just over 24 hours as the GOP's speakership nominee, Scalise withdrew his name from contention on Thursday night.
Scalise's departure from speakership contention comes after a previously scheduled vote to elect him the lead the House was delayed when it was initially realized that he didn't have the needed support.
With Steve Scalise gone, Ohio Rep. Jim Jordan has become the de facto front-runner, though a large contingent of America First conservatives are calling for GOP Reps. to elect President Trump as speaker, and the possibility remains that he could be nominated during the speakership floor vote like he was in January of this year.
Constitutionally a Speaker of the House is not required to be a member of Congress and the national legislative body can elect whoever it wants to lead the House of Representatives.
In a poll posted to X, Kentucky GOP Rep. Thomas Massie surveyed his followers on their speakership preference, allowing them to choose between Steve Scalise and Jim Jordan.
In the poll, Jordan won an absolutely massive supermajority of votes, raking in the support of 93% of respondents compared to Scalise's 7%.
"Steve Scalise resigned from the Speaker's race today," Massie wrote in the Thursday night post. "It's time to elect Jim Jordan as Speaker of the House. America agrees."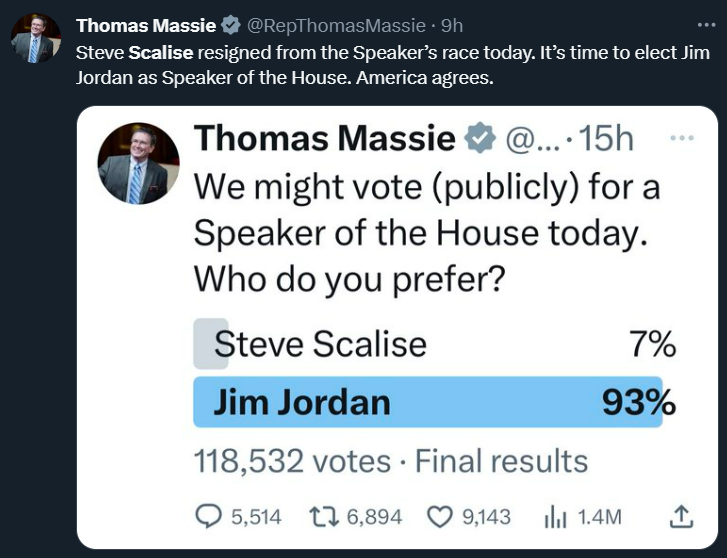 Because there are two vacant seats in the House, the normally required 218 votes to be elected speaker has dropped to 217 – a small, but potentially significant shift considering that, with Republicans' razor-thin majority, a handful of legislators on any wing of the GOP could block a new Speaker of the House from being elected.
Reportedly, several members of the GOP establishment have said that they do not plan to support Jim Jordan for speaker, though it's unclear if the number of dissenters will be great enough to block his election.