Last Updated on October 13, 2023
Florida GOP Rep. Brian Mast wore an Israeli military uniform to Congress on Friday, prompting calls for his expulsion from America First voters who were shocked to see the regalia of a foreign Army parading through the seat of the American Republic.
Mast, who represents Florida's 21st Congressional District, lost both of his legs in the U.S. Army. After his time in the Army ended, he joined the Israeli Defense Forces (IDF) as an expert on disposing of explosives, before going on to be elected to Congress in 2016.
Mast, who markets himself as a major Israel supporter, told members of the media that he wore the Israeli uniform to Congress as a counter to the Palestinian flag that flies outside of Democrat Rep. Rashida Tlaib's office, and said much of the same in a post that he made to X, including several photographs of himself in the U.S. Capitol, in his Israeli uniform.
"As the only member to serve with both the United States Army and the Israeli Defense Forces, I will always stand with Israel," Mast wrote in the post.
"Tlaib's got her flag. I got my uniform. 'Global Day of Rage' my ass," he added, in reference to the "day of rage" against Israel's Gazan military campaign planned by the Palestinian diaspora, including in the United States.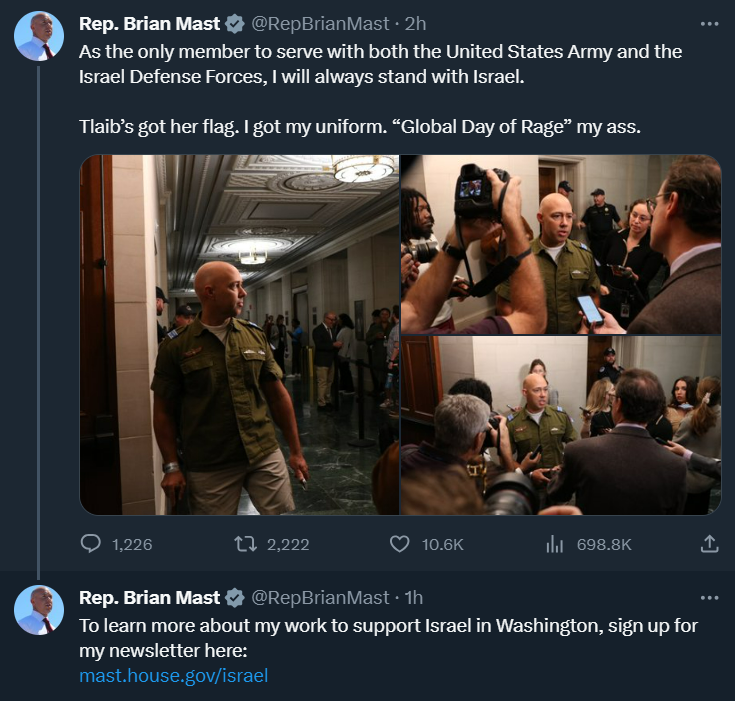 More information regarding Mast's relationship with Israel and its military is available on his congressional website, where he explains that following his service in the U.S. Army, he "chose to volunteer alongside the Israeli Defense Forces (IDF) because our countries share these common ideals of freedom, democracy and mutual respect for all people."
"We cannot let Israel face its enemies alone," says Mast.
Mast's donning of an Israeli uniform in Congress has led to calls for his expulsion from America First patriots, bewildered by Washington's sprint to help secure Israel's borders while America's own borders continue to collapse.
As National File reported this week, within days of the Israel-Hamas conflict kicking off, Joe Biden ordered U.S. troops and military equipment to the region.
Now, several war hawk politicians are calling for even more action, saying that Joe Biden hasn't gone far enough, and GOP presidential candidate Nikki Haley is even cheering for a war with Iran.