Elizabeth Ailes, the widow of former Fox News CEO Roger Ailes, who presided over the network's meteoric rise to the top of the cable news industry, fileted Fox Corp. Chairman Rupert Murdoch in a birthday tweet dedicated to her late husband. In the tweet, Elizabeth Ailes mocked the rapid collapse of Fox News, linking it to the Murdoch-backed ousting of Roger Ailes in 2016.
"Happy Heavenly Birthday Roger Ailes," Elizabeth Ailes wrote in the tweet, before laying into Rupert Murdoch and the Murdoch family, which governs Fox Corp. and News Corp. alongside him.
"It took you 20 years to build Fox News into the powerhouse that it was and only 6 years for the Murdochs to wreak havoc," Elizabeth Ailes' tweet went on. "Rupert thought he could do your job. What a joke. He has the checkbook but could never come close to your genius. RIP."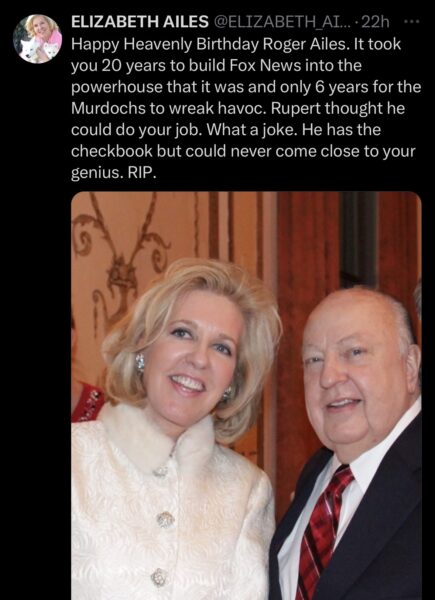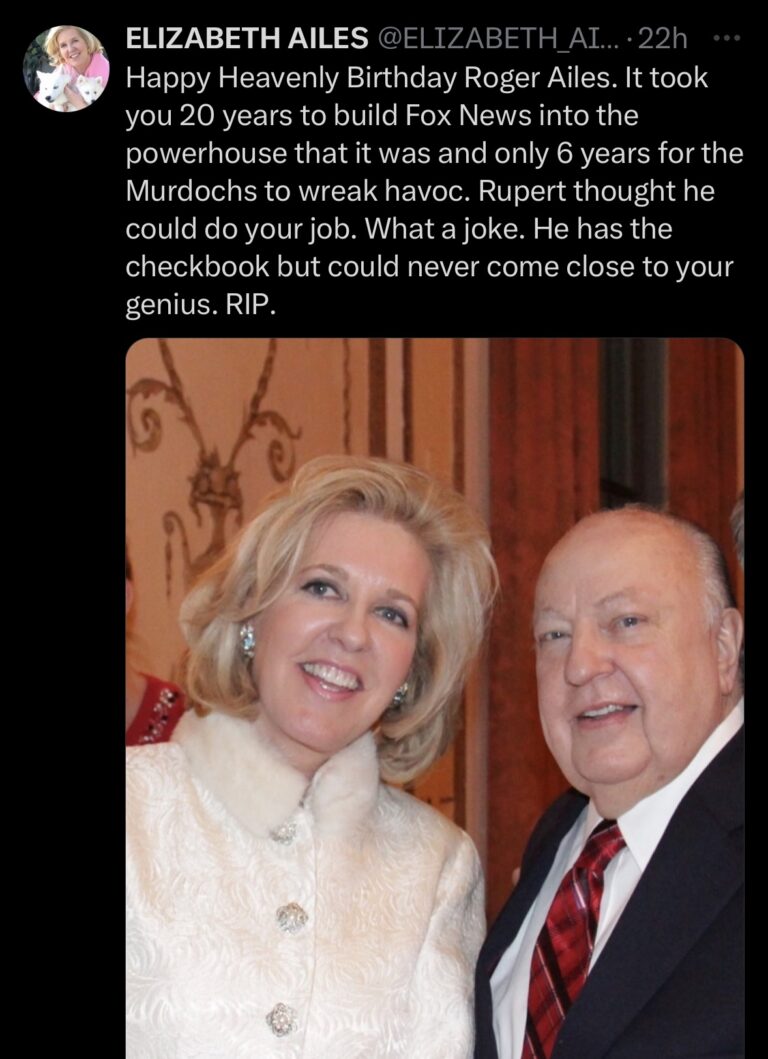 After the tweet went online, Ailes spoke to a reporter from The Daily Beast and continued ripping Rupert Murdoch and the spiraling Fox News channel – which has already lost $53 million this year – apart.
She also took aim at Murdoch's sons, Lachlan and James Murdoch, who play major roles in their father's media empire, calling them "Tweedle Dumb" and "Tweedle Dumber".
She compared the Murdoch-backed #MeToo coup that forced her late husband out of his job as Fox News CEO to the recent ousting of Tucker Carlson, and Bill O'Reilly before him, saying that when a Fox News reporter or executive gets too big, the Murdochs "chop off his head."
Elizabeth Ailes told the reporter with The Daily Beast that under Roger Ailes, Fox's recent legal woes and tanking ratings would've never happened because "Roger never had his hand off the wheel when it came to Fox."
The Australian Murdochs, on the other hand, "weren't born here and don't have the same pedigree."