Last Updated on May 17, 2023
Pro-abortionists and their corporate media allies are in meltdown mode after the North Carolina state legislature overrode a veto from Democrat Governor Roy Cooper to force through legislation that restricts abortions to the first 12 weeks of pregnancy, with numerous exceptions.
The North Carolina House of Representatives voted 72-48 and the North Carolina State Senate voted 30-20, to override Governor Roy Cooper's veto of pro-life legislation that bans abortions after 12 weeks with numerous exceptions made in cases of rape, incest, or the if the life of the mother is in danger. Previously, the state restricted abortions after 20 weeks.
Despite having a Democrat Governor, North Carolina's state legislature is controlled by Republican super-majorities in both the House and the Senate, and Governor Cooper's veto was overridden by a party-line vote.
Though the legislation keeps abortion legal for up to 12 weeks (and longer in the aforementioned cases), Democrats and pro-abortionists have cast the legislation as an outright ban and have whipped their supporters up into a "sky is falling" scenario.
Pro-abortion demonstrators have been hounding the state legislature, with some of them even bursting into tears at the thought of not being able to abort a pre-born child 12 weeks into a pregnancy, when a heartbeat is well-defined and muscles and organs have developed.
In the run-up to the veto override vote, Democrat Governor Cooper had singled out a handful of Republicans who he thought may vote to protect what Cooper claims is the "right" to have abortions after 12 weeks, including late-term abortions, traveling to their districts to put pressure on them, but to no avail.
Cooper joined MSNBC's Joy Reid in a failed attempt to pressure Republican legislators into coming over to his side of things to the abortion of developed pre-born children legal in North Carolina. At 20 weeks into a pregnancy, the point at which the previous abortion law banned the homicidal procedure, pre-born children are already kicking, punching, and sucking their thumbs.
"All it takes is one," vote to stop the veto override Cooper told Reid ahead of the legislature's vote.
"The Republicans have a super-majority by one vote in the House and one vote in the Senate and we need one Republican, in either chamber [to vote against the veto override and in support of abortion]," Cooper told Reid, though that "one vote" failed to materialize.
Make no mistake — if these legislators vote to override this veto, they are voting to ban abortions in North Carolina. pic.twitter.com/HcnNrxSyQw

— Governor Roy Cooper (@NC_Governor) May 16, 2023
After Cooper's veto was overridden, he took to Twitter to issue a late-night statement, parroting usual Democrat talking points on abortion in claiming that by legally protecting 12-week-old pre-born babies, "right-wing politicians" are entering "the exam room with women and their doctors."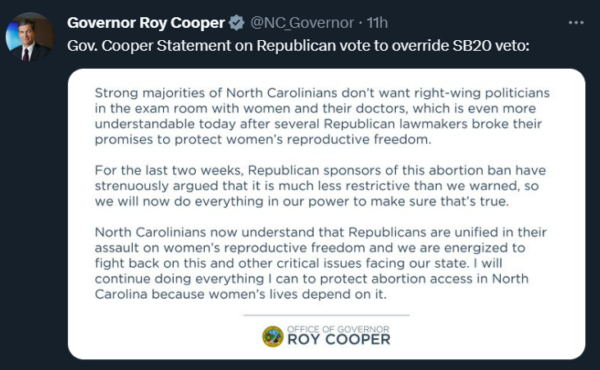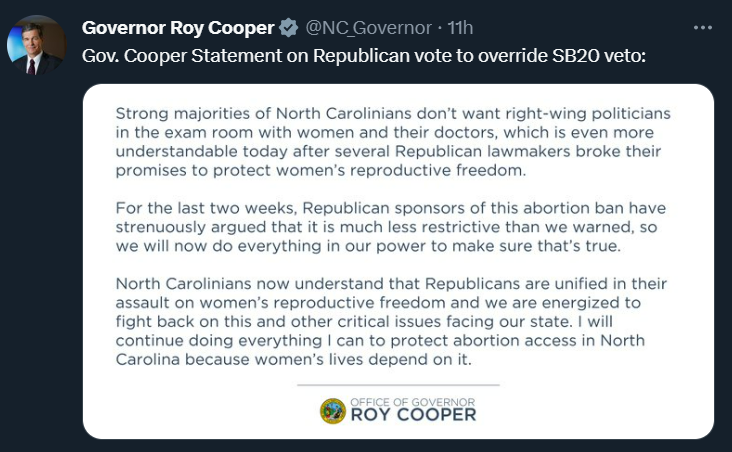 The new abortion law in North Carolina makes that state one of numerous that have moved to restrict or ban most abortions in the aftermath of the historic overturning of Roe v. Wade. When the case that legalized abortion nationwide was overturned, jurisdiction over abortion returned to the states, as prescribed under the 10th Amendment to the US Constitution.