Last Updated on April 28, 2023
Reports have emerged that say that the wife of Fox News personality Pete Hegseth is behind Tucker Carlson's ouster from the corporate media network; this as Hegseth is being named as Carlson's potential replacement.
"Reports from credible sources tell us Pete Hegseth's wife was Tucker's hatchet lady," Stew Peters wrote in a tweet, attaching a screenshot of a brief bulletin that named Hegseth's wife, Fox producer Jennifer Rauchet, as the person who's behind the sudden ousting of Tucker Carlson.
The bulletin goes on to explain that Carlson was "planning a segment to destroy" the Sunday evening interview that CBS aired with Ray Epps, a suspected federal J6 informant and provocateur who has not only escaped the legal repercussion doled out to peaceful demonstrators, but has been vehemently defended by corporate media and government officials alike.
"Exec Producer Jennifer Rauchet told [Tucker Carlson] he couldn't run the segment so he quit," the bulletin claims.
"Jennifer is a nobody who is Pete Hegseth's wife," the bulletin goes on. "She obviously was sent to give a message. It makes sense she has had to carry them from [the] network before. So the story at least makes sense."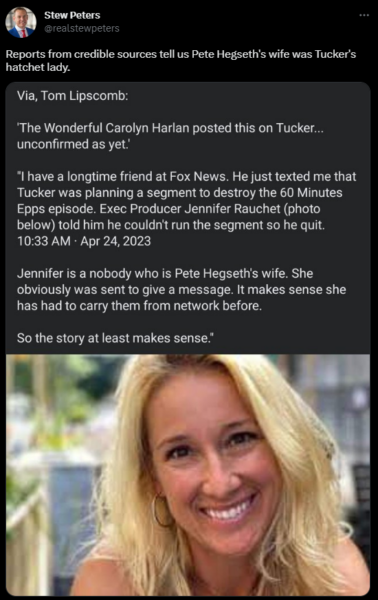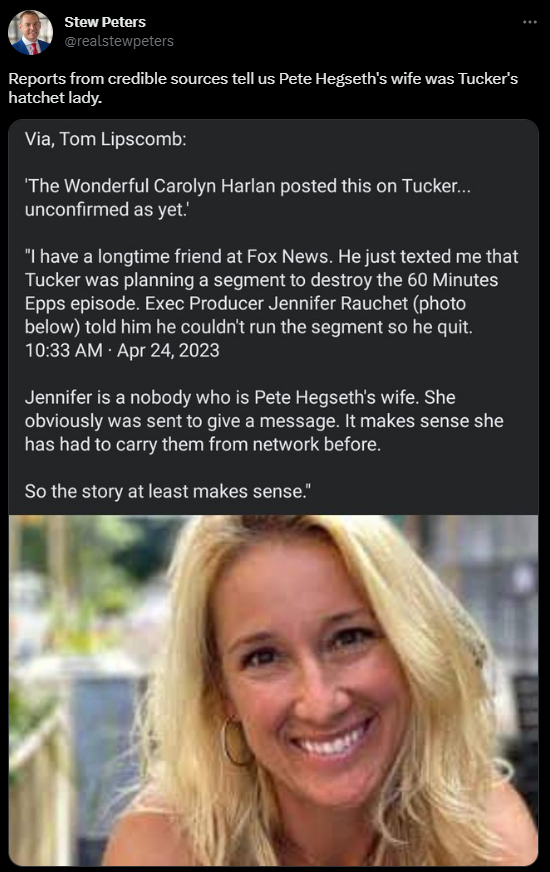 The report that Pete Hegseth's wife was behind Carlson's ouster from Fox News comes as Hegseth is being reported as a potential replacement for Calrson in the coveted 8:00 PM weeknight time slot.
"The network will be trying out guest hosts for at least the next several weeks," MSNBC reported of the search for a Carlson replacement, later adding that "in-house commentators like Pete Hegseth"…"will try to win the gig."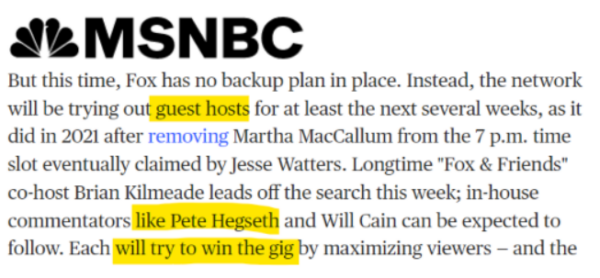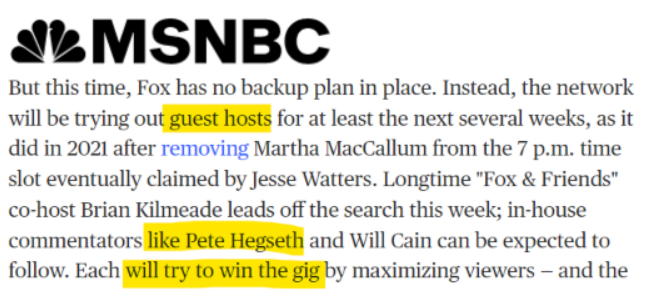 Though few additional details have become available regarding Carlson's ouster from Fox News, Carlson did release a public statement on Wednesday night, blasting corporate media coverage for being "unbelievably stupid," and saying that "undeniably big topics" deliberately receive "no discussion at all."
"…you notice when you take a little time off is how unbelievably stupid most of the debates you see on television are," said Carlson. "They're completely irrelevant. They mean nothing. In five years we won't even remember that we had them – trust me, as someone who's participated in them."

"And yet at the same time, and this is the amazing thing, the undeniably big topics, the ones that will define our future, get virtually no discussion at all – war, civil liberties, emerging science, demographic change, corporate power, natural resources," Carlson went on. "When was the last time you heard a legitimate debate about any of those issues?" he asked.

"It's been a long time. Debates like that are not permitted in American media."
UPDATE: Pete Hegseth Ridicules Independent Media
In an unhinged series of direct messages to this reporter, Pete Hegseth demonstrated that he, in fact, had not read this article before sharing it, and ridiculed the financial income of independent media outlets.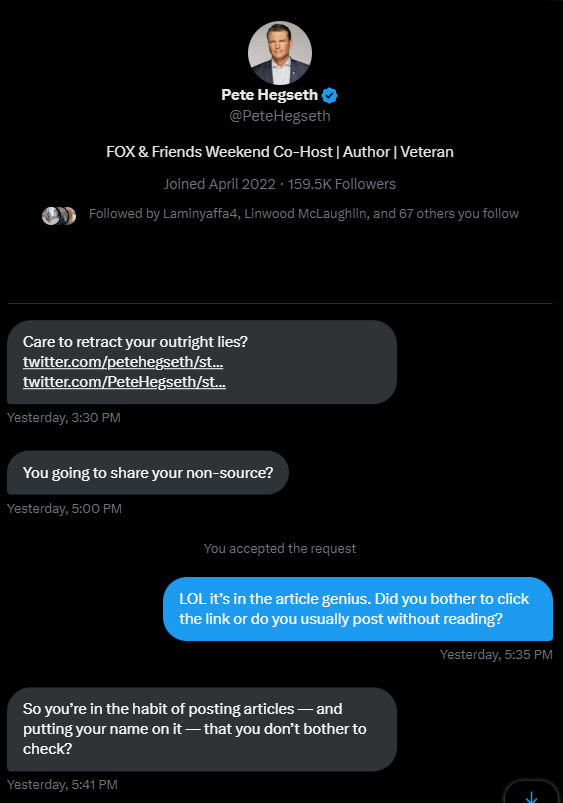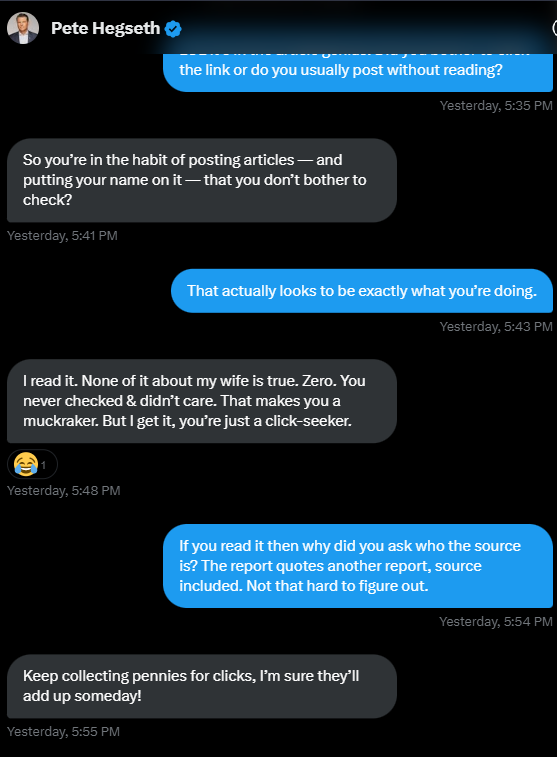 Hegseth's mockery of independent media raises the specter of Chinese and Democrat-driven censorship out of Silicon Valley. 
Large, China-friendly media corporations owned by firms like BlackRock are not subject to censorship by Google, which has a virtual monopoly on advertising revenue. 
Rupert Murdoch, the Australian founder of Fox News, even took out a $100 million loan from the State Bank of China, according to Crikey.com.
In a classic case of "do as I say, not as I do", the Murdoch family has tapped into a US$100 million loan from a Chinese government bank, at the same time as its global media empire is going to war with the Chinese Communist Party.

The Murdochs have gerrymandered control over two public companies — News Corp and Fox Corp — and ever since COVID hit two years ago their outlets — such as Sky News Australia, The Australian, Fox News and The New York Post — have become virulent critics of the Chinese regime.
UPDATE: Fox News Responds
National File's reporting obviously struck a nerve, driving Pete Hegseth to refute the story on Twitter. 
He went as far as to allege that this reporter's name is not actually his name, using quotes around the words "Frankie Stockes" when tweeting a link to this article. 
A senior source within Fox News reached out to National File both by email and telephone to have an off-the-record conversation about the report.
On the condition of anonymity, the source did agree to allow National File to publish their as yet unfounded claim that Hegseth's wife Jennifer is an executive producer for Fox Nation, who did not work in any way with Tucker's show, either on the network, or on the digital arm, Fox Nation.
Pete rushed to the defense of Jenny, who is the second woman who works at Fox News Hegseth has bedded and eventually married.
No word on whether they're planning a divorce any time soon.
The fakest news I've ever seen. My amazing wife @JennyHegseth had absolutely nothing to do with anything. Not one iota. Like everybody else, we love Tucker. Get a life "Frankie Stockes"https://t.co/EoA9W5U4Jt

— Pete Hegseth (@PeteHegseth) April 27, 2023
This story is developing. Stick with National File for updates as they become available.