Last Updated on March 20, 2020
A Facebook screenshot shows Tulsi Gabbard's brother explaining the Hawaii congresswoman's endorsement of Joe Biden for president by saying she offered the endorsement to Bernie Sanders first, but was refused by the 78-year-old Vermont senator.
The screenshot shows a comment from Jai Gabbard's Facebook account, which National File confirmed to be authentic.
"Thank you for your kind words sir," the comment reads. "Bernie has treated my sister like sh*t all the way through this. She has tried to endorse him again and he has refused her support. Whoever he's getting his advice from has done a terrible job."
"You go ahead keep talking about however you want, but know this," the comment continues. "She is just going to continue being independent and keep fighting for us. Bernie isn't the man me and Tulsi once supported 100 percent. I don't know what happened to him. He's refused to take the fight to the establishment like Tulsi continues to do."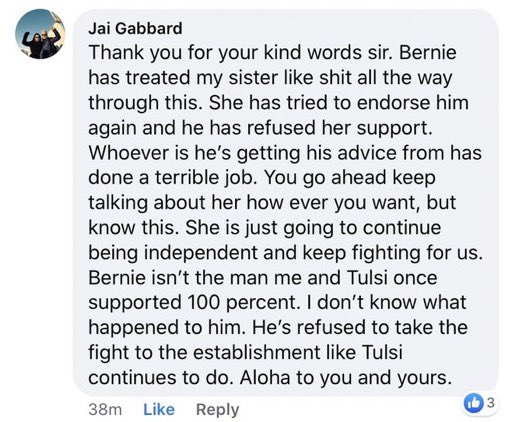 Tulsi Gabbard endorsed Bernie Sanders for president in 2016, but raised eyebrows this week by endorsing former Vice President Joe Biden for the 2020 presidential race.
Despite supporting universally progressive policy positions, Gabbard has repeatedly been viciously attacked by left-wing media and many power players within the Democratic party, ranging from false accusations that she is a "right-wing nationalist" to the idiotic claim by 2016's failed DNC nominee Hillary Clinton that Gabbard was a puppet of Putin and Assad.
The Democratic establishment is not the only quarter from which Gabbard has faced vicious attacks. Supporters of Bernie Sanders have also regurgitated the establishment's attacks against her, despite Gabbard's support of Sanders and alignment with many of Sanders' policy positions.
The claim that Bernie Sanders is a weak candidate who gets advice from bad people is not new, in fact, in January top-level Sanders campaign field organizer Kyle Jurek was recorded on video by Project Veritas saying that Sanders is a "bad judge of character" who is prone to heeding advice from corrupt establishment sources.
National File reached out to Jai Gabbard for comment about the screenshot.
Jai Gabbard confirmed that he made the comment, and later deleted it. Gabbard stressed that he has never been involved with his sister's campaign, and does not have firsthand knowledge of her relationship with Sanders.