Last Updated on July 18, 2023
Video footage recorded outside the White House on the 4th of July appears to show a bunch of people standing around Joe Biden with blank phone screens, simulating what a scene would actually look like if a crowd gathered to meet the President and film him with their cell phone cameras. The strange video footage has led to speculation that the Biden Administration could be staging crowds outside the White House in a show of phony support for Biden.
Instagram has censored a news broadcast featuring the video footage (embedded below) that was recorded outside the White House on July 4th and appears to show a crowd pretending to film Joe Biden as he enters the building.
"Rent-A-Crowd or optical illusion?" the video's chyron, from Australia's Cory Bernardi news program, reads, as the footage of Biden milling into the White House, surrounded by people aiming their blank-screened phones at him, plays.
"Are they pretending to film to boost Joe's ego? Or is it really a fake audience?" the censored Instagram video asks viewers.
But according to the censors at Instagram, and the notoriously left-wing "fact-checking" firm PolitiFact, "People weren't holding up turned-off phones at Biden's July 4 event".
The censorship filter offered no actual explanation for how PolitiFact and Instagram came to this conclusion.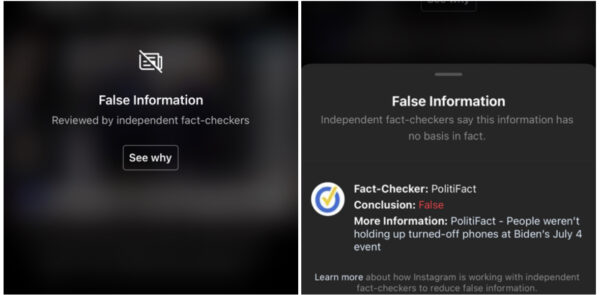 A further explanation of the "fact-checking" from PolitiFact makes the claim that "People weren't holding up turned-off phones at Biden's July 4 event," blaming "the late afternoon sun's brightness" for making every single one of the screens "appear dim."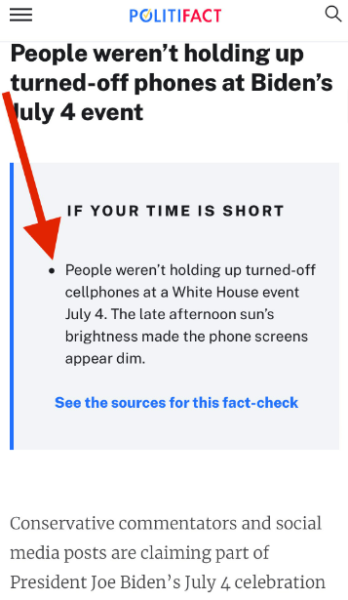 Watch the video below and decide for yourself…Is the "afternoon sun" blanking out the phone screens? Or did the Biden White House assemble a "rent-a-crowd" to feign support? 
https://twitter.com/RyanMattaMedia/status/1681259828671291393
The blank phone screen footage wasn't the only bizarre video to come out of the White House's Fourth of July celebration, which came in the midst of a White House cocaine scandal that the Secret Service and other federal investigators have apparently refused to solve.
In the footage recorded during the fireworks display and previously reported on by National File, documented powder and crack cocaine addict Hunter Biden appears to be in a heavy sweat, and viewers of the video have remarked that Hunter looks like he's "tweaking".
What's more, is that viewers and posters of the video believe that Hunter Biden may have been recorded taking a bump of cocaine, as the First Son can be seen walking away from his family for a moment while holding something he appears to have pulled out his shirt sleeve up to his nose.
Watch the video footage below: 
Nothing to see here

Just a video of Hunter Biden allegedly doing a bump of cocaine at the White House in front of children

But don't worry – the media said the bag of blow found at the WH wasn't Hunter's!
pic.twitter.com/Bt5hCT2ghf

— DC_Draino (@DC_Draino) July 5, 2023